This post may contains affiliate links for your convenience. If you make a purchase after clicking a link we may earn a small commission but it won't cost you a penny more! Read our full disclosure policy here.
By Teresa Pitman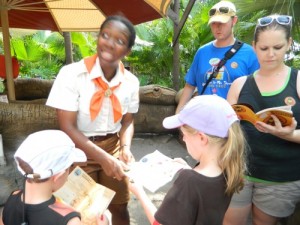 My granddaughter Callista is planning to be a veterinarian when she grows up. In fact, she informed me, she intends to specialize in caring for "horses, giraffes and snakes." (That should make for an interesting mix in the waiting room of her future clinic!) Knowing that, you won't be surprised to hear that Animal Kingdom is her favorite WDW park.
But she discovered a new reason to love Animal Kingdom on our most recent trip: The Wilderness Explorers have arrived! Russell from the movie Up was a Wilderness Explorer, as you may recall, and visitors to AK now have the opportunity to take part in some troop activities and earn badges. Callista thoroughly enjoyed becoming a Wilderness Explorer and the activities kept her interested and engaged all day.
On Discovery Island, near the entrance, you'll find the Wilderness Explorer Headquarters, where you can get a handbook and pencil, learn the Explorer motto, and start out on your badge-collecting journey. If you miss it, no worries, you can pick up handbooks and start gathering badges at many other spots along the way. There's no charge for this, it's included in park admission.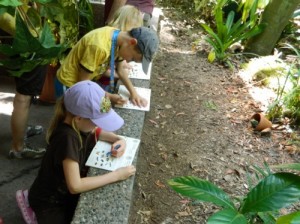 So how do you earn a badge? The map inside the handbook (which is sturdy and attractively-designed) lists the locations for Explorers to head to; on a corresponding page in the book you'll find instructions and items to be completed. When you've finished your assignment, show it to a troop leader at the location and the appropriate badge (a sticker) will be pasted in your handbook.
You don't have to do these in any particular order, and some may not be available at any particular time. For example, the gorillas had already gone in for the night by the time we reached their area so we were not able to do the gorilla activity on this trip.
The activities were just challenging enough to be fun for Callista, at age eight, but none were especially difficult. Troop leaders were on hand to give hints and a little assistance when needed. In many areas, the troop leaders gave short (but enthusiastic!) presentations or asked questions of the visitors to teach them more about the concepts they were learning.
Some examples:
In the aviary section of the Pangani Forest trail, she had to identify the birds who were making the nests at a certain spot on the trail (identified on the map), then spot four other types of birds, identify them on the guide, and make a note of how many of each she was able to see. (I wish I had taken a photo of her holding the guide up beside a bird trying to figure out which picture matched it.)
In Rafiki's Planet Watch, she found a number on a large recycling bin, and using the code information in her handbook figured out what word it represented.  She wrote the word in her book to complete a sentence.
In Discovery Island, she studied the flamingoes and some photos taken with an infra-red camera to identify which one was eating at night. Then she also wrote down the tag number of at least one other flamingo. (As she said to me "I'd never even noticed that they had tags on!" Me neither.) The troop leader answered some of her questions about the one white flamingo in the group – we learned that it's a baby so hasn't eaten enough shrimp yet to develop the familiar pink coloring.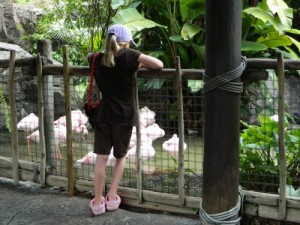 Many of the pages also ask the Explorers to sign a pledge committing to help protect the environment or wild animals. Most pages only take a few minutes to complete – although you can certainly spend more time at any of the locations – so you can easily combine this with other park activities.
One of the really great aspects of the way Disney has set up these Wilderness Explorer activities is the interaction between the kids and the troop leaders. They clearly knew and cared about the topics they were presenting and gave the younger children lots of encouragement in completing their activities. I was impressed by how interested the children were in taking part (and there were quite a few at each of the locations we visited), and I think the troop leaders contributed significantly to making this succeed.
There are more than 30 badges to be earned; Callista was able to get 17 in one day (with time for rides, shows and a leisurely lunch at Tusker House). I know the exact number because she kept counting them and proudly telling me about her accomplishments! She has the handbook safely packed away to bring on her next trip and is looking forward to earning the rest.