This post may contains affiliate links for your convenience. If you make a purchase after clicking a link we may earn a small commission but it won't cost you a penny more! Read our full disclosure policy here.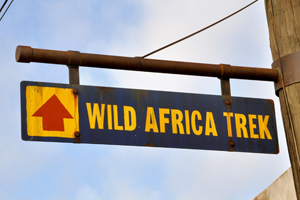 This is the second part of a two-part blog about Disney's Wild Africa Trek. If you missed part one, check it out here.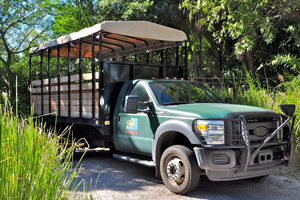 After packing up our safety harnesses, I wasn't sure what was still in store for us next. Turns out, a couple more magical memories and cool experiences were yet to come. We boarded an open air vehicle (totally different from the ones you ride on the Kilimanjaro Safari) and headed out into the African Savanna. As soon as we boarded, we were given this tip … "if you find yourself outside of the vehicle, don't run. Running lets the animals know that you are food." I would have felt better had the guide said, "don't get out of the vehicle under any circumstances."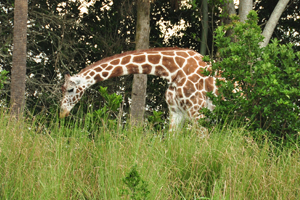 The first thing we see on the savannah are four giraffes. Our tour vehicle stops on the side so that we can get a good view of the animals. Keep in mind that we are still in the attraction, so other transports from the Kilimanjaro Safari tours are going on around us. I don't know how many vehicles went by, but I was beginning to feel like part of the attraction … some people were taking pictures of us (?). It was the perfect opportunity to get to see the animals for a much longer time.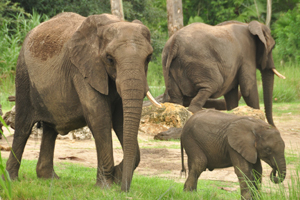 Another cool stop was around the baby elephant. The Kilimanjaro Safari tours have to keep moving, but not us. We stopped for some great photo ops. Actually, another cool thing about the Wild Africa Trek is that you don't have to bring your camera. The guides take the pictures for you and send them to you on a disc. It's perfect for tourists like me who don't want to experience vacation through a viewfinder.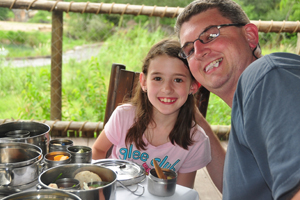 Snack time. In the middle of the savannah is an area to get some water and snacks. The view is spectacular! It was here that I totally forgot that I was in the middle of Disney's largest theme park. The menu included:
Chicken curry salad
Sun-dried tomato hummus and mini pita
Marinated tandoori shrimp
Smoked salmon roulade with dill
Air-dried beef and prosciutto
Fresh fruit marinated in mint and ginger
I even ate the flower since I was told it was edible.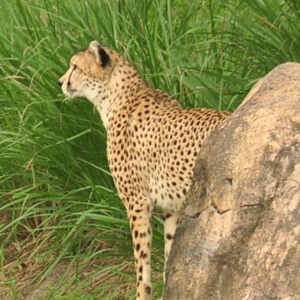 My daughter's favorite part of the tour was toward the end. She loves cats (even big ones). This cheetah was pacing, actually stalking. It looked like he was getting ready to attack some prey. If only he could figure out a way around the barriers, he would have feasted on …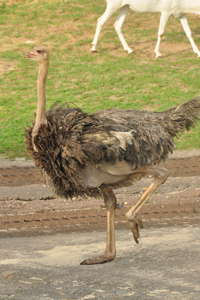 a couple of ostriches who were wondering around his area. The ostriches could have cared less about the big cat. They were more entertained by the mirrors on a nearby truck. If they were concerned about the cheetah, they didn't show it. To quote our guide, "ostriches are only as smart as they need to be." Enough said.
With that, our tour ended. I would take the tour again for the same reason I ride the Kilimanjaro Safaris over and over again. Because you are viewing live animals, the tour is never the same.
If interested in booking a tour, the Wild Africa Trek is now $50 off per person!