This post may contains affiliate links for your convenience. If you make a purchase after clicking a link we may earn a small commission but it won't cost you a penny more! Read our full disclosure policy here.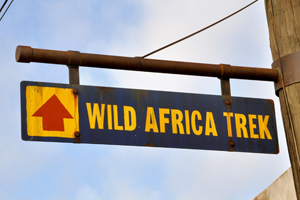 Happy Birthday to Disney's Animal Kingdom. The park celebrated it's 15th Anniversary on Earth Day (Monday, April 23, 2013). I didn't get a cake (or presents for that matter), but I thought I would pay tribute to the park by telling you about one of the best backstage tours that I've ever experienced. First, a little bit of background: my daughter and I went to Disney last year and I wanted to take a backstage tour at 0ne of the parks. The only problem was that all of the backstage tours have age restrictions. My daughter was 8 at the time and she isn't allowed to see the characters in their "off-stage" attire. That said, only ONE tour was available to us … The Wild Africa Trek. The only thing I knew about the Wild Africa Trek was that there was a lot of walking, suspension bridges, and an ability to see the animals closer than on the Kilimanjaro Safari ride. I also knew that it would cost over $400 for my daughter and I to participate in this excursion (plus, park tickets). Looking back, it was well worth the cost and left us with a magical experience that my daughter and I still talk about today. Here are some photos: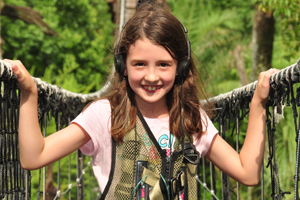 Safety First! Everyone gets equipped with a vest, harness, waterbottle (it gets hot), and earpieces to better hear the guides (the kids get headphones). There are weight restrictions, so make sure you are aware of them before you book your tour.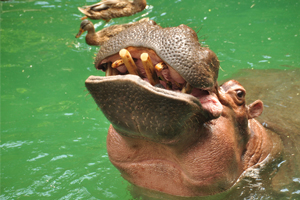 Our first stop is at the hippo pond. We were greeted by a Disney cast member who was feeding the hippo (and some ducks). The ducks like to play a game called "eat the hippo's food before the hippo opens it's mouth and crushes you by accident." It's fun to watch whether you are cheering for the hippo or the ducks.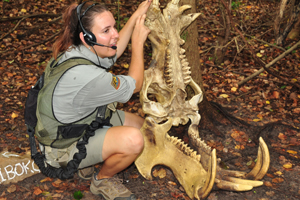 Did you know that hippos kill more humans in Africa than any other animal?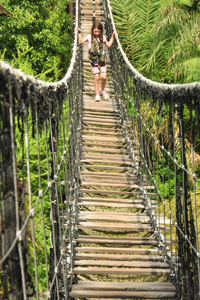 Before and after the hippo pond, you get to cross a suspension bridge. Notice that some of the planks are missing! Trust me, you notice it more while you are crossing over a pit of hippos and crocodiles than you would from these photos.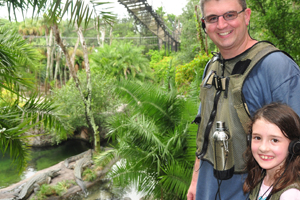 After the suspension bridges, you come to the crocodile pit. My daughter asked the cast member why one of the crocodiles was watching her all the way across the bridge. The answer we were given was that crocodiles have excellent eye sight and they're hungry. Scary thought this close to them. A question like "how strong is this safety harness?" starts popping into your mind. Also, notice that there aren't any ducks in the water. There's a reason for that. The ducks are smart!
After our encounter with the crocodiles, we started our second part of the excursion. But, I will save that info for a future post. After all, what good is a present if it isn't a surprise.