This post may contains affiliate links for your convenience. If you make a purchase after clicking a link we may earn a small commission but it won't cost you a penny more! Read our full disclosure policy here.
By: Teresa Pittman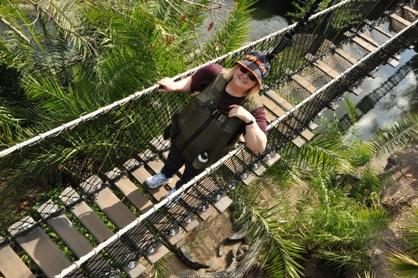 Did I mention that I'm afraid of heights?
The advice about not looking down isn't working for me, either – I have to look down to see the next gap in the sparse planks of the rope bridge I'm traversing. Some thirty feet below, the crocodiles clustered on the rocks tilt their heads upwards and open their mouths wide, sharp teeth glistening in the bright sunlight.
The guide calmly explains that opening their mouths is how crocs cool themselves in hot weather. I'm not reassured.
Half an hour earlier, I was hanging by my harness over the edge of a river bank, just feet from the gaping mouth of a hippo as our guide tossed chunks of watermelon to him. The two male hippos in this pool, he explained, were a father and son; two unrelated males would probably fight. For the first time, I was close enough to these ungainly but gentle animals to see that they have whiskers on either side of their massive heads. According to our guide, hippos have poor eyesight and do most of their foraging on dry land at night, so the whiskers help them to avoid crashing into trees and rocks.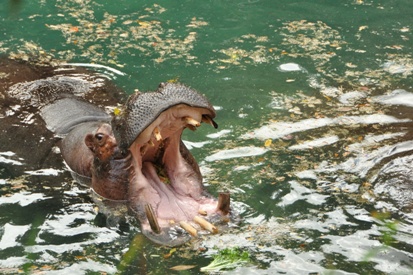 When I finally reach the other side of the swaying rope bridge, my hands are shaking so much I can't unhook my harness. The guide does it for me, and helps me to the next section of our tour, where we hang over another cliff to see the crocs close up. Close up, I'm surprised to find that after a few minutes I'm able to recognize individual differences in the faces of each crocodile, and once again our guide explains what they are doing and why.
From here, we walk through the woods to a hilltop where we have a view across the savannah, and there are shrieks of delight from the members of our group as a trio of giraffes begins walking in our direction.
Just when we've almost forgotten where we are, a truck full of guests bounces along the roadway below us. Oh, yeah, we're not in Africa at all. This is Walt Disney World, and we're on the new Wild Africa Trek, a guided tour which gives participants a new view of the animals in Disney's Animal Kingdom theme park.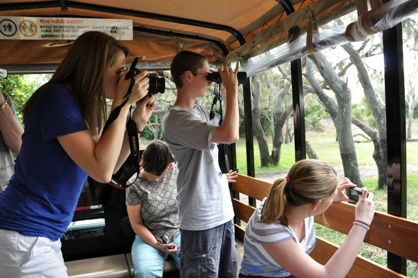 After meeting our group near the Tusker House restaurant, we were each weighed and fitted with harnesses before beginning our three-hour trek. The tour can take children as young as nine, and while there is a fair bit of walking it is at an easy pace so the children in my group had no trouble keeping up. We first head behind the gorilla section of the Pagani Forest attraction for a different view of the silverback male and his family; a new baby named Lilly was born to this gorilla family just last year.
Then we continue on into the Kilmanjaro Safaris territory, where we cross two rope bridges and use the harnesses to hang close to the hippos and crocs. There's no real danger (our guide reassures us that crocs can only jump eight feet, and we're nine feet up), but it's considerably closer than most of us would otherwise get to these animals. After our walk through the woods we are picked up by a truck that, unlike the regular Kilmanjaro Safaris vehicles, can go off-road and can stop as often as we like to allow us to view the animals, take photos, use the binoculars provided, and ask questions of our guides.
When this new truck was introduced to the park, our guide tells us, the rhinos were quite perturbed. They are short-sighted but have a great sense of smell, so they noticed that new-vehicle scent and initially tried to attack the trucks by charging at them.  No significant damage was done, but we were relieved that the rhinos have become accustomed to the vehicles and paid little attention as we stopped to snap photos of two of them rolling in a mud hole.
My favourite animals are the elephants, and I was delighted to have a chance to see two of the babies in Disney's herd playing by the watering hole while we watched from just feet away.  Our guide told us that before Disney developed this environment for their elephants, there had been no live births of baby elephants in North America for more than 20 years. Since the park opened over a decade ago, six baby elephants have been born here and the lessons Disney's learned about how to keep elephants happy and healthy have been passed on to other zoos.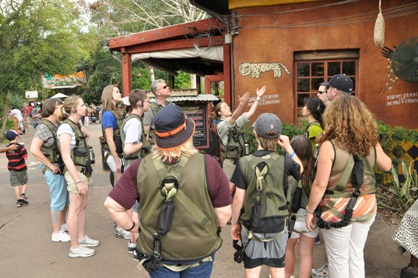 We finished our journey with lunch on a shaded platform built in the middle of the savannah. In one direction, we could see the elephants, and various antelopes, African cattle and giraffes grazed all around us. Our meals were served in tiffins or camp tins and featured three layers of African-spiced foods.
Relaxing on the platform, watched by a curious "Tommy" (Thomson's gazelle) and munching on hummus and flatbread, I feel a million miles away from the bustle of the Disney parks. I've pushed myself past my fear of heights, and my reward has been a couple of hours of close observation of some fascinating animals. Well worth those shaky moments on the rope bridge, I'd say.
And since the tour price includes a Photopass CD with all the photos taken by our guides during the three hours, I have plenty of reminders of the fun and fear of that day. (You can also add other Photopass shots you have taken in the parks to the CD before finalizing your order, so that's a nice bonus.)