This post may contains affiliate links for your convenience. If you make a purchase after clicking a link we may earn a small commission but it won't cost you a penny more! Read our full disclosure policy here.
For a very long time, I was apart of the club that kind of hated on Universal Studios in Florida. The reason I was trashing it was because as huge Disney fan; I think most Disney fans kind of see it as a B list version of Disney. Honestly, as I look back on my comments about Universal I feel kind of dumb.
I went to Universal one other time in my life, and it was in 2001 when Universal Islands of Adventure was fairly new. I remember having fun, but not loving it. My family had bought 4 day tickets at Universal and we got bored by day three and went to the Magic Kingdom on our last day. I think that memory tainted my feelings toward Universal. Needless to say a  lot has changed since the last time I had visited.
I decided to go back and give Universal another shot because, well lately a certain boy wizard has been getting a lot of praise. Now, this needs to be said off the bat, I am in no way a Harry Potter fan. I had seen a few of the movies and I did enjoy them, but it never grabbed me.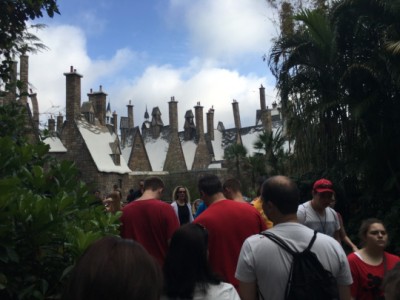 I walked into Hogsmeade village from the Jurassic Park part of the park, which is the worst way to walk into the Wizarding World. If you go in from the Lost Continent part of the park you get a much better view of the landscape and the scale of Hogsmeade. As I walked into Hogsmeade, it was right around 9:20 and most people in the park were making a B line to Forbidden Journey, so the line was massive. To explain how bad it was, the line started behind the Butterbeer cart on the Jurassic Park cart. It then went all the way down the bridge three times, and then we scaled the fence to the real entrance and we went all the way through the queues. And I do mean all the way. We even went so far down the back part of the switchbacks that we were backstage at Jurassic Park. All total I waited in line 85 minutes.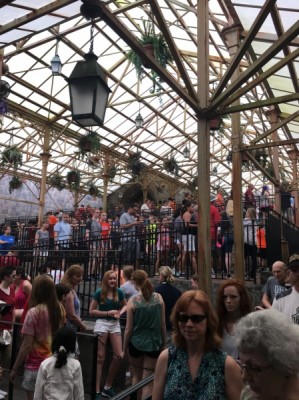 I stood in line though and was absolutely blown away at how detailed that the queue is. I stood there in awe at the detailing in the castle, but I really didn't know what I was looking at. There were some very big Harry Potter fans behind me in line that were visiting for the first time, and I used them as help to know what I was looking at. They acted as my tour guides and pointed out what some of the stuff was. Seeing the class room with projections, blew me away. It was the first time in a theme park I had forgotten that I was in a theme park. I can not overstate how impressive this attraction is.
One of the things that is kind of a bummer about writing about theme park destinations sometime is that nothing really surprises you about attractions anymore, because we do so much research by the time that anything new comes out we have all of the details about it that its a formality basically to ride the attraction. I had not done any research about Harry Potter in anyway, and I was shocked at Harry Potter and the Forbidden Journey. The experience that you get at Forbidden Journey is quite possibly the single most unique theme park experience.
My big gripe about Universal is most attractions are 4D attractions, meaning they put you in a ride vehicle, give you 3D glasses, and you get a little bit of wind blown on you or a little bit of water squirted on you in sync with the film. Not here. This attraction puts you up close and very personal with Dementors, and several other spooky things.
So after I got off the attraction I walked around a few of the shops and meandered my way through the streets of Hogsmeade. I ended up going to the restroom and the details didn't stop there. There is a character from the books and film named Moaning Myrtle and you can hear her in the restroom. Very cool little detail. After looking around in Hogsmeade I decided to hop on the Hogwarts Express, and head over to Diagon Alley. I had heard exceptional things about the train, and I wanted to check it out.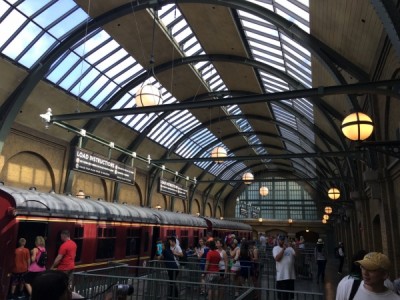 I will continue this article with a part two, and maybe even a part 3 to share why you too should make a stop a Universal on your next Orlando vacation.
What are your thoughts of Hogsmede? What's your favorite detail? Share in the comments!