This post may contains affiliate links for your convenience. If you make a purchase after clicking a link we may earn a small commission but it won't cost you a penny more! Read our full disclosure policy here.

Walt Disney World and it's four parks has so many amazing rides, shows and entertainment that one can hardly choose an absolute favorite.  In the Magic Kingdom however, our family of four has fallen in love with Splash Mountain and think it is a must do for guests.
Splash Mountain is located in Magic Kingdom's Frontierland.  This log ride takes riders through the story of Brer Bear, Brer Fox and Brer Rabbit as Beer Rabbit tries to outsmart the other two as they are determined to catch him.
One of the reasons we love this ride is because of the length of the ride.  Coming in at around 13 minutes, Splash Mountain is truly an experience.  We enjoy the fact that this ride takes a while because it gives us time to enjoy, laugh and relax together.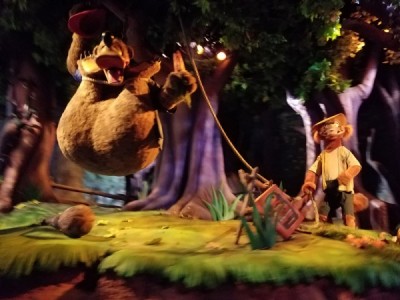 Brer Bear and Brer Fox
The story telling done throughout this ride is also what draws us to Splash Mountain time and time again.  It is fun to be apart of the story as Brer Rabbit tries to stay away from Brer Bear and Brer Fox.   From the Laughing Place to the Briar pPatch and ending with the huge celebration each part of the story is fun and interesting keeping riders fully entertain whether it is their first ride or their 100th.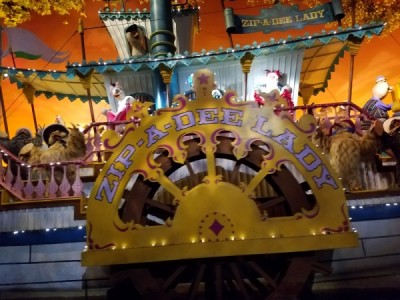 We Love the Songs
Along with the storyline is the music.  Throughout the ride music is played bringing a happy feeling to riders.  Our favorite is the Zippity Do Dah song at the end and we love to sing along and it is just a happy, fun feeling.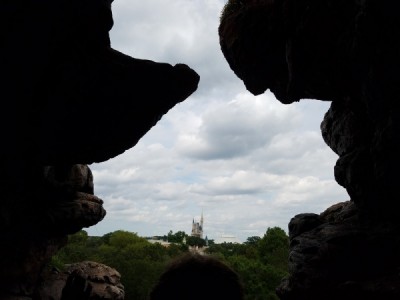 View from the drop
One of my favorite parts of Splash Mountain is the sights you can see while riding.  I absolutely love looking out onto Magic Kingdom as we make our way around the track.  Seeing Big Thunder Mountain, Adventureland, Space Mountain and of course Cinderella's castle from way up high takes my breath away.  I really enjoy the view right before the main drop but you have to be fast to catch it.
Great View at Night
Try riding Splash Mountain at night as well to get a different view.  This is a ride that has a different feel to it in the evenings than it does during the day.  Seeing the park lit up at night is magical.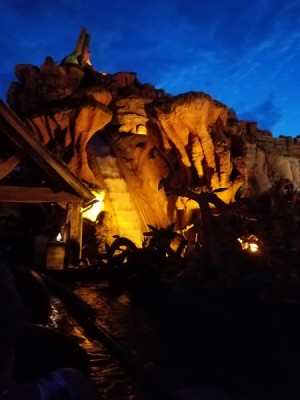 Picture of the drop
The obvious reason to like Splash Mountain  is because of the drops and the water   There is the main drop that everyone can see; however, we have grown to enjoy the other drops throughout the ride.  My favorite is the darker drop into the Laughing Place.  The combination of the dark as well as the extra little dip makes me laugh every time.  On a hot day the water splash and sometimes dump while shocks you at first is extremely refreshing.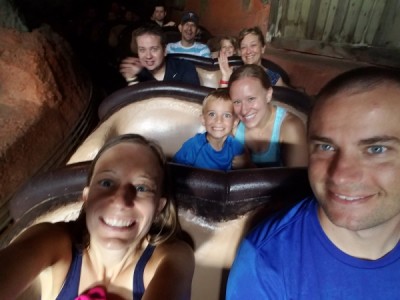 Family Time
Another reason we love Splash Mountain is the overall family time it gives us.  As I mentioned before, it is a longer ride which means that the family is stuck together that whole time.  We have found it to be some our best memories as we are able to talk and laugh together as we are taken along for the ride.   This last trip we also experienced the fun of having the whole log filled with family.  This was a new experience for us and added so much fun as the log was just full of our laughter and screams.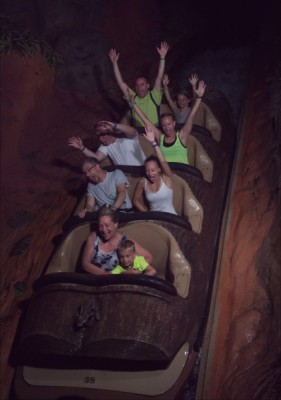 Photopass from Ride
An added bonus to riding Splash Mountain is the photo that is taken at the big drop.  It is so much fun to get off and see what everyone was doing on the drop.  From screaming to posing it is a great souvenir.
There are so many rides and shows we love at Walt Disney World but Splash Mountain is one of our top favorites.  Make sure you head over and enjoy this adventure on your next vacation.
What is your favorite thing about Splash Mountain? Share in the comments.