This post may contains affiliate links for your convenience. If you make a purchase after clicking a link we may earn a small commission but it won't cost you a penny more! Read our full disclosure policy here.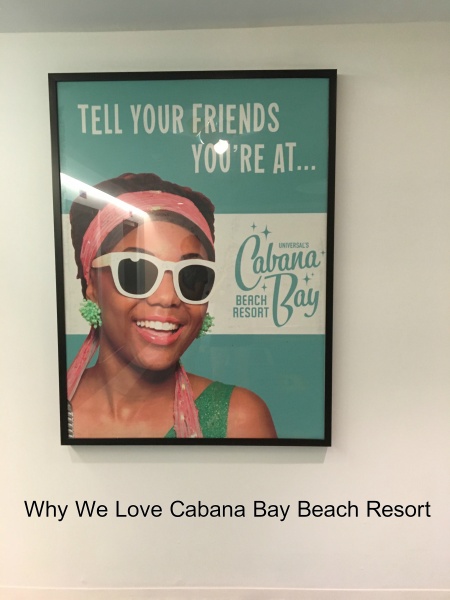 Universal's Cabana Bay Beach Resort is currently the cheapest option for staying onsite at Universal Orlando; however, in our family's experience it is the best and far above Disney World's comparable value resorts.
Here are some reasons we love it.
Reason #1: The Retro Vibe
If you like Disney's Pop Century, you need to Cabana Bay to see the mid-century theme played to a higher level. Walking into Cabana Bay is like stepping into an episode of Mad Men, but with all the modern amenities.
Reason #2: The Pool Area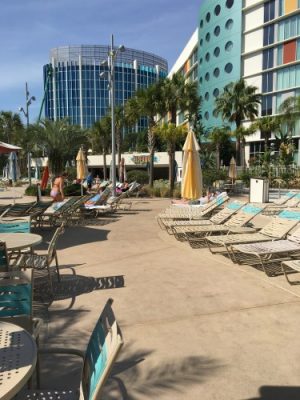 The pools at Disney's value resorts are basic. The pool at Cabana Bay is on par with some of the best pools on Disney property like Stormalong Bay at the Yacht and Beach Club. There are two separate pool areas. One has a lazy river and the other has a water slide. Both offer dive in movies almost nightly (typically one more adult like Batman and one animated like Despicable Me) and both have hot tubs. You can grab a drink at the bar and take it in the pool or lazy river with you (something Disney doesn't allow). It's the perfect mid-day break.
Reason #3: Private Buses
The other Universal hotels feature water taxis, which allow you to go directly into the parks. For now at least, Cabana Bay is the only hotel with buses. These buses run continuously (unlike Disney's) and as a result even a 5 minute wait is unusual. Similarly, the buses go directly to the park drop off center.
Reason #4: Starbucks and other onsite dining options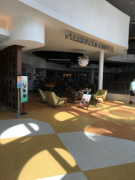 There is a full Starbucks in the lobby. If you're a caffeine addict, this is a lifesaver before heading to the parks. There are also 3 bars with a selection of unique well themed cocktails and an above average selection of local and craft beers. The Bayliner Diner is a counter service food court that is similar to Landscapes of Flavor in its creativity. While you eat it, 1950s and 1960s cartoons and commercials play in the background.
While Cabana Bay Beach Resort does not include the unlimited Express Pass of the deluxe resorts at Universal, it is an excellent value and incredible experience. At less busy times of year, the savings and the excellent amenities make it well worth consideration.
Additionally, it now offers views of the volcano at Volcano Bay. At the same price or less than Disney's value resorts, Cabana Bay is our first pick for a quick trip as well as a more relaxing vacation at Universal.
Have you visited Cabana Bay Beach Resort? What are your thoughts? Share in the comments.
Did you like this article? Make sure to share it with your friends! Check below for easy ways to share!