This post may contains affiliate links for your convenience. If you make a purchase after clicking a link we may earn a small commission but it won't cost you a penny more! Read our full disclosure policy here.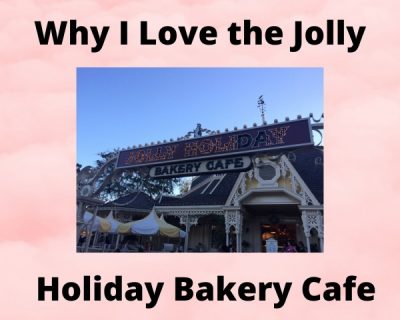 The Jolly Holiday Bakery Cafe, Disneyland Park
There are so many great places to eat at Disneyland, and I like to try new places. But there are a handful of restaurants that I find myself returning to again and again. One of those places is the Jolly Holiday Bakery Café.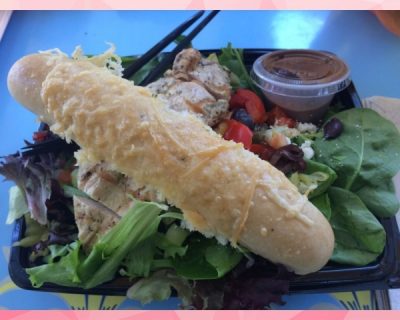 Salad and Parmesan breadstick
This sweet little quick service spot is located at the end of Main Street, U.S.A., right before the junction to Adventureland, in Disneyland Park. It has outdoor seating which is nicely shaded by umbrellas.

You might be asking, "Why is she constantly going back to a fast food place?" Well, here are my reasons:

I LOVE MARY POPPINS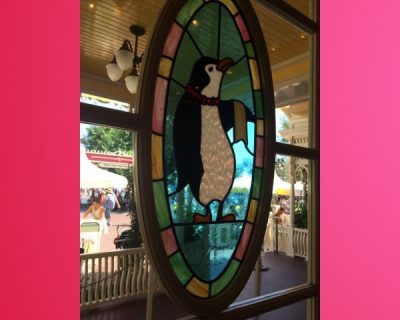 Interior of Jolly Holiday Bakery Cafe
In my opinion, Mary Poppins is Walt Disney's masterpiece. It's my favorite Disney film, hands down, and I don't know if any future Disney film can ever top it. It has always bugged me that there hasn't been a Mary Poppins attraction in the Disney theme parks.  But this spot has lovely décor and Mary Poppins theming.


IT'S GREAT FOR PEOPLE WATCHING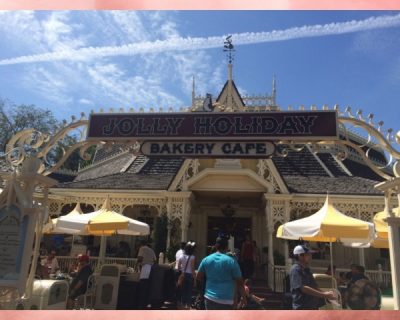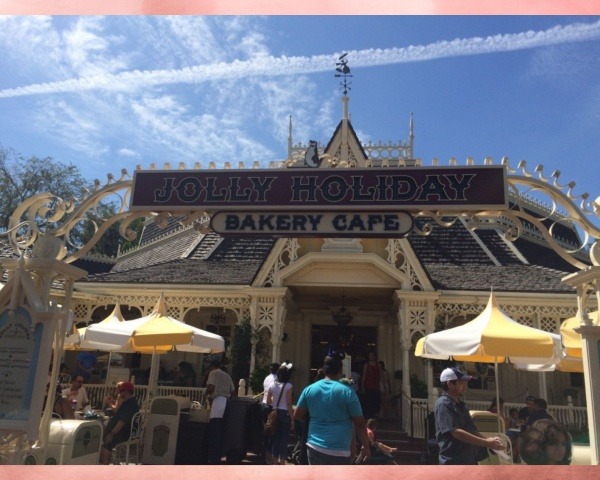 Entrance to restaurant
Eating here gives you a wonderful opportunity to just sit, take in the atmosphere, listen to the ambient music, and watch the crowds go by. I've spent a few pleasant evenings here before Mickey's Halloween Party opened, just watching all the fantastic costumes that guests had come up with. This is a great way to break up a day that is usually filled with lots of activity and running around.


THOSE DESSERTS!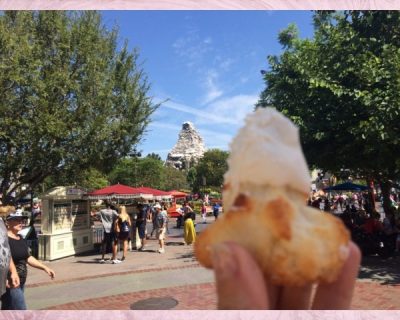 Behold the Matterhorn Macaroon!
This location often rotates out seasonal treats and other special desserts. What's on the menu when you visit may differ, but we've grabbed Halloween cupcakes, festive cookies, birthday cupcakes, and my favorite, the only-in-Disneyland wonder that is called the Matterhorn Macaroon.


IT'S REASONABLY PRICED
Salads, Sandwiches and Baked Goods
Of course, nothing in Disney is dirt cheap, but the prices here mean you can get a filling lunch or dinner without breaking the bank. I haven't had breakfast here, but a glance at the menu shows me that the fare will run you between $5 – $8. My favorite thing on the menu, the Jolly Holiday Salad, comes to $9. Hearty sandwiches run from $9 to $11.

And that adorable Matterhorn Macaroon? It's only $2.99. What other Disney treats can you get for $2.99?


I'VE NEVER HAD TROUBLE FINDING A TABLE


I've eaten here during Spring Break. I've eaten here in the summer. And as long as I avoid the madness of the lunch and dinner peak times, I've had no trouble finding a table. In general, when at Disney theme parks my family has lunch at 11:00am and dinner at 5:00pm. At some quick service locations, even at these times, there can be long lines and a wait for a table. But never at the Jolly Holiday!

I hope I've convinced you to give this lovely, simple little spot a try!
Have you tried Jolly Holiday Bakery Cafe? Let us know your thoughts in the comments or on Facebook or Twitter!
Did you like this article? Make sure to share it with your friends! Check below for easy ways to share!  
Want to visit a Disney Destination? Contact The Magic for Less Travel for more information and a free, no-obligation quote.