This post may contains affiliate links for your convenience. If you make a purchase after clicking a link we may earn a small commission but it won't cost you a penny more! Read our full disclosure policy here.
By:  Rikki Niblett
Spring is one of my favorite times of the year.  I love the budding flowers, the fresh clean scents and the trees gaining their leaves.  Spring, whether it's at home or at Walt Disney World, is hands down my number one season to enjoy.  Unfortunately, I don't get down to the parks in the Spring as much as I want simply because Fall has become my yearly park visit but one of my favorite ways to experience the season is by visiting Epcot's Flower and Garden Festival.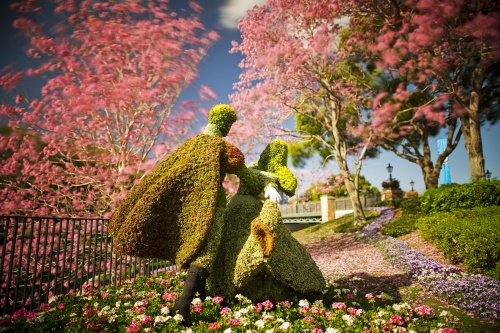 Every year, starting sometime in March and ending sometime mid-May, Epcot blooms with color and life.  The festival boasts special presentations, enchanting gardens, live music, theme weekends and even fun areas specifically for kids.
You must keep in mind that I am certainly no Green Thumb! I kill plants faster than any human should. So, I'll be the first to admit that the seminars they have included with this event are not quite my cup of tea. That doesn't mean that you shouldn't visit them. If you have any interest in gardening at all, make a trip over to the Festival Center (otherwise known as the old Wonders of Life Pavilion) and check out some of the great seminars that take place on the weekends. These are included with your park admission and are from some of the best experts out there including the hosts of HGTV! Trust me; these people certainly know what they're talking about.
I love the Flower and Garden Festival and that is because it is simply the most beautiful time of the year at Walt Disney World.  Disney really puts on a show during this festival.  The plants and gardens are bright and vibrant and, of course, there is my favorite thing; topiaries!  These plants, designed as Disney characters, are simply amazing feats!  I just marvel at how incredibly detailed these works of art are.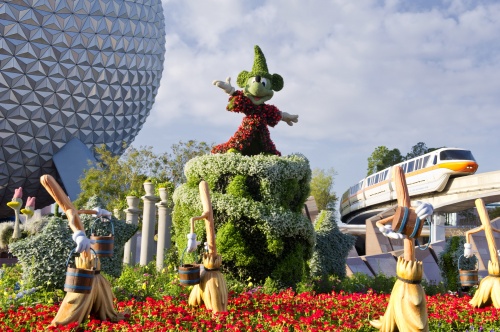 Every year, Disney welcomes guests with an amazing topiary display at the front entrance and this year is no exception.  This year, Sorcerer Mickey helps to welcome you to the party in an effort to celebrate the movie Fantasia! Each country in World Showcase displays incredible gardening feats. Be on the lookout for plants shaped like Snow White and the Seven Dwarves to Lady and the Tramp and you do not want to miss seeing Lightning McQueen and Mater made almost entirely out of plants.  There are well over 100 topiaries that can be found throughout Epcot including 75 that are specifically Disney themed.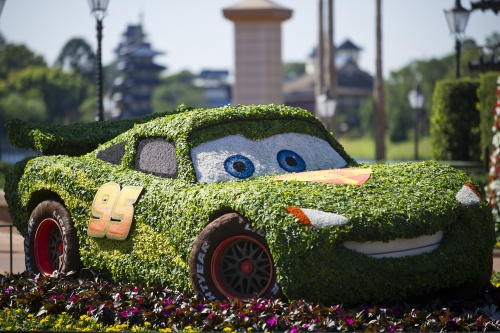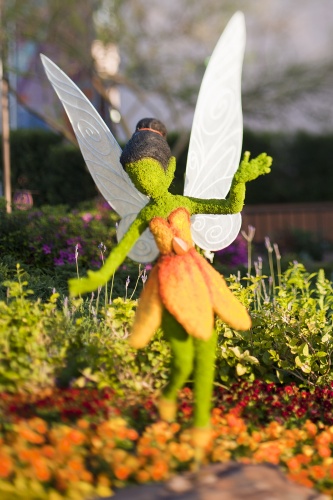 Another fun thing to take advantage of are the Flower Power concerts.  These concerts take place in the America Gardens Theatre and feature some of the great acts from the 60s and 70s.  Some of the perennial favorites include Chubby Checker, Herman's Hermits, Paul Revere and the Raiders. This year, Micky Dolenz from the Monkees takes over for his late former band mate Davy Jones.  The Flower Power Concerts take place Friday, Saturday, and Sunday nights at 5:15 pm, 6:30 pm and 7:45 pm.
In addition to these annual events there are also some smaller ones that help to make this event bigger every year.  From the Pixie Hollow Fairy Garden to the Bambi Butterfly House, where guests experience hundreds of butterflies, it just helps to reiterate that there's something for everyone to enjoy during the Festival.
The Epcot Flower and Garden Festival is included with park admission and this year the event lasts until May 20.  The Festival is certainly a magical time of year.  I really relish the Flower and Garden Festival for the beauty that it brings.  To me, it is a sure sign that Spring has finally arrived.