This post may contains affiliate links for your convenience. If you make a purchase after clicking a link we may earn a small commission but it won't cost you a penny more! Read our full disclosure policy here.
By Jane Jones
"Why Disney?"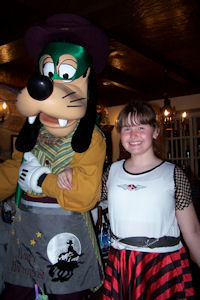 This is a question I am asked often by family and friends alike. Well, those who really know my family have stopped asking. We're now just the people they send their friends to for the answer to the question "Why Disney?"
"Why Disney?" Simply stated, it is the best overall value in service, experience, and just plain fun for the entire family. While there are still many things we have yet to do that Disney offers, we have done quite a lot. Our family has visited Disneyland and Walt Disney World more times than we can count and have stayed at most of the Disney resorts in the USA. We've done 3-, 4-, and 7-night cruises in the Caribbean.
While there are still many things we have yet to do that Disney offers, we have done quite a lot. Our family has visited Disneyland and Walt Disney World more times than we can count and have stayed at most of the Disney resorts in the USA. We've done 3-, 4-, and 7-night cruises in the Caribbean. We've cruised the Mediterranean and the Baltic Seas with Disney. We're Disney Vacation Club members. Hmm…you're probably wondering if we've even tried any other vacation options, and yes we have. They don't compare. Our family is invested heart and soul into Disney vacationing….but WHY?
Let me give you some concrete examples.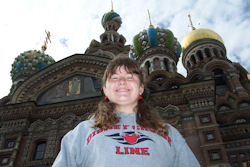 Peace of Mind: Most recently, we did the inaugural sailing of the 12-night European Capitals Cruise on the Baltic. There were cheaper options, as other cruise lines do similar itineraries, but that was not even a consideration. We knew before we traveled that, first and foremost, this would be a first-class vacation. It is the only way Disney does things.
Regardless of what cruise line we choose, we knew this was an expensive, once-in-a-lifetime trip and we were not willing to chance our precious vacation days and dollars on 'unknowns.' I know that if something goes amiss, Disney will fairly make it right. I know Disney strives to meet each guest's needs and requests if possible. You don't just book a vacation, you are booking an experience. We expected the total package to be wonderful from the moment we met our first Cast Member to the final goodbye. And it was.
Special Needs: Our Baltic cruise was truly exceptional in that we were vacationing with a friend with a special need. One of our traveling companions was a recent foot amputee, so now we had to consider that in our planning. This issue was not part of the mix when we booked the trip, but arose about five months before we set sail. Once our companion was cleared to travel, we notified Disney immediately. They noted the condition, and then adjusted our plans accordingly.
When we arrived for our transfer in London to the ship, Disney provided a special van (at their expense) to and from the ship to accommodate the wheel chair. Being a fairly new amputee, our companion was pretty much chair-bound, and Disney respected and worked around this whenever possible. Beyond that, the cruise line switched this guest to a handicapped-accessible room, offered a more substantial wheelchair to use on board ship and on excursions, made sure that our table in each restaurant was either close to the handicap entrance or in a wheel chair accessible area, and everywhere we went our companion was waited on by Cast Members helping with drinks, negotiating hallways and doors, and showing general good manners.
Cast Member assistance was so good, that this traveler was able to get about the ship for just about anything (programs, buffets, etc.) without the necessity of any one of us tagging along. The Cast Members just helped out without being asked. We did not arrange any of this—the cruise line did this to make the trip as stress-free as possible for our travel party. The trip went so well that this guest is returning to cruising with Disney in just a few short months, for an even longer trip! This is what we call first class care. This is what you get when you do a Disney vacation. This is "Why Disney!"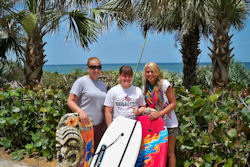 Something for Everyone: The first consideration of those not HUGE Disney fans is that they don't want to be surrounded by kids or characters, especially when you can be stranded with no escape on a ship. This was true for some of the people in our party, yet they found that Disney does a fantastic job of providing something for everyone. There are kids, family, and adult pools on board the ships. There are adults-only areas on the ship including Palo, the adults-only restaurant. You can escape to the spa, show, club, or other special events that are offered just for those over 21 (or 18 in some cases).
This was illustrated beautifully when we attended the Oceaneer's Club "end of the cruise" show where all the children performed. Our "I don't want to be hanging around kids the entire cruise" traveler went with us to watch the show and remarked, "If I would have known there were this many kids on the ship, I would have jumped ship at the first port!" Disney did a great job of keeping them hidden. Well, maybe not hidden, but busy for sure.
There is not a better kids' program than Disney's program. Kids of all ages (infant–teen) have their own areas with the BEST counselors on the seven seas! My daughter had so much fun, she asked to leave dinner early (before dessert!) just to get back to the "Club" and all the fun. That is "Why Disney."
Memories: We have the best memories from our Disney vacations, and our Baltic cruise was not exception. We don't think about what we missed, didn't do, upset stomachs, long line at the airport, etc., we think about the fun we had, the quality experiences Disney provided, the outstanding service from the Cast Members. Nothing is ever perfect, but Disney excels in making magic for everyone that vacations with them. That is "Why Disney."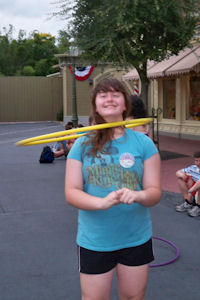 Excitement: This is probably the best reason that answers the question "Why Disney?" They always seem to out do themselves! After years of going to Disney World and Disneyland, I was excited the first time I went to Disney's California Adventure. I was excited the first time I stayed at a Disney non-theme park property (Vero Beach is now a yearly vacation for us), I was excited to take our first Disney cruise (four days), then another (seven days), then another (to the Mediterranean), the still another (on the Baltic)! The adventures never end. Disney continues to reinvent the family vacation with new destinations (we're off to Alaska with Disney next summer), new experiences (I can't wait for Fantasyland's reimagineering to be complete at Walt Disney World), and simply more and more for the entire family—no matter how much you love (or tolerate) Disney. This is "Why Disney."
With vacation time so limited, and vacation dollars so prized, it is more important that ever that vacations are planned and paid for with confidence. Never fear with a Disney vacation. We don't. We don't ask "Why Disney?" We ask "Why Not?"