This post may contains affiliate links for your convenience. If you make a purchase after clicking a link we may earn a small commission but it won't cost you a penny more! Read our full disclosure policy here.
On a Disney Cruise, the fun begins at the terminal!
When families with children think about vacations, they often consider Disneyland and Walt Disney World. These two destinations are known the world over for being tailor made for families with children of all ages.
But many families dismiss the idea of a Disney Cruise because of preconceived notions about what a cruise is like. Perhaps they've watched a lot of reruns of The Love Boat and picture nothing but romantically inclined singles and honeymooners. Or they're picturing their grandparents playing shuffleboard.
The truth is, just as Disney's resorts and theme parks are known for being fabulous places to visit whether you're a toddler or a great-grandparent, the Disney Cruise line has something to offer every type of traveler. And that certainly includes families with children.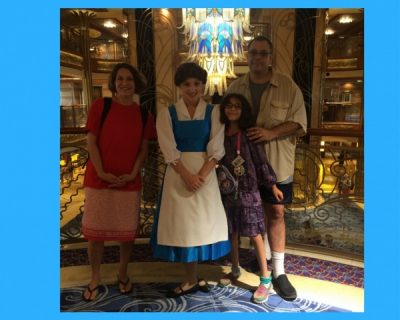 Meeting Belle on the Disney Dream
Here are my top five reasons you should consider a Disney Cruise for your family.
ALL-INCLUSIVE (ALMOST)
If you've got kids, you know how expensive entertaining a family can be. Those who are watching their budget might automatically discount a cruise, thinking it will be too expensive. And, no doubt, they aren't cheap. But you need to look at what you're getting for your money.
There are many cruise lines vying for your business, and at first glance, the price tag of a Disney Cruise might be off-putting. That is, until you look carefully at what is included in the price. Many other cruise lines offer what sounds like a great deal, until you are actually on the boat and you're being nickeled and dimed into a big money pit.
Once you board your Disney Cruise ship, there will be very few times you need to pull out your wallet. Of course, there are the gift shops, and you'll need to pay if you want to drink alcoholic beverages. The ships also feature specialty candy, ice cream, and coffee shops were items do carry a surcharge. And the adults only restaurants also carry a surcharge.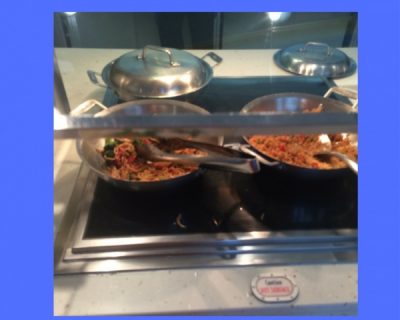 Visit the buffet as often as you'd like – it's included in the price of your cruise!
But all your family meals, including room service, all the fabulous night time theater presentations, all the fun family game shows, movies, the pools, the parties, the kids club, the interactive Midship Detective Agency, and most of the activities on Disney's own island, Castaway Cay, are included in the price of your cruise.
When my family and I cruised with Disney, we decided to spend as little as possible on "extras" and we still found we had a fabulous time, with many more things that were included in the price of our cruise that we didn't have time for!
Up to $1,000 Onboard Credit
Deal
Receive up to 5% of your cruise price in shipboard credit exclusively from The Magic for Less Travel when you book any new Disney Cruise Line Sailing. This is not a rebate or check you will receive after you cruise; this is a shipboard credit you can use on your cruise! Use your credits for shopping, shore excursions, spa treatments and more. Restrictions apply. Request a no-obligation quote today! Read More
More
Less
THE KIDS CLUBS
If the adults in your party would like a little alone time, your kids can have the time of their lives in one of Disney's kids' club. Each ship has a huge area for kids to play in a supervised environment. Different zones are set up for younger children, tweens, and teens. Our daughter loved the Oceaneer Lab and Oceaneer Club so much that she kept asking to go back day after day!
Depending on your ship and itinerary, your kids can learn the ways of the Force from a Jedi Master, dance with Tinker Bell, learn how to be a super hero from Doctor Strange, and play interactive games. And if you'd like to take advantage of one of your ship's adults only restaurants, the kids can have dinner in the club!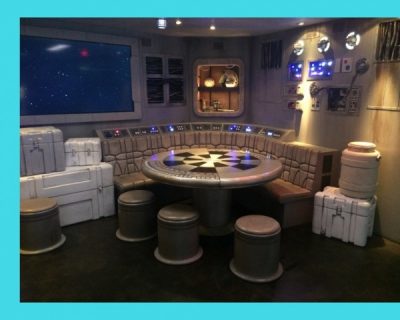 The Oceaneers Club on the Disney Dream features a room themed to the Millennium Falcon!
CHARACTER MEET AND GREETS
Disney has one heck of an impressive array of characters, and with the recent acquisition of both Marvel and Star Wars, that list of characters keeps growing. The opportunity to meet characters, both classic and new, is a big plus for a Disney Cruise. You can meet them on the ship and also on Disney's private island, Castaway Cay, if your cruise includes a stop there.
THE FAMILY GAME SHOWS
This was one part of our cruise that we didn't know about, and it wound up being one of the most fun things we did on our vacation. Every night, between our early dinner seating and theater presentation, there was a different family game show. We wound up winning the Disney Trivia Challenge one night, and had a blast proving that we were worthy to be pirates at another one. In true Disney fashion, there was plenty of people of all ages to do in these friendly competitions.
THE RESTAURANTS
Not all kids are into fine dining, but Disney has a way of making fancy sit down meals family friendly. One night, you might be eating in a dining room that was decorated by Princess Tiana. Another, at a vibrant recreation of an animator's workplace, where vivid animation comes to life and Crush visits to chat with diners. The wait staff knows that kids can get impatient between courses, and will bring simple puzzles to their tables to try to stump them, coming back to check on their progress. Our daughter, who is just as fidgety and impatient as the next kid (sometimes more so!) never once complained about the leisurely pace of our meals because the wait staff was so attentive. And she loved the food as much as we did!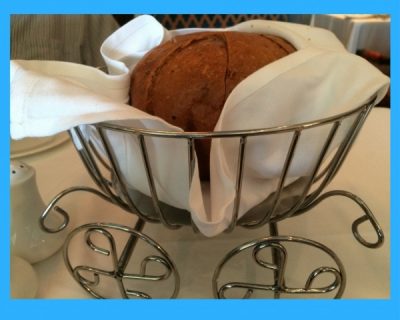 At the Royal Palace, your bread basket is Cinderella's coach!
Have you cruised on Disney Cruise Line with kids? What are your suggestions and experiences? Share them in the comments.
Did you like this article? Make sure to share it with your friends! Check below for easy ways to share!