This post may contains affiliate links for your convenience. If you make a purchase after clicking a link we may earn a small commission but it won't cost you a penny more! Read our full disclosure policy here.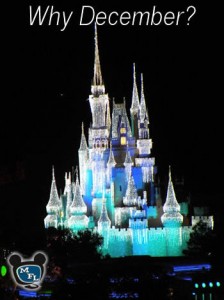 If your month is anything like mine, December can be summed up in one word: CRAZY! While lots of the added activities this month are fun, all of the stress of shopping, decorating, wrapping, parties, and so on can really get to a person. So, why in the world do I think that December is a great time to travel to Walt Disney World? Read on.
One thing that we often crave this time of year is good old family time. Leaving behind the hustle and bustle of our everyday lives means that we can do just that. The only time commitment we give ourselves at Walt Disney World in December is a dining reservation. Everything else just goes with the flow.
In full disclosure, a trip to Walt Disney World in December requires a different type of park touring if relaxation is to be had. This is far from our first trip down, and won't be our last. We have no expectations that we will see every attraction. We make good use of FastPASS, Extra Magic Hours, and every other touring tip that comes to mind. But that's not what a trip during this time of year is about. We are here to soak up some good family Christmas experiences!
Here is a list of my December Must-Dos for a family trip:
Osborne Family Spectacle of Dancing Lights. I seriously cannot get enough of this. It is what my neighborhood would look like in my dreams – and if we also were sponsored by Sylvania. The songs, lights, snow that isn't cold all just make for an amazing festive time. My family just hangs out, chats, pretends we can take amazing light pictures with our phone cameras, and has a great time.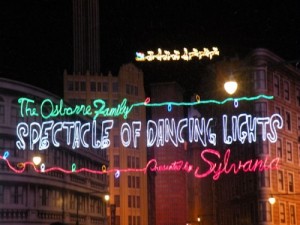 Resort Tours. We all have our favorites. I like hanging out in the Polynesian lobby. My youngest enjoys the Contemporary. My oldest likes the gingerbread houses. We make sure to make dining plans at a deluxe resort and then spend time touring that one and its neighbors. My husband is willing to spend lots of time touring if we can squeeze in a meal at Flying Fish on Boardwalk!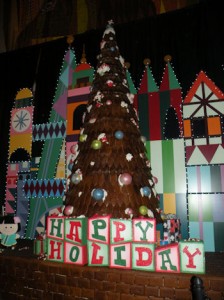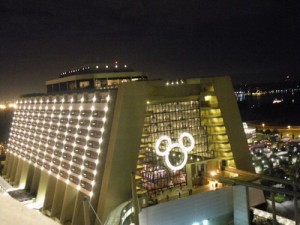 Christmas Around the World at Epcot. Alas, Lights of Winter, which was my all-time favorite tradition, is no more. But Epcot is still a great place to spread some holiday cheer. Each country has a traditional character come out and talk about the customs of the season. Not all celebrate Christmas, but they all have special traditions to share. It's fun and educational. Plus we can spend some time browsing shops around Word Showcase looking for some gifts. We even adopted the Christmas pickle ornament tradition from a visit to the Germany pavilion. Although my family is German, we never did this while I was growing up. My family has remedied the situation and it's become a Christmas morning tradition, plus a nice memento of December trips past.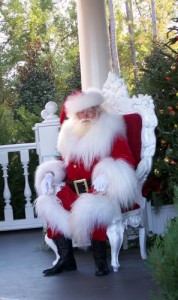 Mickey's Jammin' Jungle Parade. I admit, somehow we manage to miss the parade at Animal Kingdom a lot. Something about the timing just doesn't always work. But when the characters don their holiday apparel, it's a fun sight to see. And it's much more comfortable waiting for this parade in December than it is in the heat of July.
Mickey's Very Merry Christmas Party. We can go on rides at Magic Kingdom, of course, during the party. But the real draw is the special events. We have memories of dancing (and embarrassing) our children at A Totally Tomorrowland Christmas dance party. Mickey's Once Upon A Christmastime Parade is an all-time favorite. Where else can you smell the goodies "baking" on the floats? And of course, the fireworks are amazing. We throw on our Santa Mickey hats, map out the special events we want to see, and hit a few rides for those of us who can't stand to be in a park and not ride. Yes, it's an extra cost (and a significant one at that) but it is so fun and merry, we choose to make the most of our day. Rest up and stay late!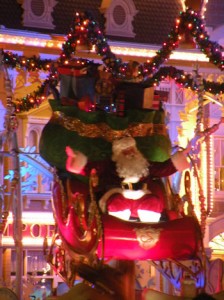 Finally, I can't end my list of December Must Dos without mentioning the Candlelight Processional. This amazing retelling of the Christmas story in word and song is like nothing else. When the list of celebrity narrators comes out in the summer, we check to see who will be there during our trip. Not that we've ever had a bad experience. Some years we choose to do a Dinner Package and get reserved seats.  Some years we just sit in the America pavilion and listen. Either way, it's a truly special experience.

And if you are going to be at Walt Disney World for New Year's Eve (be warned, it is CRAZY crowded), make a point of seeing the New Year's Even fireworks at the Magic Kingdom. They are presented two nights (December 30 and 31) and are well worth the insanity of the crowd. Dance music was broadcast throughout the park, the Fantasy in the Sky fireworks are break taking. There is even a countdown to the New Year in fireworks.  We went, found a spot, and stood for a really long time. But we created memories of a lifetime when we did it. And I have an adorable video of my daughter doing some amazing dance moves as evidence of the fun. Alas, she knows me too well, and clearly states in the video that I am not allowed to post it online. My kids are starting to put disclaimers in their cute activities!
So, if you're ready to change the way you think about a Disney vacation, take some time and head down in December. Create your own list of family must-dos. Going the week between Christmas and New Years will have us encountering the biggest crowds of the year. But we are here for the atmosphere. And memories of our special Christmas traditions that will last a lifetime.