This post may contains affiliate links for your convenience. If you make a purchase after clicking a link we may earn a small commission but it won't cost you a penny more! Read our full disclosure policy here.
By Heather Lewis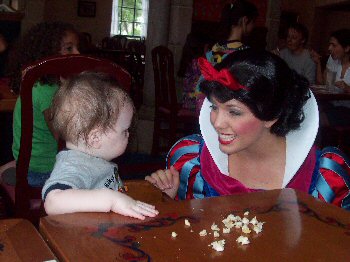 "Why are you bothering to take your kids to Disney World? There is no way they'll remember it!" Once my husband and I decided to take our two small children to Disney World this past October, it seemed this question was all we heard. Obviously the people asking this were not dedicated Disney fans, and in most cases they were individuals who had never been to Disney World. At the time of our trip, our daughter was two years and ten months old and our son turned one on the trip.
I pointed out that even if the children would not remember the trip, we always would. Seeing as I am also a scrapbooker, the pictures of our trip will be documented for our children and ourselves to enjoy years from now. My daughter's autograph book has already become one of her prized possessions and she pulls it out to tell everyone who she met at Mickey's house.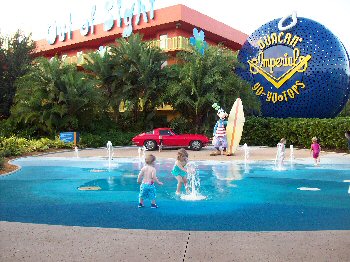 My daughter, Kaitlyn, is at that wonderful age where magic exists and everything does end happily ever after. What better time is there to introduce her to the wonder of Disney? As a toddler she loves to wear her princess dresses all the time. Meeting the characters from her favorite movies and shows was an enormous thrill. Standing on Main Street USA, watching my daughter's face light up as she saw Cinderella's castle for the first time, brought tears to my eyes. Her joy and excitement was contagious.
What better place is there than Disney World to celebrate a first birthday? Parents have always made an occasion out of a baby's first birthday, even though the child won't remember it. So if you're going to do it anyway, why not go all out? My son, Robert, spent his first birthday flirting with princesses, taking a boat ride through Mexico, watching giraffes from our balcony, and saw his first fireworks display. Years from now when he asks how we celebrated his first birthday, I think the answer will surprise him. These are the stories that will live on in family history.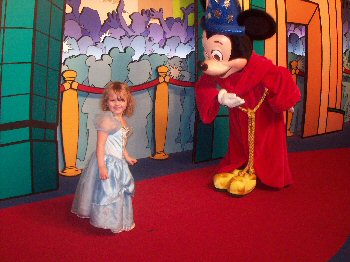 An unexpected advantage to taking small children to Disney World was how much it forced us adults to slow down. Kaitlyn loves to examine every detail of an object and the detail-filled parks were no exception. She would take in every detail of an attraction, and this lead to me having a new appreciation for the Imagineers. The amount of thought placed into even the queue or exterior of an attraction was enough to keep our almost three-year-old from getting antsy, because she was so busy trying to take it all in!
Another surprising advantage was how affordable it is to take small children to Disney. Children under three get into the parks for free and do not require a meal plan if on a package. We choose to bring our own double stroller from home, especially since we knew both children would be spending a large amount of time in it. By bringing our own stroller we also had it available at the resorts and the airport, which was very helpful.
By going in October, the crowds were minimal and normally the weather is mild. Keep in mind that children need the protection of sunscreen, especially at Disney parks, even if during the off-season. We also took a break each afternoon to go back to the room for some rest. My daughter didn't nap each day, but my son did. If Kaitlyn didn't nap, then I would normally take her for a walk around the resort to run around and burn off some of her extra energy from being in the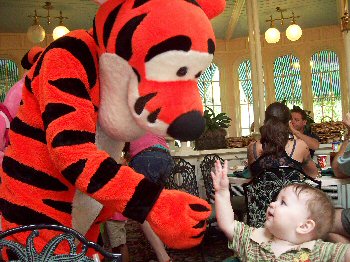 stroller.
Meals were surprisingly easy with two little ones. Each dining location we went to had booster seats and highchairs. Most table service locations, including The Hollywood Brown Derby, have a kids' menu with crayons to keep toddlers entertained while waiting. At buffets there is no charge for a child under three to eat and the servers are more than happy to bring a drink with a lid for toddlers. At other locations you can share your plate with your child or order them a meal off the kids' menu.
For me, taking my babies to Disney World for the first time started a new chapter in my life with Disney. I started going to Disney World when I was my daughter's age and the most magical place on Earth has been woven throughout my life ever since. Watching Disney work its magic on a new generation is an experience that is always going to be remembered and treasured — by parents especially. And that's reason enough to make the trip.