This post may contains affiliate links for your convenience. If you make a purchase after clicking a link we may earn a small commission but it won't cost you a penny more! Read our full disclosure policy here.
By Ann Dunnington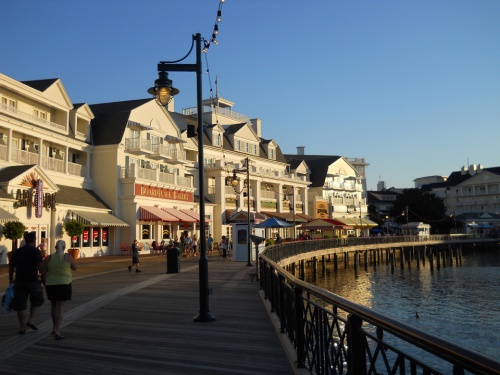 Good day, Walt Disney World planners!  I am currently sitting on a plane, flying from Calgary, AB, Canada to Minneapolis.  A short layover (aka, a quick run through the very long Minneapolis Airport), and we'll be on our way back home to Ohio.  I had originally planned on doing a Calgary/Canadian Rockies trip report, because the whole reason we went to Canada was because "Marty sent us" (yep, we took a left out of the theater, past that big silver ball and headed due North).  It was a fantastic trip, but of course, while we were there we couldn't pass up the opportunity to get over the 'end of vacation blues' by planning our next trip to Walt Disney World.  Side note: one of the Delta flight attendants has a Mickey Mouse lanyard on… it's a small world after all.  (You knew that was coming).
My husband and I started thinking about where we wanted to stay for our next Walt Disney World vacation.  To date, we have stayed at the Walt Disney World Swan twice, All Star Movies, All Star Music, Pop Century, Saratoga Springs, and offsite at the Westgate.  We loved each resort in its own way, but we're looking forward to a little something different for this next trip.  I'll tell you where we have decided to stay at the very end.  The suspense is killing you, I know.
So, how do you decide where to stay?  There are so many variables in choosing a hotel.  It isn't just as easy as pointing to a map with your eyes closed.  Here are some things to think about:
Onsite vs. Offsite
Ah, the big debate.  For us, it's a no brainer.  We stayed offsite in 2010… and lasted one night. You see, the Westgate where we stayed is a nice resort- we had a 1-bedroom condo with a full kitchen, balcony overlooking a lake, fairly close to Animal Kingdom, you name it.  Unfortunately, the internet wasn't working, someone broke into our room while we were in it, and the neighbors next door screamed all night.  Needless to say, we were really missing the Disney magic!  In fact, I called the front desk of All Star Movies at 1:00am to see if we could find a room for the night, and I was so impressed with how sympathetic the Cast Member was and how willing she was to accommodate us (even at a discounted rate).  This is not to say that staying offsite is bad, because you really can find some nice deals and excellent hotels very close to Walt Disney World.  Here are some things to consider to help you choose between onsite and offsite:
Onsite                                                 Offsite
Free parking                                        $14 per day WDW parking (unless you have an Annual Pass)
Less space for the money                    More space for the money
Short commute time                            Longer commute time
No need to rent a car                          Car rental a necessity (shuttles are not always reliable)
Immersed in Disney magic                 I-Drive isn't very magical (just kidding… sort of)
Wonderful customer service               Customer service depends on where you stay
Extra Magic Hours Benefit
For us, staying onsite is well worth it.
Value, Moderate, Deluxe, Deluxe Villa….Oh my!!
Ok so let's say that I have convinced you to stay onsite during your next Walt Disney World vacation.  There are so many resorts and resort types to choose from, how do you pick?  Here are some things to think about:
How many people are you traveling with?
Are you traveling with children?
What is your budget?
Do you like to spread out and enjoy the room, or do you just need a room to sleep in for the night?
Are you renting a car or relying on WDW transportation?
What is your favorite theme park?
Value Resorts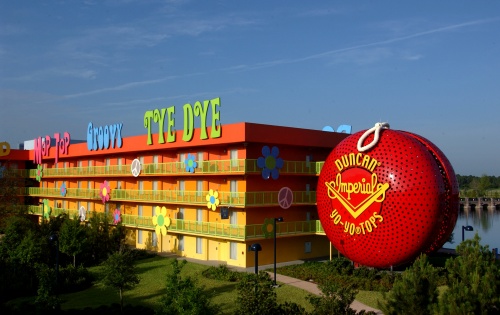 The Value resort rooms (minus the family suites) are similar to a typical budget priced hotel in any city, with some Disney magic thrown in.  The Value resorts are:  The All Stars (Music, Movies, and Sports), Pop Century, and Art of Animation (Little Mermaid Section).  Generally they come with 1 King bed or 2 Queen beds, bathroom with a sink outside, small table and a couple of chairs, mini-fridge, phone, TV, safe, hair dryer, iron, ironing board, basic toiletries, and have outside corridors.  They're themed with larger than life characters and are great for families and budget-minded travelers.  They also have a food court, gift shop, arcade, pools with evening movies, plenty of parking, coin laundry and in-room pizza delivery.  Depending on the time of year, and if you have a discount like AAA, a Pin Code, or AP discount, you could spend anywhere from $70 up to $180 per night, plus tax.  These rooms are the smallest of the on-site properties at 260 square feet, but a fine size for 2 adults and 2 kids.
Value Resorts Family Suites
Art of Animation and All Star Music have family suites that can fit larger families.  They have all of the amenities I listed above with an addition of an extra living room space, kitchenette, and extra bathroom.  These are good choices if you have a larger family, a few kids, want extra space, or want to have the ability to make light meals in the room.  They are almost double the size of the regular Value rooms, at between 520 – 568 square feet, depending on the resort.  You will pay for this extra space, though.  They are a bit more expensive than the regular Value resort rooms, ranging from $159 to $425 per night, plus tax, depending on time of year and if you have a discount.
Moderate Resorts
The Moderate resorts are a step up from the Values.  These resorts are Coronado Springs, Caribbean Beach, Port Orleans Riverside and French Quarter, and the Cabins at Fort Wilderness (but I consider the cabins a step up- more on that in a bit).  The rooms at Coronado Springs, Caribbean Beach, and Port Orleans are about 315 square feet and offer 1 King or 2 Queen beds, a couch, a table and chairs, TV, phone, mini-fridge, safe, hairdryer, iron, ironing board, and exterior corridors.  Like the Value resorts, they have a food court, gift shop, arcade, pools with evening movies, plenty of parking, and coin laundry, but they also have room service (limited), a table service restaurant, bike or boat rentals, and nicer toiletries.  Though these are still very much Disney resorts, the characters are much more subtle and the feel of the grounds is much more upscale.  These rooms are moderately priced, and depending on the time of year and if you have a discount, you can expect to pay anywhere from $145 to $300.
So what about the Fort Wilderness Cabins?  These are considered Moderate, but to me they're on the cusp of a Moderate and a Deluxe… a Mod-luxe?  These free-standing units have a separate sleeping and living area, with a family room, fully equipped kitchen, and full bathroom.  Because of the amenities, these cabins can run anywhere from $285 to $400 per night.
Deluxe Resorts
The Deluxe resorts are the top of the line hotels that Disney has to offer.  These are the Grand Floridian, Polynesian, Contemporary, Bay Lake Tower, Wilderness Lodge, Yacht Club, Beach Club, Boardwalk, and Animal Kingdom Lodge.  These Deluxe rooms offer more space than the Moderate resorts at between 345 and 380 square feet, and as you would expect, all of the amenities that the Value and Moderate resorts offer with a few more 'extras'.  The grounds of each of the resorts are meticulously maintained with a lot of recreational activities and upscale restaurants to enjoy.  Except for the Animal Kingdom Lodge, all of the Deluxe resorts access a nearby theme park via Monorail, boat, or short walk.  Animal Kingdom Lodge is very close to the Animal Kingdom, but the only transportation available is a bus.  So what will you spend if you stay at a Deluxe?  As I said before, it depends on the time of year and if you have a discount code, but the average is somewhere between $285 and $550 per night.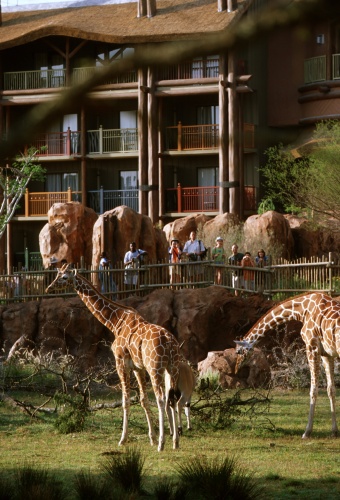 Deluxe Villa Resorts
The Deluxe Villa resorts are Disney Vacation Club properties.  These are located at the Yacht Club, Boardwalk, Bay Lake Tower, Animal Kingdom Lodge, Old Key West, and Saratoga Springs.  The size of villas range from a studio with a kitchenette that sleeps up to 4, to a Grand Villa with a full kitchen that sleeps up to 12.   The location of these properties is difficult to beat- they are each very close to a theme park or Downtown Disney.  If reserved through Disney, these resorts can be very costly (between $350 and $2500 per night) but you can experience them at a fraction of the cost by renting DVC points.  There are a few companies that rent out DVC points, or you can also rent these from DVC owners on your own.
Other Options
If you have a camper (or if you own or want to rent a tent), you can stay at Fort Wilderness.  They have full or partial hookups, bath houses, and lots of recreational activities.  These campsites are a hoot to see at Christmas time because the yearly campers always go all out with their holiday decorations.
The Walt Disney World Swan and Dolphin hotels are Westin and Sheraton owned, respectively.  Guests that stay at these hotels receive Extra Magic Hour benefits, but do not enjoy free parking, and Disney gift cards are not accepted here.   We have always enjoyed staying at these hotels, as the service is very comparable to Disney owned resorts, it's on the Friendship Boat loop to EPCOT and Hollywood Studios, and there are some wonderful restaurants like Il Mulino and the Fountain to enjoy.
The Downtown Disney area has some "onsite but not onsite" hotels that are not Disney owned, but are considered "good neighbor" hotels.  These hotels include Best Western, Buena Vista Palace, Double Tree Suites, Hilton, Holiday Inn, Royal Plaza, and Wyndham, so they could be good choices if you are a frequent traveler and have rewards memberships to use.
So which resort are we going to choose for our next Walt Disney World vacation?  See if you can guess with the following clues:
We travel just the two of us, with no kids
We are budget conscious
We like to spread out
We rent a car
Our favorite theme park is EPCOT
We like to take evening walks around the hotel
We like to be inside the "Disney magic" without being hit over the head with Mickey Mouse ears (if you know what I mean)
We have food allergies and prefer to cook in our own kitchen whenever possible
We like big band music and evening entertainment
I am happiest when I am on a Friendship Boat
Did the last two hints give it away?
We have decided that this year we will be renting DVC points to stay at Disney's Boardwalk in a 1-bedroom villa.  This allows us to have a full kitchen, be close to EPCOT, spread out, and enjoy the evening Boardwalk activities without having to get in the car and drive there.  When renting points, keep in mind that sometimes the resort and room type won't be available for when you're traveling.  Knowing this, we do have a few back-up's if the Boardwalk 1-Bedroom isn't available, and that is the Animal Kingdom 1-bedroom villa, followed by the Boardwalk studio villa, and lastly the Animal Kingdom studio villa.  When we were in Calgary this week we stayed in a condo and it was so much better for us (physically and mentally) to be on a regular eating routine.  We like going out to dinner as much as the next people do, but after a few days of it we're both ready for my own cooking again.  Plus, I like to be able to pack lunches to eat when we're in the park whenever we get hungry without having to wait in line.
Who knew there was so much to consider when selecting a Walt Disney World resort hotel?!  Where are you staying during your next trip?