This post may contains affiliate links for your convenience. If you make a purchase after clicking a link we may earn a small commission but it won't cost you a penny more! Read our full disclosure policy here.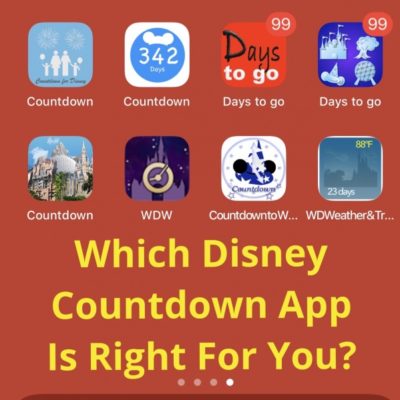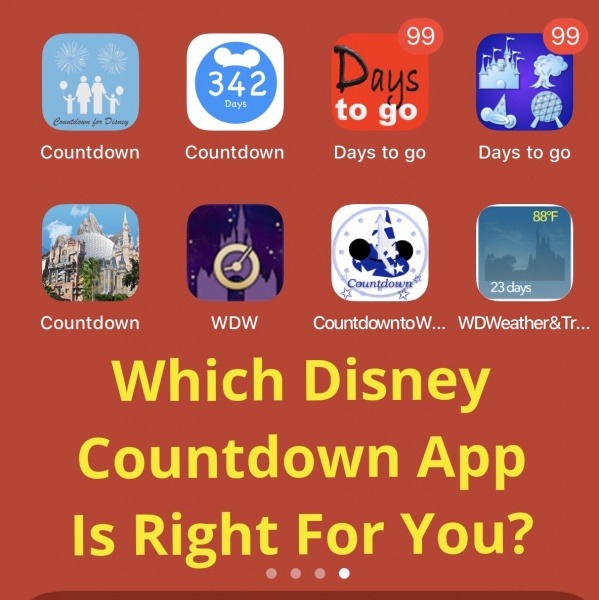 Disney Countdown Apps. They let us know that our Disney adventure is coming. But which app to use? A timer or a planning assistant? We've identified some of the very best so that you don't need to research them.
The planning countdown reminders are based on Walt Disney World resort reservations unless noted. If you are going on a Disney Cruise or to Disneyland the countdown only apps are best for you.
Many Disney Countdown Apps supply versions that work on both Apple (ios) and Android platforms. For Apple check to see if your device is supported (iPhone, iPad, Apple Watch). Apps vary from full service including planning information to simple countdowns. All our testing was done on iPhones.
Full Service Disney Countdown Apps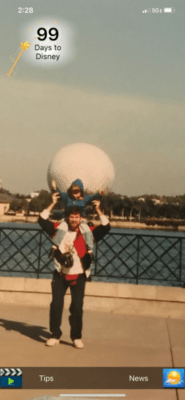 Countdown for Disney By BT3Computing
Probably one of the most popular Disney countdown apps. This app is available for both Apple and Android.
What we like: The App is clean with a nice widget showing the countdown within the picture. The app provides reminders for key Disney planning events.
Neat Features: The planning reminders are viewable at any time and act as a handy "where are we now" status in your planning cycle. Weather history and various tips are included.
What we don't like: The app is free but to unlock most of the content you need to purchase the full version ($.99). This is a bait and switch tactic no one likes. The app also has an advertising banner.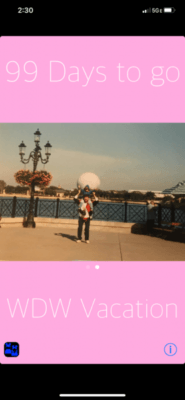 Days to go WDW countdown to your Disney Vacation/Days to go WDW II by Joe Fratianni
This is a mainstay in the Disney Countdown App world and a favorite of the Be Our Guest Podcast. This App is available in two versions for Apple (Version 1, Version 2). This is the app we personally use. Both versions appear identical.
What we like: The main page countdown icon. The countdown visibility improves with the countdown visible. The countdown information is in banners above and below the picture which maintains picture integrity. You can upload your own pictures for the slideshow.
Neat Feature: Magical reminders can be set to keep the Disney Magic flowing. Social media posts are available.
What we don't like: The banners are appear a bit old school and clunky if you don't customize the font and color.
Unofficial Disney Countdown
This app is available on Android only. We could not test this app.
Things we like: We didn't test this app but it looks full service and rather nice. Planning reminders, photo uploads, and view customizations are all available.
Neat Feature: They send out fun and useful tips.
What we don't like: The app is not available for the iPhone.
Disney Countdown App Only
Countdown for Disney World by Ethan Brimhall
A relative new comer to the Disney Countdown App arena, This app is available in an Apple version only.
What we like: This is an easy to use, relatively simple app.
Neat Feature: Optional Disney style music can play when the App is open.
What we don't like: The countdown widget is large and can cover up the picture. You can only pick one picture. Disney planning reminders are not included. The App Icon includes a number that is not the number of days until your trip. The app does not have a social media share feature.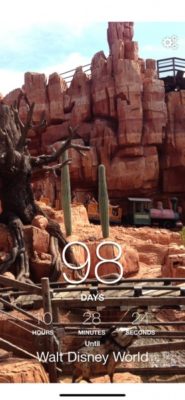 WDW Vacation Countdown/ Countdown to Disney World Trip by Ricky Mills
Available in Apple and Android.
What we like: Straightforward simplicity.
Neat Feature: Large number of Disney pictures.
What we don't like: This app only contains stock photos and a countdown. The countdown is in Days/Hours/Minutes but you can't set the arrival time – only the date. This offers too little functionality.
WDW Countdown by RLR Concepts, LLC
Available on Apple.
What we like: Multiple countdowns are available at the same time.
Neat Feature: You can export the countdown to be your background screen.
What we don't like: Disney planning reminders are not available (but you can use the multiple countdown feature to remind you). There is not a slideshow feature.
WDWeather & Trip Countdown App by Chris White
Available on Apple.
What we like: Simplicity. This is a countdown only App.
Neat Feature: Current Disney World Weather
What we don't Like: Pixelated Disney pictures are used as backgrounds.
Disney Planning Countdown App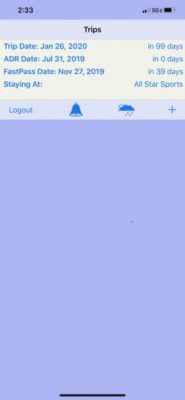 Countdown to WDW Vacation by Robert Huber
Available on Apple,
What we like: This is just a list of planning dates plus a view of the current weather.
Neat Feature: This app varies planning reminder information based on whether you stay on or off Disney World.
What we don't like: Going to Disney is fun and not just planning.
Final Note:
We completed all our testing on an iPhone 11 X Pro with ios version 13.1.3.  Your results may very with other operating systems.  All these options are better than the homegrown Lotus program we used in 1983 that had a countdown and showed random Disney sayings.  It was simple but so was Walt Disney World back then.
Which Disney Countdown app is your favorite and why? Share your thoughts in the comments or on Facebook or Twitter!
Did you like this article? Make sure to share it with your friends! Check below for easy ways to share!
Want to visit the Walt Disney World Resort? Contact The Magic for Less Travel for more information and a free, no-obligation quote.

Incoming search terms:
https://www themouseforless com/blog_world/which-disney-countdown-app-is-right-for-you/
https://www themouseforless com/blog_world/which-disney-countdown-app-is-right-for-you/#:~:text=Countdown for Disney By BT3Computing for key Disney planning events
https://www themouseforless com/blog_world/which-disney-countdown-app-is-right-for-you/#:~:text=The planning countdown reminders are (ios) and Android platforms
https://www themouseforless com/blog_world/which-disney-countdown-app-is-right-for-you/#:~:text=Countdown for Disney By BT3Computing for both Apple and Android
https://www themouseforless com/blog_world/which-disney-countdown-app-is-right-for-you/#:~:text=Countdown for Disney By BT3Computing the countdown within the picture
disney countdown
disney world countdown app
does my disney experience app have a countdown
how to get free wallpapers coundown for disney app
widget disney