This post may contains affiliate links for your convenience. If you make a purchase after clicking a link we may earn a small commission but it won't cost you a penny more! Read our full disclosure policy here.
If you've spent your entire Disney-fan career on one coast, you probably feel like an expert. You know which path gets you to Seven Dwarfs Mine Train the fastest at rope drop, or which set of gondolas won't make you hurl on Mickey's Fun Wheel. But when you visit a whole new World or Land for the first time, you might catch yourself saying, "Where's My Ride?" with the differences between WDW and Disneyland.
Visiting a new Disney theme park is its own kind of bizarro world. It feels familiar — you're walking up Main Street and Space Mountain looms over Tomorrowland — but then you turn a corner and it all suddenly seems strange. We've put together a guide for you to find the rides that aren't where you'd expect them, even thought they reside in both Walt Disney World and Disneyland resorts.
Attractions in different parks
Your favorite ride might be a bus trip (or Esplanade) away from where you expect it, with Disneyland's two parks and Disney World's four.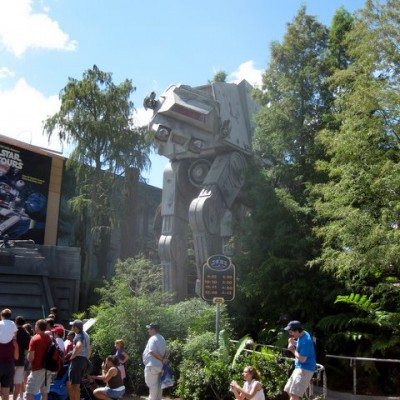 Star Tours
WDW: Hollywood Studios' Echo Lake area.  Disneyland: Inside the entrance to Tomorrowland, on the right. Tip: Disneyland's ride was the first version, but Hollywood Studios got the cool AT-AT walker that guards the entrance.
Soarin'
WDW: Epcot's Land pavilion. Disneyland: California Adventure's Grizzly Peak. Tip: Both coasts are expected to get the new Soarin' Around the World later in 2016 after it premieres at Shanghai Disneyland.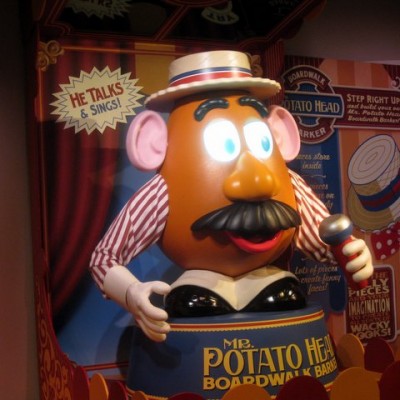 Toy Story Midway Mania
WDW: Hollywood Studios' Pixar Place area. Disneyland: California Adventure's Paradise Pier. Tip: Disneyland's version doesn't offer FastPass. The lines stay consistently long, but doesn't peak as high as Florida's version.
Turtle Talk With Crush
WDW: Epcot's Living Seas aquarium. Disneyland: Tucked inside the Animation building in California Adventure. Tip: Dory joins Crush at both locations this spring to interact with you.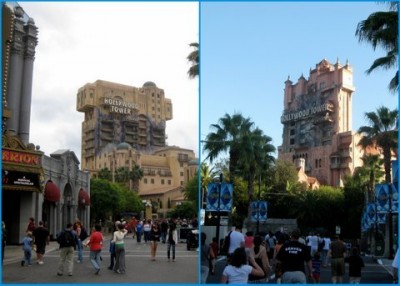 California Adventure, left; Hollywood Studios, right
Tower of Terror
WDW: Hollywood Studios' Sunset Boulevard. Disneyland: California Adventure's Hollywood Land. Tip: Disney World's version moves forward in the elevator shaft before rising and falling; Disneyland's Tower goes straight up!
It's Tough to Be A Bug
WDW: Animal Kingdom's Discovery Island, in the base of the Tree of Life. Disneyland: California Adventure's "a bug's land." Tip: The location at Disney World can't be matched, but at Disneyland, the movie anchors a bug-themed land that has clever details. (Ed. Note: Keep in mind that at Disneyland, It's Tough To Be A Bug often rotates with previews of upcoming Disney films.)
The Little Mermaid
WDW: Magic Kingdom's New Fantasyland. Disneyland: California Adventure's Paradise Pier. Tip: The line is longer at Disney World, in part because of the immersive queue.
 Attractions in different areas
Disneyland park and the Magic Kingdom both host some of your favorite classic rides, but you'll still want a map if you're a first timer.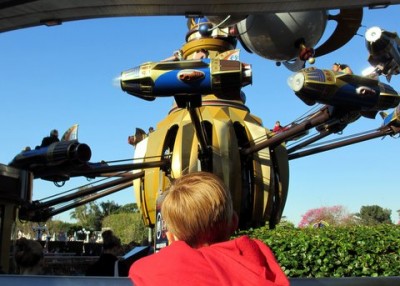 Astro Orbiter
WDW: High in the Tomorrowland sky over the PeopleMover. Disneyland: At the entrance to Tomorrowland. Tip: This slow-loader has a long line all day in both parks, so ride early.
Mad Tea Party
WDW: Under a canopy near the Tomorrowland Speedway. Disneyland: Open-air, next to Alice in Wonderland. Tip: Ride the Disneyland version at night, under the glowing lanterns.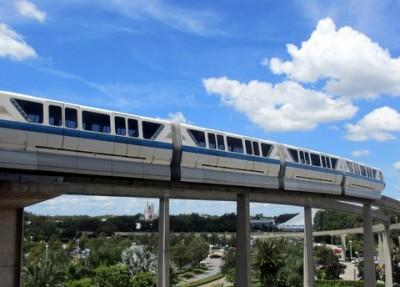 Monorail
WDW: Transportation system between resorts, Magic Kingdom, and Epcot. Disneyland: Runs only from the west end of Downtown Disney into Disneyland's Tomorrowland and back. Tip: You'll need park tickets to board the Disneyland monorail.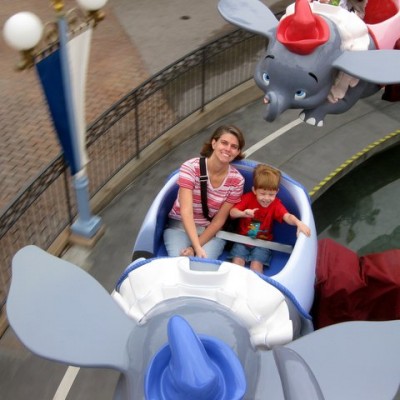 Dumbo
WDW: Storybook Circus. Disneyland: Fantasyland. Tip: Disney World's Dumbo was moved and doubled during the recent expansion, and includes an indoor playground for your wait.
Haunted Mansion
WDW: Liberty Square. Disneyland: New Orleans Square. Tip: The rides are similar, but the exteriors represent the area where they are found — a brick manor and a Southern plantation.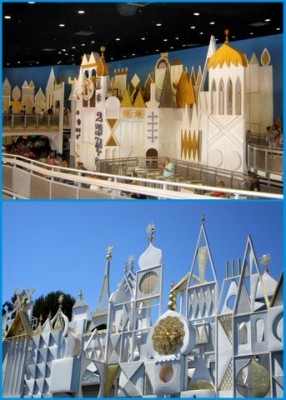 it's a small world
WDW: Indoors on the west end of Fantasyland. Disneyland: Outdoors in the back of Fantasyland. Tip: The train runs through the facade at Disneyland.
Winnie the Pooh
WDW: Fantasyland. Disneyland: Critter Country. Tip: Both rides include hidden nods to the classic attractions they replaced — Country Bear Jamboree at Disneyland and Mr. Toad's Wild Ride in the Magic Kingdom.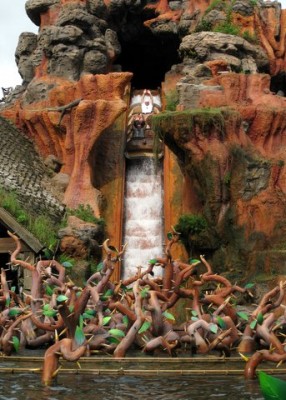 Splash Mountain
WDW: Frontierland, across from Big Thunder Mountain. Disneyland: Critter Country. Tip: At Disney World you ride side-by-side, at Disneyland, single file.
Pirates of the Caribbean
WDW: Adventureland. Disneyland: New Orleans Square. Tip: Like the Haunted Mansion, the outside of the attractions don't look anything alike — a Caribbean fort and a bayou estate.
Once you board, there are small differences in the rides themselves, but hopefully this guide helps you at least locate the ride you're looking for. If you're considering making the cross-country trip to a new Disney theme park, do your research so you can find your favorites.