This post may contains affiliate links for your convenience. If you make a purchase after clicking a link we may earn a small commission but it won't cost you a penny more! Read our full disclosure policy here.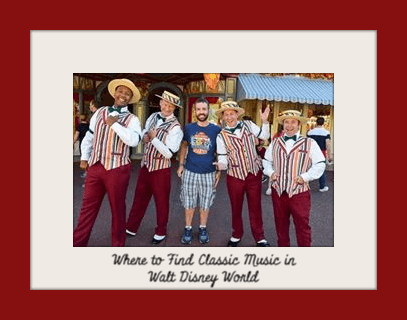 Disney is all about THE MUSIC! No matter where you go in the parks, the music is flowing through all the visitors' ears as they go about their adventures. The music is the bow that ties the magic all together, and everything would be entirely different if no music was playing. Can you imagine?!
Disney knows how to keep this tradition alive, providing options for visitors to sit and enjoy the classic music that Disney is known for. Walt Disney World has some options for Guests to simply relax and just enjoy the music while basking in the presence of the environment around them. The beauty of these locations is that not all of them are in the parks. No matter where you go on property, you can find beautiful music played by the most talented musicians!
The Dapper Dans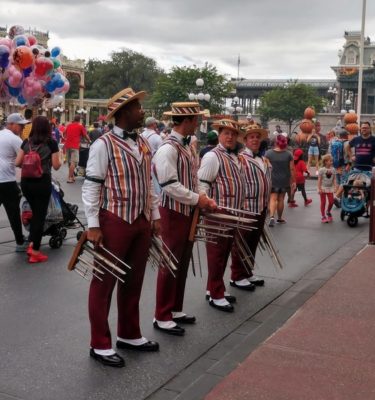 Arguably, the most popular source of classic music comes from the talented Dapper Dans themselves. These four "dapper" gentleman can be found in the Magic Kingdom at select times, providing songs from the Disney repertoire and entertaining guests.
The first Dapper Dans were thought of for Disneyland in 1959 by Sonny Anderson, the imagineer in charge of the musical "atmosphere" for the park. Anderson wanted more than just a singing group. He pictured a vaudeville-style comedy group that interacted with the guests and might even provide a little tap dancing! The Dapper Dans debuted in Disneyland and later at Walt Disney World in 1971 when it opened and have been entertaining guests ever since!
Every day, they also participate in leading the Pledge of Allegiance and God Bless America during the Flag Retreat at Disneyland and Walt Disney World. Their colorful outfits and talented voices really bring the magic alive on Main Street U.S.A.!
Live Piano Player at Casey's Corner on Main Street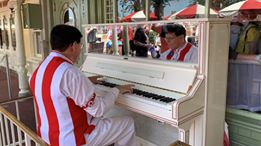 A live performance awaits you as you stroll down Main Street U.S.A. towards Cinderella Castle. Outside Casey's Corner, a piano player brings you the sounds of the bygone era, while you head off to your next destination or if you're relaxing and enjoying a meal. Just saying, if you don't think your foot will be tapping along to the ragtime music, you're wrong. In between songs, the pianist may entertain you with zingers and one-liners!
Grand Floridian Lobby Pianist at Disney's Grand Floridian Resort and Spa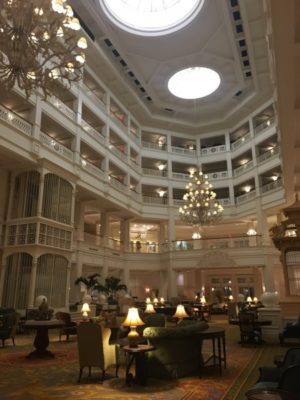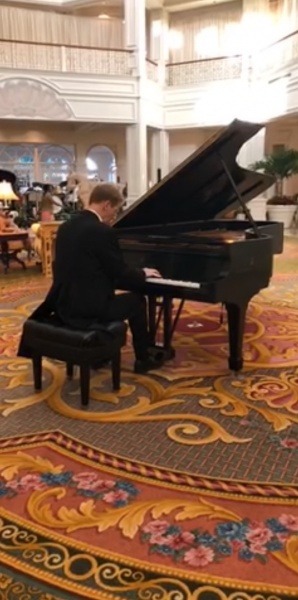 The Grand Floridian Resort and Spa has a lobby that soars high above your head and presents a world of Victorian and modern elegance. As if the surroundings are not enough, the ambience that is created ties everything into a beautiful bow with the Grand Piano Lobby Pianist. The sophistication and the magic that it brings to the resort is stunning, and is there a particular song you would like to hear? Sometimes, the pianist will even take requests!
Marketplace Stage in Disney Springs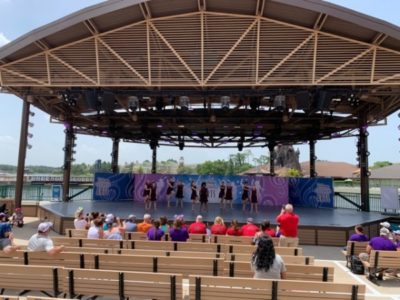 In the Marketplace of Disney Springs, you can find a stage right across from the World of Disney that provides live entertainment in the evenings. This includes various visiting acts that come from all over the country! From classical music to dance routines to pop, you can find it at the Marketplace Stage in Disney Springs!
What are some of your favorite places to catch a musical performance at the Walt Disney World Resort? Let us know your thoughts in the comments, or on Facebook or Twitter!
Did you like this article? Make sure to share it with your friends! Check below for easy ways to share!
Want to visit the Walt Disney World Resort? Contact The Magic for Less Travel for more information and a free, no-obligation quote.