This post may contains affiliate links for your convenience. If you make a purchase after clicking a link we may earn a small commission but it won't cost you a penny more! Read our full disclosure policy here.
Transatlantic Cruise on the Disney Magic May 2011 – Day 9 Madeira
Cast of characters:
Mic from The Magic for Less Travel
Missy, from The Mouse for Less and of Minnesota mom's runaway to WDW fame, one of Mic's BFF's
Ross, Missy's darling husband (aka DH)
Mic here, after six wonderful days at sea  with no obligations beyond showing up for trivia, the show and dinner, and those only if we "felt" like it, we arrived in Funchal, Madeira.    We decided to skip the report on yesterday, while it was another wonderful day of relaxing for us, makes for a rather boring blog.  BUT we did want to mention they let us into the lab to make FLUBBER!   Super cool, and yes some adults couldn't quite get it to work right.
Madeira is a Portuguese Island off the north west coast of Africa.   (for those of you that know Nikki from Spain, these islands are north of the Spanish island Tenerife where she lives).    I had really been hoping the stopover was Tenerife as it would have been great to see Nikki, and this was where the Magic stopped on its first transatlantic a few years ago.   Madeira is a well kept European secret, they do not get many American guests as you would have to fly to mainland Europe and catch a flight to Madeira.    Temperatures on Madeira hover around 70 degrees F year round.     The island was formed from a volcanic explosion and we got to see exactly how this works when we visited the caves on the north Coast.  Madeira is known for Madeira wine (we didn't like it too much, it was very strong, and to me tasted like bad cooking sherry), wonderful fruits and tropical flowers, total population on the island is about 280,000, with 180,000 of those people living in Funchal.   As Madeira is so mountainous, most of the farm areas are terraces.    Most families have either a small "farm" area for their own consumption, or possibly they sell their fruit.     Bananas are big and grown at the lower elevations; up higher they would grow grapes for the wine.   As it's a small island many items had to be imported from the mainland.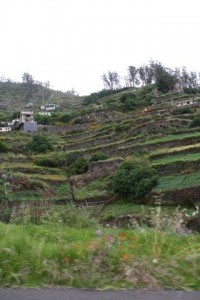 We had originally planned a DCL excursion, but decided to cancel that and booked a private tour through Daniels Taxi Tours (I highly recommend them; I think we were all quite happy).      Upon arrival at the port there were traditional Madeira dancers and musicians playing in the terminal, then a photo op in a bobsled or cart type thing, which is steered down the mountain by two men (we opted out of doing this actual adventure).
We were met outside by a driver with my name on a sign, his name was Oscar.   The owner of Daniels Taxi Tours was there as well, Daniel so we got to meet him.    We had two things on our priority list, the caves and seeing the Santana houses (super cute traditional houses that are only found in Santana apparently), and had asked Daniel's wife to build us a tour around them.    Unfortunately there had been a landslide on the north shore, and the road between the two was closed.    So we had to choose one or the other.    As we felt the caves would give us much more information we chose to do the northwest side of the island.    So we now had a new itinerary.
Cabo Girão – highest seacliff in Europe  (great views here, we ran into some of our dinner buddies here Chris and Ryan).   Some local people had some handicrafts for sale and fruit flavored candies so we did a little shopping.
Ribeira Brava – sea side village – we stopped here to visit a beautiful cathedral and a tiny bit of shopping
Encumeada – when it's clear, you can see the south and the north coast from there, unfortunately it was not clear, we were driving in the clouds.
São Vicente – this is where we got to visit the caves formed by the lava flows thousands of years ago.    Very interesting,  we had a tour (again with some others from our ship on a separate tour) then we got the extended version with a visit to an exhibition on the volcanic activity.   There was some simulated displays, as well as a two short films.    Oh and a cheesy elevator ride to the "center of the earth".
We headed west on the north coast from here, most of it is "natural" as Oscar informed us.   There was some totally incredible waterfalls coming down from the former lava flow areas, and we did get pictures, but they cannot even compare to the beauty of seeing it in person.
Most of the "highway" had been replaced with roads through tunnels, although some portions still had the "old" road open that went around the tunnels, and looked rather precarious with only one lane and straight down on one side, straight up on the other.    In a bus would have been really nerve wracking on these.
After this we went to Porto Moniz for lunch.   Our driver said we had a couple of choices for lunch, one was Orca for a "full lunch", but it would take about 2 hours.   Option two was a "snack" which easily constitutes a lunch in my book.   We shared a "cheese salad" (very uncreative but I was craving salad, dressing options typically are oil and vinegar), and swordfish with bananas, also had potatoes.   (also called scabbard fish).   The swordfish was awesome, we all loved it.
Next we headed to another lookout point up in the mountains but again it was too cloudy to see anything so we headed down the other side of the mountain and back towards Funchal.
We made one last stop before being dropped off right at the terminal at a supermarket for some fruit, local beer, passion fruit liquor and chocolate.
Total cost was 140 Euro for up to 4 people, plus we tipped 20 Euro.    Back on the ship we found Stitch in a pirate costume, and saw Jack waving down to him from the next floor.  After some pictures and dancing with Stitch we bolted to the next floor and tracked down Jack.    He was heading into a crew area but came out for some pictures with us.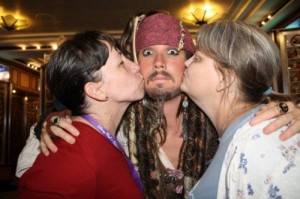 Tonight after our usual trivia or maybe it was Feud, we had our pirate's dinner, followed by the Pirate show and fireworks on the upper deck.     Pretty cool to be watching fireworks on the Disney Magic in Portugal/Africa waters.
We headed down for more trivia, and following this a few of us headed to Diversions tonight to play Rummy.     (Missy and Ross headed to bed).    After some rousing hands of rummy we did check out the Krazy Karaoke next door in Rocking Bar D.    But it was late and we were tired.