This post may contains affiliate links for your convenience. If you make a purchase after clicking a link we may earn a small commission but it won't cost you a penny more! Read our full disclosure policy here.
From the first time we took her Disneyland at age 2 ½, she was a Princess through and through.  Mickey Mouse was just ok…but she LOVED everything Princess: The Castle, the dresses, the hair, the shoes…all of it! At age 3 she got to try on her first real Princess dress. On that day my daughter wore the classic Cinderella dress and saw her Princess persona in the mirror for the very first time. That was the day she fully embraced her inner Princess.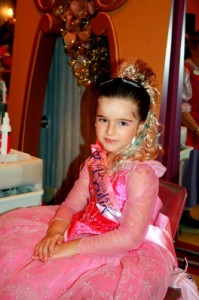 In 2007 we made our first trip to Walt Disney World as a family. By this time, she had seen all the Disney Princess movies and was very well versed in all things Princess.  At Disney World, we planned several character meals, but the biggest hit of that trip was the Princess character meal at Akershus in Norway. She could have spent the whole day there, talking with the Princesses, getting their autographs, posing for photos with them.  Later that same year we made another trip to Disney World with my cousins and their young Princesses. Of course another stop at Akershus was in order, but this time we got all 3 girls appointments at Bibbidi Bobbidi Boutique.  After our last trip I had bought her first real Princess dress, a lovely pink Aurora dress.  To say that she was absolutely enchanting in her beautiful dress, sparkling tiara and long flowing hair style, is an understatement.
Another year, another trip, this time with my brother-in-law and his young Princess. We again did hairdo and makeup appointments at Bibbidi Bobbidi Boutique. By this time her Aurora dress was fitting more like an Alice in Wonderland dress. I decided to surprise her with a new one in her size and ordered one on Ebay. My plan was to surprise her with the dress at Christmas, but then if it didn't fit right, there would have been no time to exchange it before our trip. So I informed her that we needed to do something about her dress before our trip. She then informed me that she was really tired of being Aurora and she wanted something different. "But you love Aurora," I said. She put her hands on her hips, looked me in the eye and said, "Mom, you already bought the dress, didn't you." She graciously tried it on but it was a little big and obviously not what she wanted any more. Sigh.  I had also ordered a red Belle gown to surprise my niece with. Of course my daughter fell in love with the less traditional red dress and it fit perfectly.  I changed gears, ordered the yellow Belle dress for my niece and later sold the Aurora dress.  Perhaps that should have been my first clue that the Princess was outgrowing…Princesses.
That same trip we went to Hollywood Studios. We were just inside the gates on the main street having some Photopass pictures taken, when the photographer asked us to step over to the sidewalk because the High School Musical parade was coming.  As we stood and watched the parade go by…I was suddenly struck by the fact that my 7 year old daughter and her cousin were wildly jumping up and down and screaming like two little mini groupies! What in the world…? I had no idea they even liked High School Musical!  Clue number two.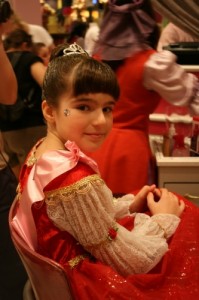 Our third clue came late in 2009 when we again made a trip with my cousins and their two Princesses. I was planning on skipping Bibbidi Bobbidi Boutique and Akershus this trip, however my cousin's husband over-rode me. He felt that within the next year or so, they would all be over the Princess thing, so he insisted. He also happened to love the food at Akershus so we made a reservation for dinner.  My cousin and I thought the girls might like a change and we also signed them up for Pirates League.  The day of their Bibbidi Bobbidi appointments we arrived by 10 am and they were fabulous before noon.  We went to the Photopass studio to have pictures taken, then on to T-Rex for lunch.   We spent part of the day at Downtown Disney then went back to the resort for some relaxation.  By 4 pm the princesses were in the pool and the hairdo's and makeup were a fleeting memory. The Pirate outfits a few days later lasted much longer, through dinner at Akershus in fact.  Our little pirate wenches proudly posed for photos with the Princesses, fully outfitted with swords and eye patches.
These days, there are no more Princess dresses or tiaras.  They have been replaced with cool skirts and jewelry, the likes of which you might see on Selena Gomez or Katy Perry.  The hairdos are no longer the long flowing traditional beauty that is Princess-like, but now are stylish and unique creations by a girl who doesn't let me near her hair any more. She no longer plays the Princess fashion game on the computer, but has graduated to 'Just Dance' and 'Sing It' on the Wii game.  She is growing up to be quite lovely. She even indulges her mom once in a great while and will pose for a photo with one of the Disney Princesses.  I miss the Princess,  but for now…I'm learning to embrace the Pop Star.