This post may contains affiliate links for your convenience. If you make a purchase after clicking a link we may earn a small commission but it won't cost you a penny more! Read our full disclosure policy here.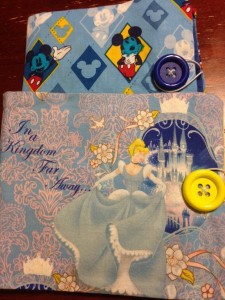 Pin trading at the parks brings a mixture of joy and fear in the hearts of parents.  The joy comes from watching your child find just the pin he or she was looking for.  Fear at the thought of how many pins you might have to tote to Disneyland or Walt Disney World with you.  For most of us, the joy always wins out!  But, what are the ins and outs about pin trading?
First off, you will need to decide where to buy pins for trading.  I will admit that I don't know the best or safest places to buy pins for trading.  I'm sure many of you know that there are counterfeit pins out there, and I'm sure you don't want to buy fakes to take for trading.  Unfortunately, the main advice I can give is to research any place you might want to buy pins from.  Look for feedback from other people who have purchased from the vendor.
Next, you need to decide how to carry your pins in the park.  Quite often, people will use lanyards to carry pins for trading.  We used to do that, but when we loaded up the lanyard, it was heavy.  Plus, we lost a few pins when the backs came off the lanyard.  So, a few years ago, I took out my sewing machine and made a couple of pin trading books.  We load up the books with pins and throw them in the backpack.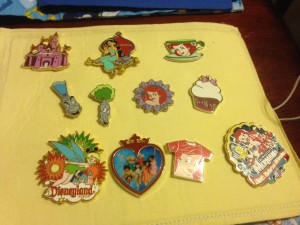 Then, what pins might your child be interested in collecting.  This is always such a hard decision for my kids!  Can you tell what my daughter chose to collect on her last trip?  Yes, she traded for just about any Ariel pin she could find.  The rest of the princesses and Tinker Bell were near the top of her list.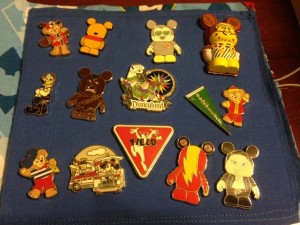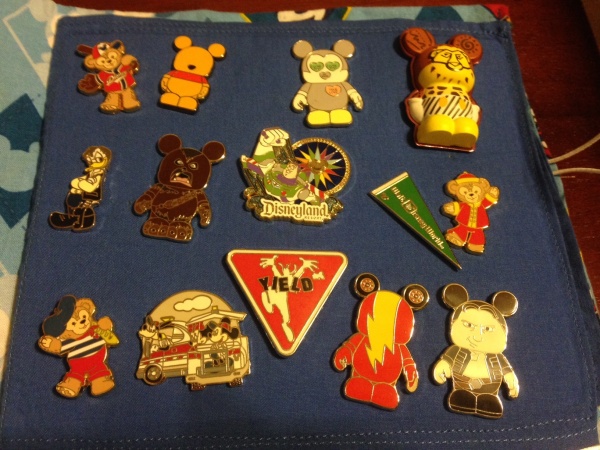 On the other hand, my son is very devoted to the vinylmation-shaped pins.  In fact, at one point, he refused to trade at all unless the cast member had a vinylmation-shaped pin on his lanyard.  Then, he branched out to Duffy pins.  The nice thing about pin trading is that there is such a HUGE variety of pins to appeal to most traders.
You know, pin trading isn't just for kids…  I have my own collection, too.  Unfortunately, I haven't had the chance to unpack it after our last move, so I can't show you my favorite pins.  But I do have a few that I wouldn't part with.  On one of my last trips to the parks, I found a Disneyland 35th anniversary pin.  I absolutely had to trade for it because it was one of the first times that my father took me to Disneyland.  I also like resort specific pins and found a Dixie Landings Resort pin during one trip.
My kids and I are casual traders.  We aren't always looking to complete a set.  We like to trade for pins that are themed like the vinylmation ones my son likes or are unique like DVC pins.  We also trade for fun.  We enjoy talking with cast members, and pin trading usually starts up nice conversations.  We personally only trade with cast members, and this page with pin trading information explains about "serious traders".  If you are letting your kids trade pins, it is good to know the difference between trading with cast members and trading with "pin sharks".
Another thing to be aware of is that cast members who are wearing the green lanyards are only supposed to trade with kids 3-12 years old.  I've been told that sometimes there are can be hard to get pins on the green lanyards.  The nice thing about the green lanyards is that the kids don't have to compete with adults to see the pins or to trade.  It is a more laid-back experience for the kids.
With a little research and planning, pin trading can be a lot of fun and a HUGE success for your child!  Imagine watching your daughter's face light up when she trades for her first princess pin or your son's smile when he trades for his Mickey Mouse pin.  Your family will be hooked and won't be able to wait for your next trip to Disneyland or Walt Disney World to pin trade again!
Do you have any questions about pin trading or would you like to share some of your pin trading stories?