This post may contains affiliate links for your convenience. If you make a purchase after clicking a link we may earn a small commission but it won't cost you a penny more! Read our full disclosure policy here.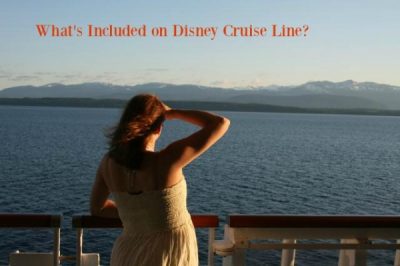 One of the most frequent questions for people considering a Disney Cruise Line Vacation is what items are included in the cruise fare. Actually, Disney Cruise Line is full of experiences and amenities. So many that I had a hard time narrowing it down for this article!
First of all, there is no shortage of activities onboard, and the vast majority of those activities are included in your cruise fare. This includes character meet and greets (with much smaller lines than you will find on land), trivia games, game shows, building vegetable race cars, dance parties, and more.
Some of the activities are geared towards children, like a Playhouse Disney party held on sea days. Some are geared towards families, like game shows and family dance parties. Some are even adult-only activities, like late night comedy shows and themed parties. Activities usually begin around 8:00 a.m. and go straight through the day and into the early morning hours. There is also a sports deck which offers both planned activities and free time, and the pool deck, which offers water slides, a family pool, a splash pad area and an adult-only pool.
If you're looking for a more subdued day, there are lectures offered, cooking demonstrations, and movies shown in a dedicated theater. Each evening, a main event takes place in the main theater venue- either a Broadway style show or an entertainer will take the stage. Plus, there are deck parties, and on one night of your cruise (weather permitting) fireworks at sea!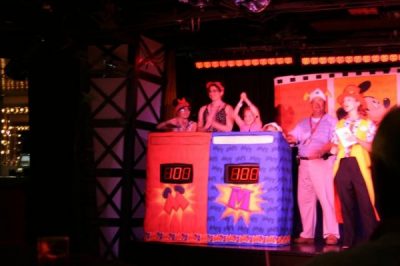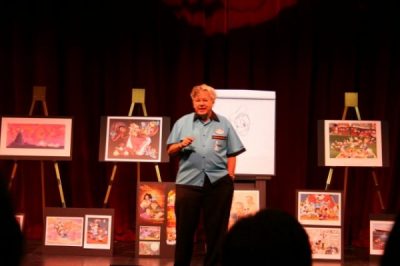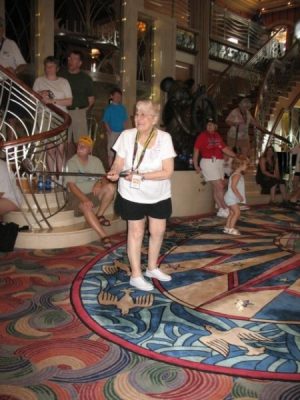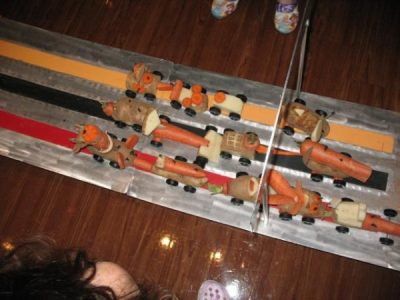 Disney Cruise Line also has one of the most comprehensive programs for children at sea. The kids clubs are open during the day and evening for children 3-18. They will even provide lunch/dinner at the kids club. The children's activities include character visits, crafts, story time, video games, movies, science projects, cooking classes, and more. My children love visiting the kids club. At the end of your cruise, children participate in a graduation ceremony and get to take home a commemorative tee shirt.
The dining on Disney Cruise Line is also extensive and included. Whether you choose to dine in the main dining rooms, on the pool deck, or at the buffet is your decision. Each ship has three main dining rooms, and you are able to rotate through them according to a dinner schedule you are given upon boarding. Your wait staff accompanies you through the rotation, so they can provide you with top notch service night after night. The servers on Disney Cruise Line really work to provide you with the best possible experience and will go above and beyond to bring you exactly what you like to eat. If you're celebrating a special occasion, servers will usually bring out a special dessert too.
The buffet has some steady items that will show up each day and then rotates in and out other offerings. Around the pool deck, you can indulge in grilled items like burgers and hot dogs, pizza, shwarma, sandwiches and self-serve ice cream. Finally, room service is offered 24-hours and is also included in your cruise fare. One thing that sets Disney Cruise Line apart from other main stream cruise lines is that soft drinks are also included in your fare. So you can order a soda in the main dining room or utilize the self-serve drink stations on the pool deck at any time.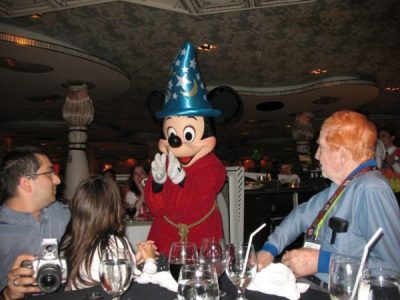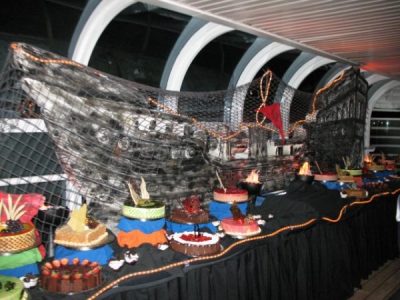 Staterooms on Disney Cruise Line are well appointed and roomy. They all have a refrigerator and a hair dryer. Most cabins have a split bathrooms set up, so that one person can be using the toilet area while another can be in the shower in a separate space. This comes in extra handy for families who are traveling in the same cabin.
Your room steward cleans the cabin twice a day- once in the morning and once in the evening. This way, you have no shortage of clean towels and sheets. Your steward will also drop off toiletries like soap, shampoo, conditioner and body lotion, as well as your daily Navigator, which lists the activities available each day. You may even find a new towel animal friend in your cabin each night.
There is ample storage space in your cabin, including drawers, a wardrobe, and a desk area. Plus, the beds are high enough so that you can store suitcases under your bed. The television service at sea has a plethora of channels along with movie stations which show new-to-DVD releases and children's movies. Each cabin also has a set of "wave phones" which can be used for free onboard to contact each other. These wireless phones come in very handy while walking around the ship so that you can contact other passengers in your party. Also, the Disney Cruise Line app can be used on your smartphone (without incurring data charges) to look at your daily activities list or for ship information.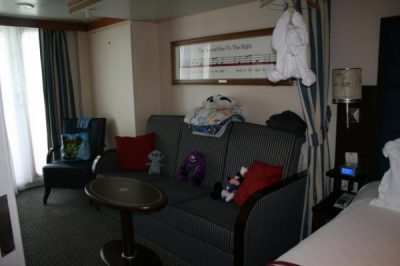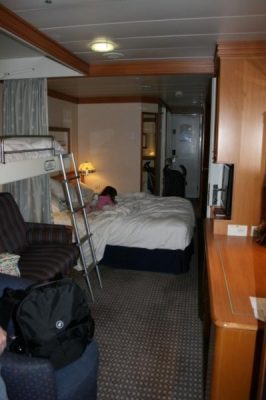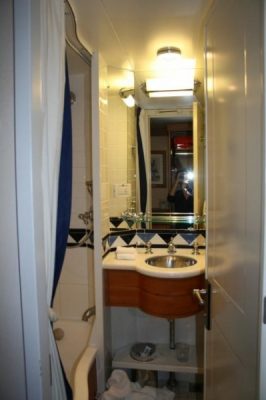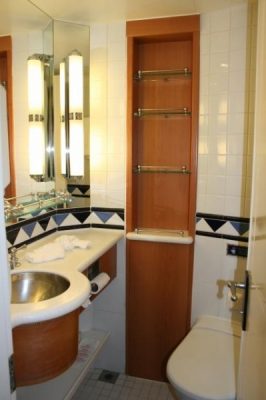 If you are lucky enough to be on an itinerary which includes a stop at Castaway Cay, there are even more free activities available. Castaway Cay offers a delicious lunch buffet, beach chairs, hammocks, character interactions, water slides, and more. The kids' club will take children to a special area to play on Castaway Cay. There is also an adult-only area of the island, and a tram to take you from place to place. If you would rather traverse the island on your own, you can walk or rent bicycles. Disney Cruise Line even offers a 5K run on the morning you arrive at Castaway Cay. This is a truly wonderful day at the beach, and we've always found ourselves wishing we could stay longer.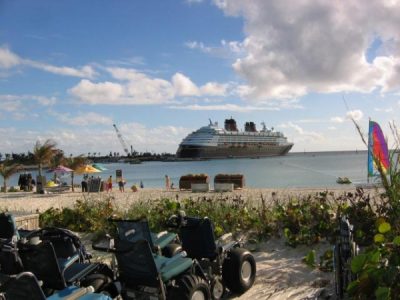 I have found that some of the best free parts about Disney Cruise Line are hard to describe. Sometimes, it's the spaces onboard, which are tranquil and relaxing. Sometimes it is the view of the scenery rolling by or the anticipation of waking up in a new and exciting locale. Mostly, it's the fun atmosphere and the opportunity to spend time with my family on such an amazing ship.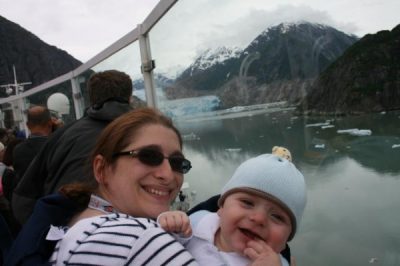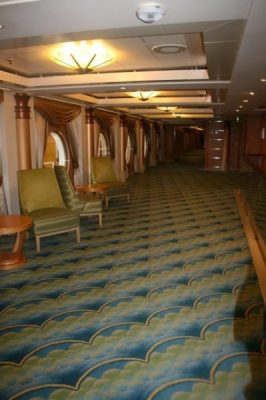 All this just skims the top of what Guests can experience onboard Disney Cruise Line. Share what your favorite things are in the comments section.