This post may contains affiliate links for your convenience. If you make a purchase after clicking a link we may earn a small commission but it won't cost you a penny more! Read our full disclosure policy here.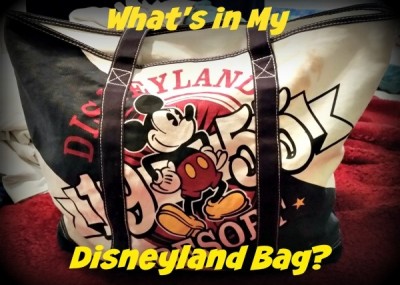 In case you didn't know by now, I love Disneyland! I grew up in the Southern California area and as a kid my parents took us about once a year. I continued the tradition with my own kids, until this last year when we finally got annual passes. Now we go almost monthly.
With all these visits I have found that it is very handy to have a bag of essentials when I go. Especially since I have small children (age 7 and 4), it avoids a lot of stress and frustration when I come prepared for the day.  Here is a lists of my "do's and don'ts" when packing your own Disneyland Bag. My tips and ideas of what to pack for a day in the Parks is geared mostly towards those with small children (5 or under), but can be adapted for those with older children/families as well.
The Bag:
The actual bag you choose is important. It needs to be sturdy, large enough to hold everything, and accessible from where you will keep it. If you are using a stroller (like most with children do) a good sized canvas type bag is good. It will store easily under the stroller, and with a large opening making it easy to access. If you won't have a stroller a comfortable backpack will work well too. If you don't want to carry it all day, you can rent a locker at the front of each park, but keep in mind you will have to walk back there each time you need something. Remember that all bags are subject to search in bag check area, so if it's in your stroller, make sure you can get it in and out easily.
What to pack:
Make sure you think about your family's needs here. Not everything listed will apply to everyone, but some alternatives may be applicable to your family.
Diaper/potty needs – make sure you pack plenty of diapers and wipes. If you have little ones that are potty training make sure you have extra training pants (i.e. pull-ups, or whatever you use).
Extra clothes – kids are messy. They can often spill on themselves or have an accident. An extra outfit can be pretty handy to have, and can be rolled/folded to fit well in your bag without taking up too much space. Extra clothes are also recommended if you have older ones planning on doing water ride (i.e. Grizzly River Run, or Splash Mountain).
Sunscreen/hats/sunglasses – even in cooler months, it is still good to be prepared here in sunny California. You will spend most of your day outside and in the sun.
Snacks/water – all kids (from toddler to teenagers), and most parents are going to get hungry and thirsty throughout the day. Yes you can buy snacks and water bottles throughout the park, but it can add up very quickly. It is a good idea to bring snacks your family likes (fruit, granola bars, crackers, etc.), as well as a few water bottles. It will save your some money as well as be a little more convenient than standing in another line. There are several fountains throughout the park where you can refill your bottles as well. (Alcohol or glass containers/bottles are not permitted in the park)
Baby wipes – even if you don't have little ones in diapers, having a small pack of wipes on hand can be useful. Works well for sticky hands, tables, and little spills.
Hand sanitizer – Disneyland is a busy public place with all kinds of germs. I am not a germaphobe or anything, but I have seen people come to the parks with coughs, colds, and worse. I have also awaken the morning after my visit feeling under the weather. A little hand sanitizer before snacking or meals is always a good idea.
What not to pack: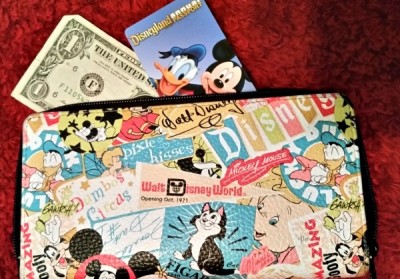 Wallet/money – unless you plan to carry your bag with you at all times, do not put your wallet and/or money inside. I typically put my bag in our stroller, and it stays there. That means that while we are on rides it is left in stroller "parking". While I would be upset if it was stolen, it wouldn't be drastic. I can buy more diapers, sunscreen, and everything else fairly easily. Having to deal with a lost/stolen wallet would be much worse. I recommend either carrying a small purse/bag with those things or just use your pockets.
Park tickets – for same reason listed above, please keep your park tickets or passes on your person. If your tickets are lost you can report it to cast member, but it can be stressful and take time away from enjoying the park.
Any other valuables – you are better off leaving those things at home or tucked away in your car.
I hope that this is helpful to your whether you are a first time visitor, or an annual pass holder. Making sure needs are covered can help make your visit more enjoyable.
What is in your Disney Parks bag? What's your must have?  Share with us in the comments.