This post may contains affiliate links for your convenience. If you make a purchase after clicking a link we may earn a small commission but it won't cost you a penny more! Read our full disclosure policy here.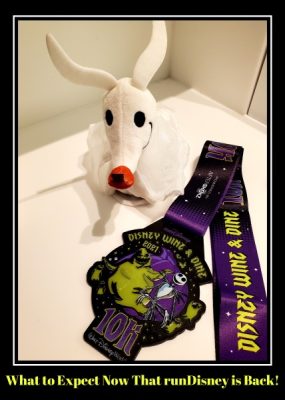 After several cancelled race weekends and a long hiatus due to Covid, runDisney is back! Like so many other runDisney fans, I couldn't wait to get back to live racing at Walt Disney World and signed up to run the Wine and Dine Challenge. RunDisney told us there would be a few changes this year, so I wasn't entirely sure what to expect. Here are some things I noticed about Wine and Dine Weekend that may give runners an idea of what this race season will look like.
Similar Race Dates
The general race dates that runDisney runners have come to expect have more or less remained the same. Wine and Dine took place over the first weekend in November as usual, Marathon Weekend is scheduled for the second weekend in January, and Princess Weekend will be the third weekend in February. The biggest change to the race calendar is that this year, Springtime Surprise races will take the place of the Star Wars race weekend.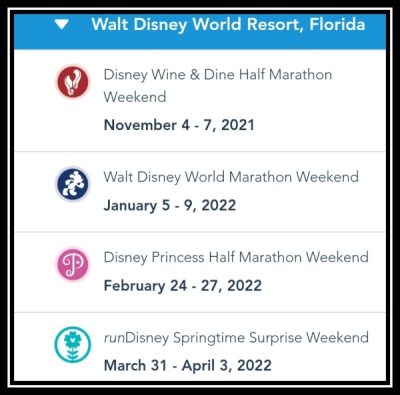 Lots of runDisney Fun
Race courses that take you through the Walt Disney World parks, characters, and entertainment on the courses, fun finisher medals for each race, and refreshments on the courses and at the end of the race seem to be here to stay! There are still photo ops before and after the race (although slightly modified), as well as the pre-race announcers and entertainment. The excitement of running a race through Walt Disney World is still most definitely there!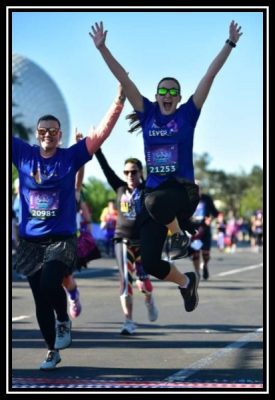 Character Meet and Greets
There were still plenty of characters out on the course for Wine and Dine. The main difference this time around was that there was a small amount of distance between the characters and the runners. For me, this was barely noticeable. We were still close enough to the characters to get a great picture! If this remains the same for future races, I won't mind. The best news of all, Cast Members were still available to take photos with runners' cell phones at most character stops. This is great for runners who do not have PhotoPass.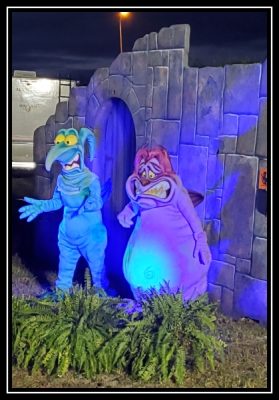 Start Groups
When Disney announced that runners would now be placed in start groups instead of corrals, there was a lot of buzz about what that might entail. Proof of time guidelines were also changed, leaving runners wondering just what the start of the race would look like. On race day, I expected some big changes, but in reality, the start of the race looked a lot like it did in the past. The names may have changed from "corrals" to "start groups", but runners still waited to start the race in fenced-in areas designated by a number on their bib. Runners were also released onto the course in mini waves within each start group. So, while there were some minor changes, the feel at the starting line was pretty similar to what runners have grown accustomed to at past race weekends.
Earlier Start Time
When I did my first runDisney 5K several years ago, it started at 6:30 am. Over the past few years, the start time has crept up and the races have started earlier and earlier. At this year's Wine and Dine Weekend, all of the races started at 5:00 am.
With EPCOT opening later these days, even the half marathon was over before the park opened. I'm sure this made crowd control much easier, but I did miss having EPCOT guests along the route to cheer us on at the end. One advantage I saw though, was that the characters on the route were able to stay out for the entire race. This meant that those who finished the race later had the opportunity to stop for those photos.
Water and Snacks
In 2020, many races across the world were cancelled. For the races that did happen, many runners found that water stops and post-race refreshments were modified or scrapped all together, leaving runners to bring their own water and race fuel. Thankfully, drink stops were plentiful on the Wine and Dine courses. Half marathon runners also received Honey Stinger Chews at mile 8. Bananas, water, Powerade, and snack boxes could still be found at the finish line. Many runners were also excited to find "that cheese" in their snack boxes.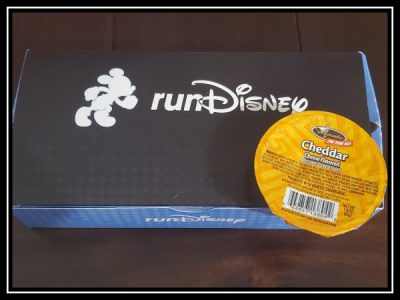 Medals
One of the best things about runDisney are the fantastic medals. The Wine and Dine medals were some of the best I have seen. They were absolutely exceptional! It looks like runners will have a lot of amazing medals to look forward to this year!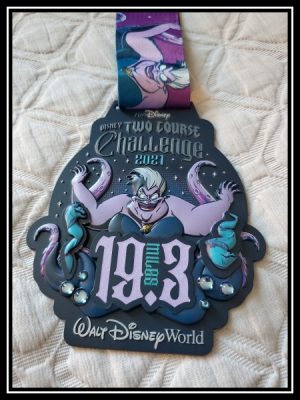 Clearly, I am very excited that runDisney is back! I missed it so much and I know that others did too. There's something so special about being able to run with other Disney fans and I am looking forward to a great race season. Hope to see you out there!
Are you running at runDisney race this season? What are your thoughts or concerns? Share in the comments or on Facebook or Twitter!
Did you like this article? Make sure to share it with your friends! Check below for easy ways to share!  
Want to visit a Disney Destination? Contact The Magic for Less Travel for more information and a free, no-obligation quote.