This post may contains affiliate links for your convenience. If you make a purchase after clicking a link we may earn a small commission but it won't cost you a penny more! Read our full disclosure policy here.
By Kate Abbott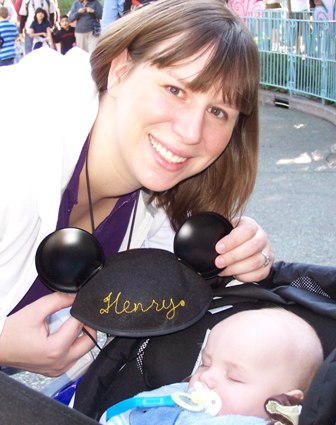 Some said we were crazy; some said it would be pointless; some declared it would all end in tears. To all of them I say: It's worth it to see baby's first pair of mouse ears with his name scrolled across the back!
Yes, the trip would have been worth it, even if it had been the stressful frenzy I had feared; but it wasn't that at all. We didn't know what to expect when we made our first visit to Disneyland with our then five-month-old baby. Our trip turned out to be full of great surprises, joy, and yes, a few tears (turns out "it's a small world" is not my baby's idea of a good time), but was definitely well worth taking. What works for each family is different, but I'll tell you how we had an excellent time celebrating our baby's first visit, and I hope it'll inspire your little one's first trip, too.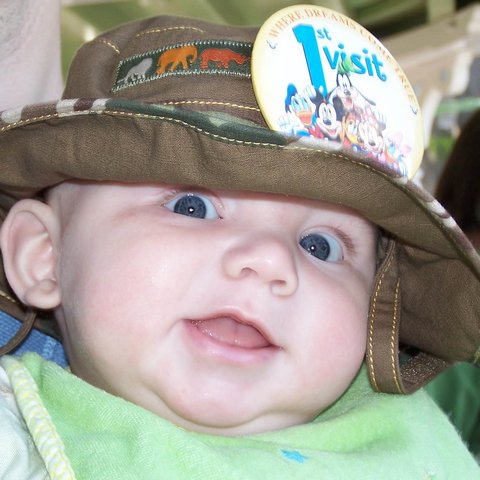 Ask for a "1st Visit" button at City Hall or at the ticket windows.
I've always loved exploring Disneyland's hidden alleys, quiet alcoves, and tucked-away benches; visiting a bit of the park that feels like your own personal oasis is relaxing and invigorating for the rest of the day. I've gotten to go just about everywhere I've always wanted in Disneyland, including Club 33 and briefly behind the scenes at the park. But there was still one place I had never ventured into…until now: Main Street's Baby Care Center. The Baby Care Center is a great help to parents, and is the nicest public changing (and feeding) area I've ever seen. Take advantage of it!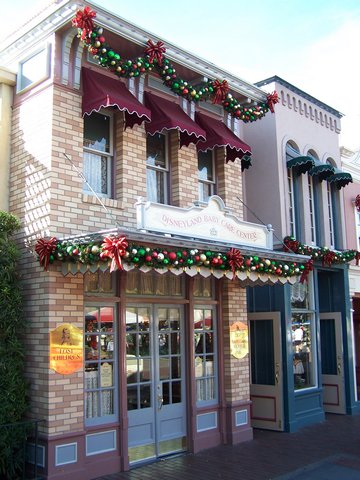 The Baby Care Center is located at the end of Main Street, toward the Hub, near the first aid station and the corn dog cart.
You enter the lobby and a Cast Member greets you and shows you to whatever you need (dads and siblings are welcome, but not in the feeding area). The center offers clean, quiet, and welcoming changing areas, private feeding/nursing areas (only moms and babies allowed), a kitchen, and a shop with diapers, wipes, pacifiers, medicine, formula, baby food…any essential you might need. The Baby Care Center was empty when we visited, so I got to peek around (the Cast Member was very nice, if a little puzzled why I was so excited to be in the Baby Care Center!).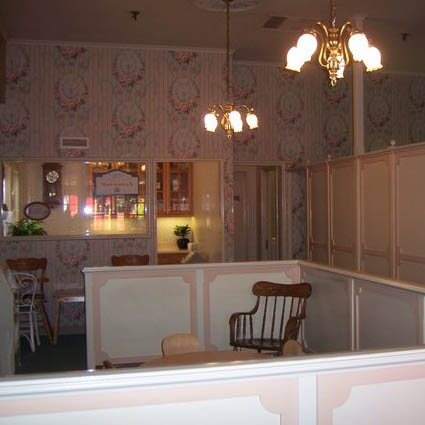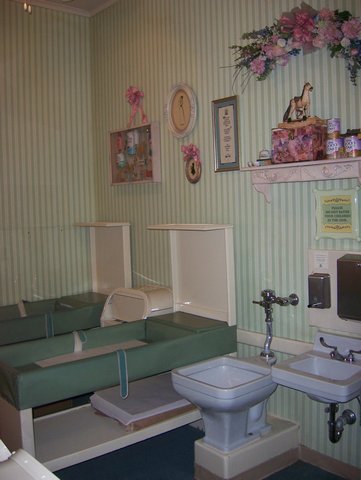 The cozy, calm Baby Care Center is a haven for babies and parents.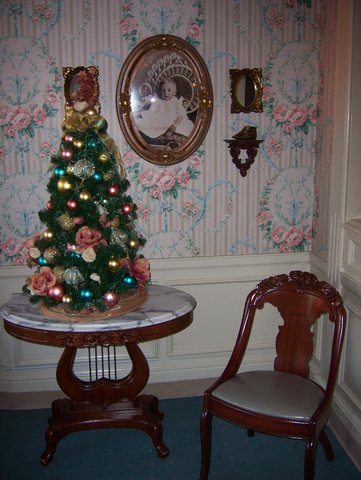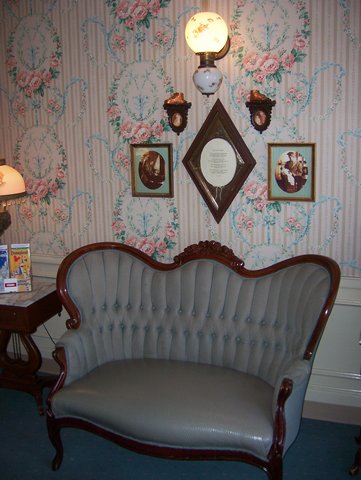 The lobby displays Walt Disney's baby photos.
The Baby Care Center is clean, comfortable, and fun for parents (what a difference from a typical mall bathroom!), but what Henry really loved was exploring the parks. Whether in his stroller or riding in a baby carrier, he took in the lights, the colors, the buildings, and the people. He even started making a new noise: sort of a hoot-owl sound as he kicked his feet excitedly and smiled. When he got tired, we closed up the sunshade on his stroller, shuttled him off to a quiet area to stop for a good nap, and he fell fast asleep, having so many new sights and sounds to dream about.
Although Henry experienced many firsts, Brad and I got to partake in some new Disneyland activities, too: "find the stroller" and "let's see if he likes this" being our main games.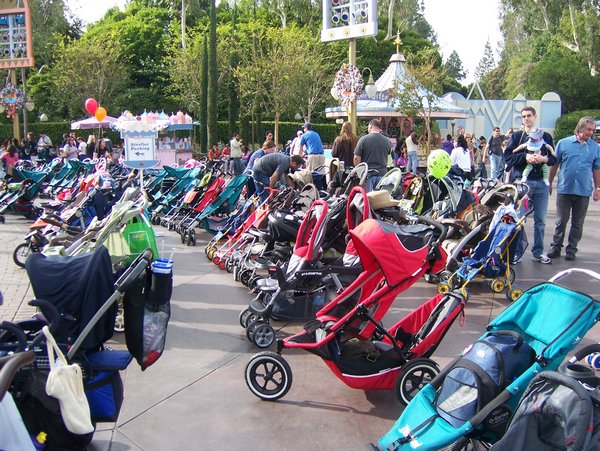 It's a crowded stroller parking lot after all. Sadly, Henry cried throughout most of the ride. (Thank goodness the music was loud enough to cover the crying! But boy, that's a looong ride.)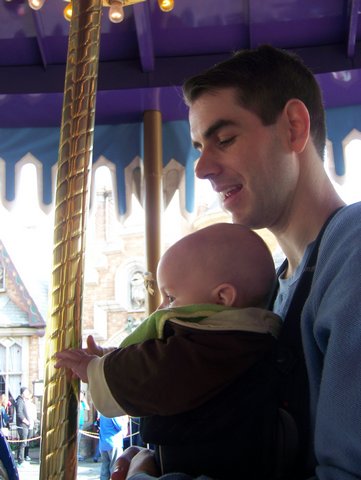 Henry liked riding King Arthur Carrousel, snugly tucked inside his baby carrier.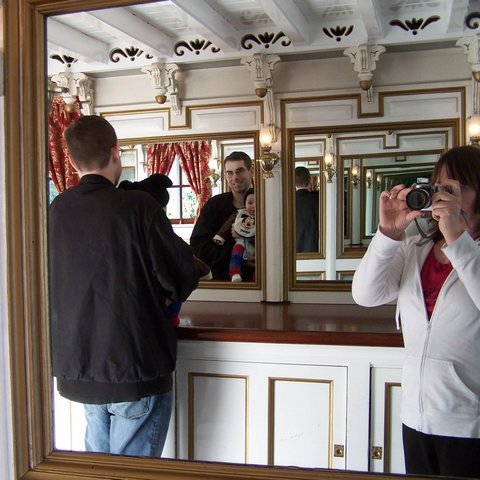 He also liked the Mark Twain, where we found an especially amusing mirrored room that I never appreciated pre-baby.
Babies are generally allowed on rides without height restrictions, but it may be up to the Cast Member on duty if your baby can go on the ride (so you might want to ask ahead before waiting in a long line). We went on "dark rides," Dumbo, and the Carrousel with Henry in the baby carrier, and he loved them all…even the Haunted Mansion! (After the "it's a small world" debacle, we decided not to bring him on Pirates of the Caribbean…if he had a freak-out in there, we didn't want to subject the other guests to a crying baby on a more quiet ride.)
My parents came along for our visit, and it was very handy to have babysitters to play with Henry so Brad and I could go on some rides by ourselves. After many months of foregoing roller coasters while pregnant, I had a great time zipping around the Matterhorn, Space Mountain, and Big Thunder. We could have used the rider-swap option if it was just the two of us grown-ups, however, and we might try it out on our upcoming trip, when we will be there without our babysitters.
As fun as the coasters were, I had just as much fun shopping, with a new twist: seeking adorable baby items, like this retro-styled bib!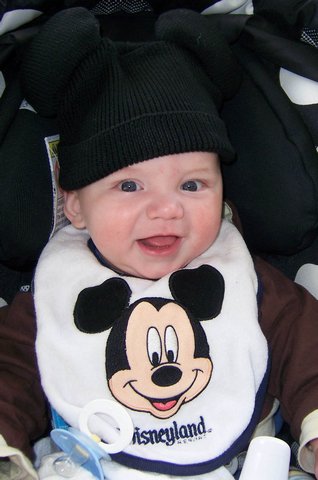 A woman actually ran after me down Main Street to ask where we found the mouse ear knit cap; a kind Cast Member friend got ours for us, but they can also be found online at Trumpette's website, http://www.trumpette.com/index.cfm?fuseaction=product.display&Product_ID=418. This was great because it kept Henry's head warm and stayed on!
Many people say that there's "no point" in taking a baby to a Disney park, the number one reason being that "they won't remember it." Well, I'm here to say that whether or not our baby Henry "remembers" the trip, he loved looking around wide-eyed at the parks, and I will always remember our first trip together as a new family. Plus, we had a great time discovering what Henry noticed and liked, and it made us appreciate Disneyland even more.
My family didn't go to Disneyland with the expectation that our baby would like the characters or enjoy rides (although when he did, it was a bonus). We just went hoping to give ourselves time together in our favorite destination — like going for a walk in our neighborhood park, only with significantly more giant mice! I'm glad we faced our fears and went for it. It was a trip unlike any other, and a fabulous first visit for Henry. I can't wait to see what new discoveries our vacations hold as our little guy grows.
More Tips for Traveling with Baby

Where We Stayed
I wanted to stay at a nearby hotel that I knew would be clean. (Spending 20 minutes hoisting the carseat around and loading and unloading the baby isn't how I wanted to begin our mornings, and washing baby stuff in a questionable bathroom was not how I wanted to end our evenings.) As I reported in the last issue, we stayed at the Disneyland Hotel, an excellent fit for our needs. I highly recommend staying either at a Disney property or a Good Neighbor hotel within easy walking distance of the park—getting a solid afternoon nap is important for everyone!

What We Brought
What did we bring? Everything we could! The Disneyland Hotel, like other hotels in the area, offers cribs to rent, but we brought our portable Pack and Play and our baby slept well in there (and also in our bed). We tried to bring whatever we used during a normal day at home, like our electric teakettle for making hot water superfast and even a pot (handy for sterilizing when it was needed). Of course, we also forgot some things, and I now have an even deeper friendship with the two Targets in Anaheim/Fullerton.

But the best item we brought: a white-noise sound machine. It wasn't until this trip, after rocking our little guy to sleep in his first hotel room, and then hearing thundering footsteps, screeching kids, and luggage carts clattering outside our door that I realized how noisy hotels are. (OK, our baby also made some noise at 3 a.m., so I hope our neighbors had a white-noise machine, too.) But I gave thanks to our cheapo white noise machine! Henry stayed asleep through the commotion in the hallway and our $25 investment in the gadget helped ensure we got as much rest as we could get. (Note: If staying at the Disneyland Hotel with a restless baby, try visiting the waterfalls together—ours conked out instantly in the presence of the ultimate white noise.)