This post may contains affiliate links for your convenience. If you make a purchase after clicking a link we may earn a small commission but it won't cost you a penny more! Read our full disclosure policy here.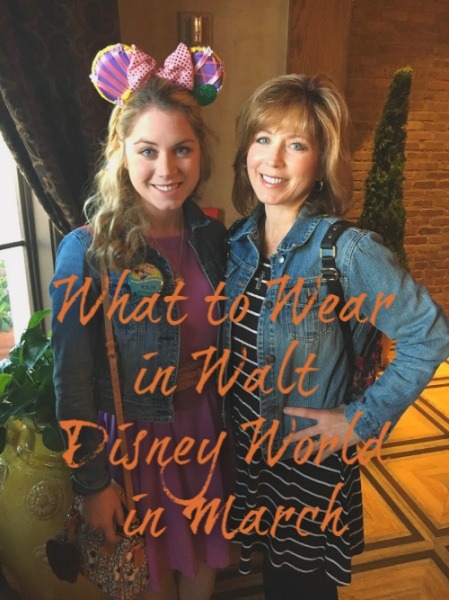 You have decided to take a Walt Disney World trip at one of the best times of the year! It is one of my favorite times of year to travel to the world as well: March! March is a wonderful time of transition for Walt Disney World.  A lot of activities happen during this time, while the weather can be a little bizarre, it is transitioning into spring. It is a wonderful time for Disney travel. Because of all the changes in weather during this time, it can be a little challenging trying to figure out what to pack for a Disney trip in March. Not to worry! Once everything is broken down, it will not seem so overwhelming, and you will know exactly what to pack for your Disney trip.
Layers Upon Layers!
If there is anything that you can take away from this article, it is that you must pack a variety of clothing that can easily be layered. Here is why I say this.
The weather during the month of March can be a little unpredictable because it is a seasonal transition time for Florida. It is still "winter," but spring starts popping up; also, it is Florida, so even the winter months are usually way warmer anyways. The average high temperature in March is 80, and the average low is 60. The temperature can be cooler the one day and the hotter the next, so the weather can change very fast. Honestly, this fast temperature change can happen during the same day, so layers are definitely the way to go. Here are some ideas for articles of clothing you can easily layer with:
Jacket

Rain jacket 

Sweater

Long sleeved shirt

Cardigan

Sweatshirt

Sweater
In my experience, you are going to want that extra layer in the morning because it can be rather chilly in the morning. Throughout the day, it will most likely warm up, so you don't need that layer during the day. My suggestion would be to have something that is easy to wrap around your waist or put in a bag throughout the day. You will most likely need to use it again in the evening. The temperature can really drop in the evenings and nights in central Florida, so you will probably want to keep that jacket and/or sweater that you wore in the morning.
When I've traveled to Disney World in March, I've always taken a variety of clothing with me. I know that probably sounds annoying, because you might want to pack lightly. However, you actually don't need to take a ton more than what you already were going to pack. My suggestion is to take everything you were going to take anyways and then just add a few other articles of clothing for cooler weather. For instance, I took a pair of jeans with me and was able to be perfectly comfortable in them paired with a short sleeve t-shirt. Or perhaps you could wear a long sleeved shirt with shorts. That is the thing about traveling in March. For those who like cooler weather, it is the perfect time to go because it is not blazing hot; at least all the time.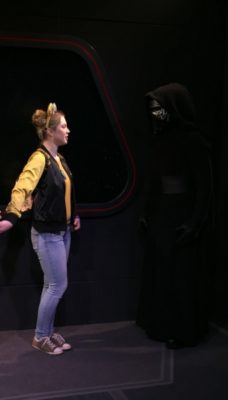 Comfort is Best
You can definitely have those outfits that you plan to wear in the parks, whether it is a disneybound or a Disney themed shirt or mouse ears. However, no matter what, you are going to want to make sure that you are comfortable. There is nothing like being uncomfortable while walking around all day in a crowded theme park. Even if you are not at a park, you still want to be comfortable. There are times where I have even worn exercise pants whenever we are hanging around the resort or resort hopping. Honestly, I've even worn them in the parks.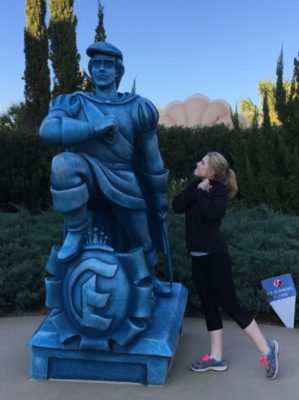 As far as shoes go, you are going to want to wear as comfortable of shoes as you can. You will be walking around a lot more than you may think, as well as starting and stopping when walking around all day.  Tennis shoes, as long as you find them bearable to wear for long periods of time, are usually your best bet. If you wear sandals or any other type of shoe, you are going to want to to make sure it has a cushy and comfortable soul for your foot.
What tips do you have for what to wear when visiting during the month of March? Let us know in the comments or on Facebook or Twitter!
Did you like this article? Make sure to share it with your friends! Check below for easy ways to share!
Want to visit the Walt Disney World Resort? Contact The Magic for Less Travel for more information and a free, no-obligation quote.

Incoming search terms:
https://www themouseforless com/blog_world/wear-walt-disney-world-march/
https://www themouseforless com/blog_world/wear-walt-disney-world-march/#:~:text=The temperature can really drop day, and in the evening
https://www themouseforless com/blog_world/wear-walt-disney-world-march/#:~:text=The average high temperature in definitely the way to go
What to wear at Disney in March
what to dress at disney world in march
what should i wear to florida in march theme park
what do women wear to disney world in march
whats to wear at disneyworld in March
https://www themouseforless com/blog_world/wear-walt-disney-world-march/#:~:text=Or perhaps you could wear shirt and was perfectly comfortable
disney in march "what to wear"