This post may contains affiliate links for your convenience. If you make a purchase after clicking a link we may earn a small commission but it won't cost you a penny more! Read our full disclosure policy here.
From Our Magically Speaking Newsletter Archive – subscribe today!
By Tim Rogers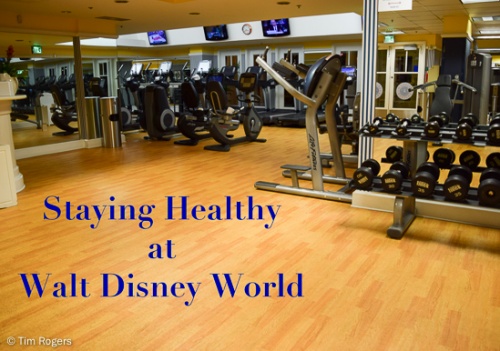 A major part of any Walt Disney World vacation is food. We wake up early 180 days before our vacations to try to get that perfect reservation, plan trips around festivals dedicated to eating and drinking, and write love songs to Mickey Bars and Dole Whips. But even with all of that focus on food and even on dessert, a trip to Walt Disney World can still be healthy. Below are some tips for how you can have a great trip, but still keep your health in mind.
Tip One: Walk
This might seem obvious, but quantifying it can still be helpful. Trips to Walt Disney World involve a lot of walking. On a recent trip I walked over 130,000 steps, or about 60 miles, over the course of a week (if you want to see a couple rundown on how much you might walk, I wrote a blog for The Mouse for Less earlier this year: https://www.themouseforless.com/blog_world/2015/02/walking-around-walt-disney-world/ ).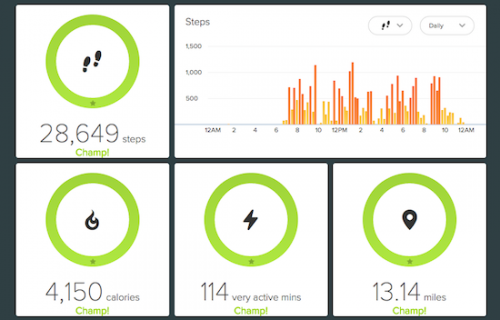 Some of that walking is unavoidable, but some of it is by choice and design. For example, when travelling between Disney's Hollywood Studios and Epcot, you can take one of the Friendship Boats, but you can also take a walking path behind the Boardwalk (you can also make this same walk vs. boat choice when staying at any of the hotels around Crescent Lake, including the Boardwalk, the Swan and Dolphin, and the Yacht and Beach Clubs). While we walk fairly quickly, we measured ourselves against the boats a few times and found that we were able to travel between the parks in about the same time, if not faster than the boats.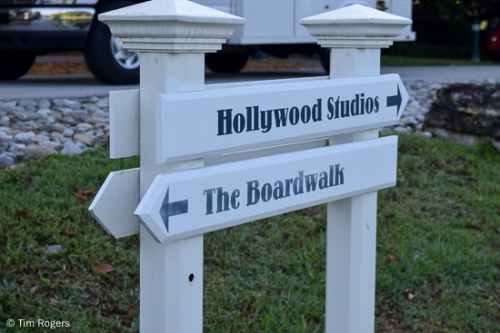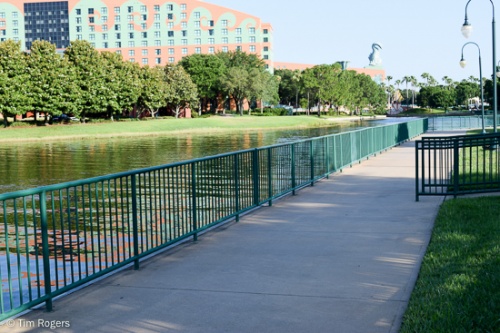 While you will have to walk and be on your feet a lot on a trip in Walt Disney World, making small choices to walk when you have other options is one of the easiest healthy options you can take.
Tip Two: Take Time to Exercise
While I would not suggest trying to offset that Nutella Waffle by starting a brand new weight-training regime, if you already exercise you can definitely keep it up while at Disney World. Some of this will, naturally, depend on where you are staying. For the most part, the Deluxe Resorts, DVC Resorts, and Coronado Springs all have some sort of fitness center you can use.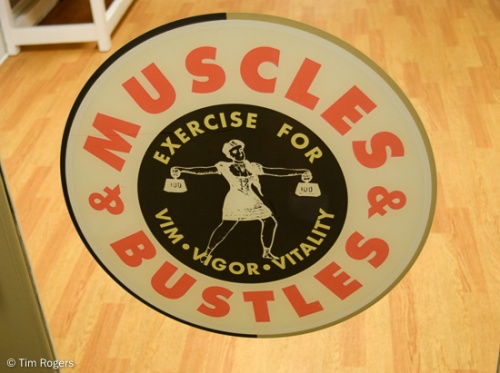 Judging simply by the name, I think Muscles and Bustles at the Boardwalk is the best (although Sturdy Branches at the Wilderness Lodge is a very close second). These centers will have the standard cardio and weight equipment, and are also a great place to fill up your water bottle.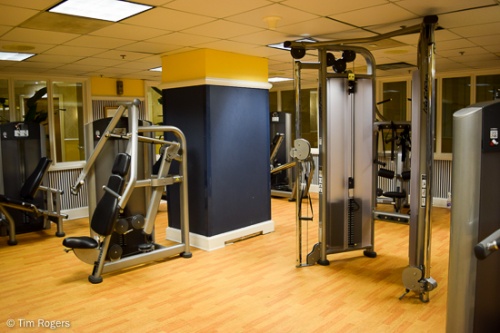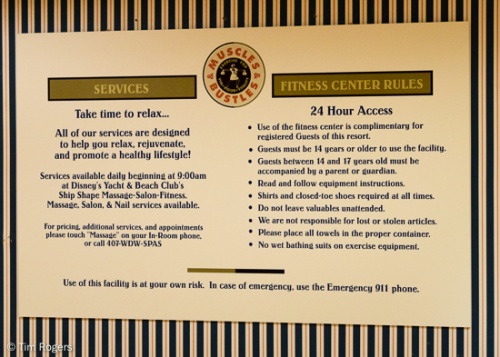 Depending on your temperament and location, another option is running or walking outside. While this can be a challenge at some resorts, two resort areas particularly stand out for their running accessibility. The first of these is Crescent Lake, where you'll see signs like this showcasing a circle of just under a mile.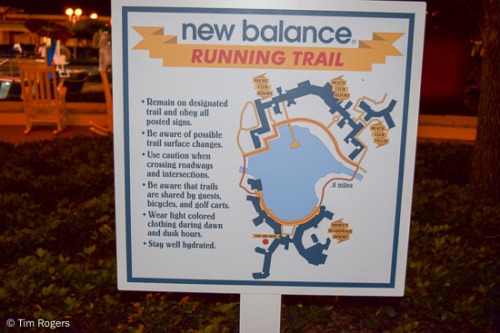 You can also easily add on the walking path to Disney's Hollywood Studios if you want some more distance. Another well traveled running path is the 1.38 mile route around Hourglass Lake, between Pop Century and the Art of Animation Resort.
Tip Three: Find Healthy Snacks
While you can find healthier options at many locations around Walt Disney World, a few locations are more focused on these types of options. Specifically, these include the Harambe Fruit Market in Disney's Animal Kingdom, Prince Eric's Village Market in Fantasyland, and Anaheim Produce in Disney's Hollywood Studios.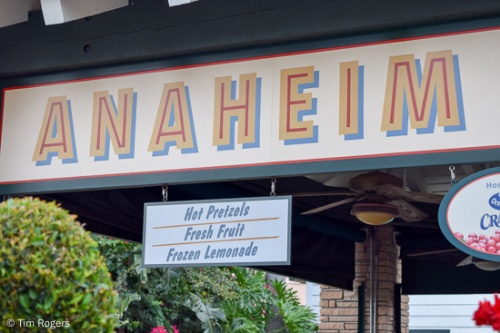 If you want to be sure you can find some fresh fruit for your snack, or really want a pickle, these types of locations can be a good and safe option for you.
Tip Four: Bring Your Own Snacks
Even though this is an option, a little planning can prevent you from having to worry about which locations have healthy snacks. Disney allows guests to bring food into the parks, and as such you can bring in your own fruit, vegetables, granola bars, or whatever else would help your hunger when you walk by the funnel cake stand. An added bonus, is that bringing your own snacks can save you a lot of money as well.
Tip Five: Eat at Columbia Harbor House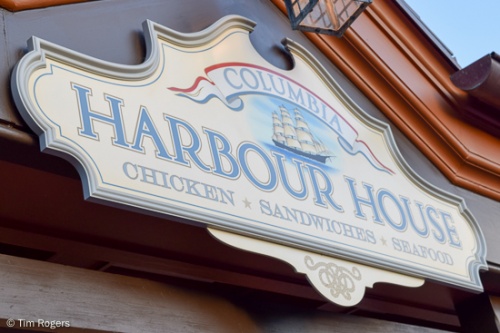 This tip might seem incredibly specific, but after missing out on this location for several trips, I don't want others to make the same mistake. Columbia Harbor House is a counter service location that is located in the Magic Kingdom's Liberty Square area. By the name you might gather that it offers a variety of seafood options, but that is just the beginning.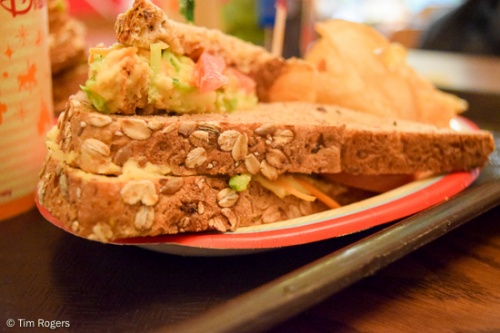 As a vegetarian, the highlight of this restaurant, and one of my favorite counter service finds, has to be the Lighthouse Sandwich, which features Hummus, Tomato, and Broccoli Slaw on Toasted Multigrain Bread. Moreover, Columbia Harbor House is one of the restaurants that actively offers and encourages healthy sides, such as steamed broccoli. If you are looking for a fast, filling, and healthy meal in the Magic Kingdom, definitely give this place a try.
Tip Six: Eat at a Buffet
When you think of Disney Buffets you might have a mental image of plates overflowing with unlimited meat, bread, and dessert while your favorite characters come to visit you. You can definitely go that way, but the advantage of eating at a buffet while trying to be healthy is that you can have exactly what you want, and nothing else.
For example, you could have a filling and nutritious meal of salad, fruit and steamed vegetables and get as much of each of those things as you wanted, instead of being worried about portion size or composition somewhere else. The important thing to remember is that you are allowed to eat all that you can – but you are not required to.
Tip Seven: Try a Vegetarian Meal
For many, a good change of pace to lighten things up is a purposely vegetarian meal. While you can definitely order a salad or veggie burger and have a great meal, you can also take advantage of Disney's attention to vegetarians and branch out a little bit. You might find something new you like, and then can bring back home to start your own "Meatless Monday" tradition.
An important note – just because something is vegetarian doesn't mean that it is necessarily healthy, so make sure you pay attention to what is in your meal.
Tip Eight: Just Ask!
Disney is know for their accommodation and guest service, especially around food. However, you don't have to have a food allergy or special situation in order to take advantage of Disney's hospitality.
The easiest thing to ask about is holding off on sides, especially at counter service locations. Often, these meals will include chips, fries, or some other side dish. Most of the time, you can ask to not receive the side, and besides saving a few calories, you will usually be able to save a few dollars too.
Another thing that you should be able to ask about soon is nutritional information as a whole. On our last trip, my wife was just starting Weight Watchers so we were trying to figure out how to calculate the points of what we were eating. Our server checked with a chef about nutritional information, and they did not have it, but she told us that they were working on having resort-wide nutritional information made available. There was no definite timeline for this, but you should definitely ask your server if you are interested.
With anything at Disney, it won't hurt to ask, and you might be able to trade out an extra sprinkle of salt for a sprinkle of pixie dust.
Magically Speaking Featured Article
Library of Congress ISSN:1556-3863