This post may contains affiliate links for your convenience. If you make a purchase after clicking a link we may earn a small commission but it won't cost you a penny more! Read our full disclosure policy here.
Well, since I've been married to my husband for nearly 25 years, I knew I wasn't the cheating type. But here I was feeling more unfaithful than ever—unfaithful to my love of Walt Disney World. It started out painless enough—just a casual conversation after Thanksgiving dinner. My family and that of my best friend had been having Thanksgivings together since 1993, one year at her house, the next year at mine. It's changed slightly over the years with the addition of spouses and children, but fundamentally it has been a lovely tradition was in place. But things were about to change.
Her 7-year-old was developing an obsession with Harry Potter that rivaled that of my 15- and 17-year olds.  Over turkey and stuffing, my friend nonchalantly threw out the idea of spending next Thanksgiving in Orlando, visiting…wait for it…Universal Orlando! The kids were excited. The husbands barely looked up from the football game. I didn't want to be a naysayer so I pasted a forced smile on my face. Don't get me wrong, I love the stories and movies about the cute boy wizard, but I'd always figured we would fit in a day visit to Hogwarts during one of our non-park days on the annual (or more) trips to Disney World.
I was pretty confident the idea would fizzle out as the months went by, especially because I was the usual "planner of trips" in this family. The friends and the kids kept mentioning it and I knew I had to at least investigate. Where to stay? How many days do we get tickets for? What about restaurants? Is there food I can eat (I am Celiac)? After 25+ trips to Walt Disney World, both with and without kids, I fancied myself quite well versed on all the Disney decisions, but this was uncharted territory. After comparing on-site hotels, reading reviews and checking out options, I arranged our condo rental 15 minutes from Universal Orlando. If it couldn't be in the Disney bubble, at least it had lots of bedrooms and bathrooms and a private pool.
We were all set–airline tickets, condo rental, two-day park-to-park tickets. I tried to be positive. "I hear the theming is amazing." "It's only a long weekend." "It will be great to have warm weather for Thanksgiving." These became my mantras as the vacation loomed. I tried to be positive and excited. I thought I had conquered the feeling of "cheating," but when we arrived at our airport and I saw so many people in line with those yellow luggage tags, sporting those Magic bands, I was overcome with jealousy. Making our way through the Orlando Airport just added to my misery. Seeing the Magical Express signs as we made our way to our rental car was salt in the wound. I wouldn't allow myself to even step foot in the World of Disney store. I just followed the kids into the Universal Store for Harry Potter adorned gift cards so they could have souvenir spending money. At least I was the only one feeling this way, or so I thought.
As we hit the road to the condo, colorful, adorable Disney billboards loomed large. True, my son and husband seemed oblivious. They never shared the Disney obsession that has plagued the women in this family. I looked at my daughter in the back seat. Just then, she said, "I'm glad to finally see the Harry Potter stuff, but doesn't it feel weird to be this close to Disney and not be going there." I did the motherly thing and told her how great this trip was going to be. We had been to Disney so many times and we would go again. It's silly to feel sad. I was hoping she believed the words that I only half believed myself.
The next morning, we headed to the park. It was odd. I was used to having a plan, but we were flying blind. No fast passes; just a park map and long lines for thrill rides. (Did I mention I don't do thrill rides?) I hold the jackets and bags for everyone and head to the chicken exit. That was never an issue at Walt Disney World. I could stroll Main Street, take in a show, browse the shops or people watch. Here, there didn't seem to be much to do for folks like me.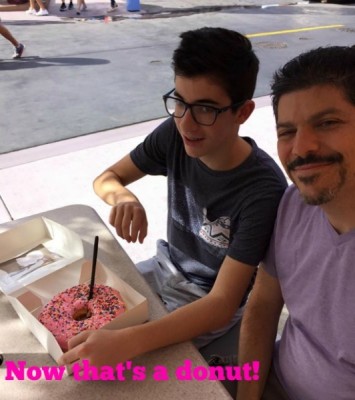 Few things top a giant donut!
It wasn't all negative though. My husband and son loved the many thrill rides, something they always felt was lacking at Disney. The Harry Potter area was indeed very impressive. The attention to detail was amazing. You really did feel like you had stepped into the films. We had two sit-down meals in the park, which were fine. The Leaky Cauldron had great theming, though gluten free options were sparse. We also had a meal at Mythos which had an exclusive gluten free menu. The restaurant was beautiful and sitting outside on the patio was lovely. We had a full day.  Day two was better with an earlier start, valet parking, shorter lines and having our bearings.  We enjoyed exploring Springfield with the Simpsons. Few things make a teen boy smile bigger than a giant donut.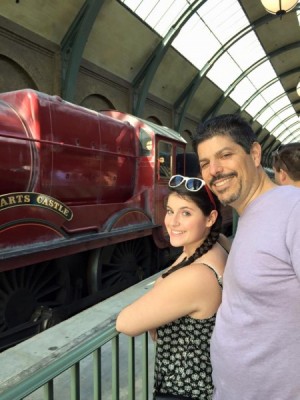 Waiting to board the Hogwarts Express
     All in all, I think my family would say we had a perfectly fine and blessing-filled Thanksgiving in Orlando. It doesn't hurt that on our last day, after we packed up and vacated the condo, my husband drove directly to Disney Springs where we spent a magical day together waiting for our evening flight! He knows me so well!
Have you done a Universal only trip? Share your thoughts in the comments.