This post may contains affiliate links for your convenience. If you make a purchase after clicking a link we may earn a small commission but it won't cost you a penny more! Read our full disclosure policy here.
By: Rhonna Costabile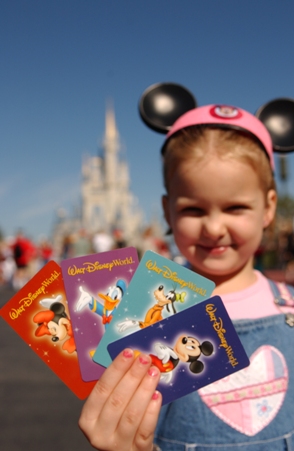 With the economy being what it is and the holiday shopping season upon us, who wants to go on vacation to Walt Disney World and be nickel and dimed to death? Well, you don't have to be because I am going to share with you a few ideas to keep your expenses down!
Let's start with water. What most people don't know is that the water that comes from the taps and drinking fountains inside the parks is not filtered for taste, which certainly encourages people to purchase bottles of water for nearly $2.50 each. Here's the tip: if you purchase a sport bottle with a filter system built in at home and bring it then you can keep refilling it as much as necessary. Ice is free for the asking anywhere you go, so you can always have cold, clean, good-tasting water to drink.
If you think you'll be drinking a lot of soda, there is another option.  You can purchase a refillable mug at your resort.  This tip really only works if you see yourself drinking a lot of soda at the resorts as the refillable mugs are not able to be filled up at the parks.  If you are staying at All Star Sports, they are currently under way with a testing program with a different kind of resort mug.  At this resort the mugs come equipped with an RFID sensor which will notify the soda machine when you place your mug underneath that you are there for a fill-up.  One thing to keep in mind is that you are only allowed one refill every 5 minutes.  Getting a refillable mug can save you the cost of buying bottles of soda all day long (again, assuming you are at the resorts) as well. There are stipulations with the refillable mugs, so please make sure you read the fine print before you purchase them.
One thing for certain at Disney and that is that food is expensive! Sure, you could purchase the dining plan and try to get your money's worth, but then you are going to inevitably fall into the trap where you'll feel as if you need to overeat in an effort to make sure you get the value out of the plan. So, my tip is to eat a late breakfast, skip lunch, and eat an early dinner. You will save quite a bit of money over the course of a week and in addition, not overeat at the same time.
Do you find yourself needing to do laundry while on vacation? Instead of buying the detergent and fabric softener from the resort laundry facility vending machines, purchase Purex 3-in-1 laundry sheets at home and bring them with you. They have everything you need built into the sheet.  It goes right into the washing machine and straight into the dryer with each load. They smell pretty darn good, too!
Another tip is that Chase Bank offers a Disney Visa. When you make purchases using your card you earn Reward Dollars good towards anything Disney sells, even things like park tickets and hotel room accommodations! If you use the credit card for everyday purchases the points can add up rather quickly.  You can then use those points on big ticket items or incidental things like souvenirs, photo packages and Dole Whips. There are even member perks like discounts on shopping at select retail stores and special character meet & greets.  Keep in mind that if you decide to use the Disney Visa the only real way for it to pay off in the long run is to pay off the card each month.  Otherwise, the interest that is accumulated will negate any perks you'll obtain with the points you can use.
Finally, the one last piece of advice I have is simply this; Disney is downright masterful at finding all sorts of ways for people to spend their money.  Just because there is a plethora of merchandise that can be purchased – from house wares to clothing to jewelry and literally everything in between, it does not mean you need to buy it. Make a spending plan and stick to it.  Have a set amount for the trip or an amount that you plan on spending per day and keep to it.  It is easy to go overboard but if you make sure to stick to your daily (or trip) budget you won't be so surprised and wonder where all the money has gone.
Happy Holidays to everyone and enjoy your travels, wherever they may take you!