This post may contains affiliate links for your convenience. If you make a purchase after clicking a link we may earn a small commission but it won't cost you a penny more! Read our full disclosure policy here.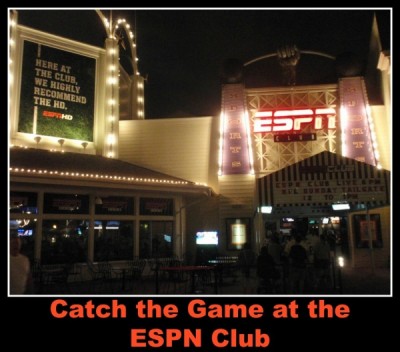 This Sunday night, is Super Bowl Sunday.  If you have a trip to Disney planned for that day, you may be worried that you will have to miss the big game, but this is certainly not the case! There are many places within the Walt Disney World Resort where you can watch your favorite sporting events.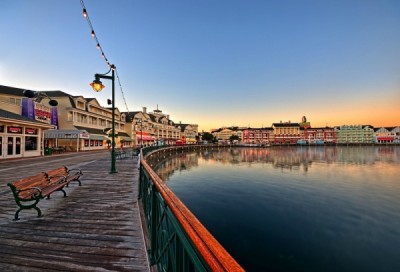 There are many great restaurants along Disney's Boardwalk!
Several of my recent trips to Disney World have occurred during football season and when you are traveling with friends and family who are die-hard sports fans, you will most likely end up looking for a place to watch a game.  I visited Epcot this fall with a group of six people and four of us were FSU fans and/or alumni.  Of course, taking a "sports break" and watching the game on a Saturday afternoon was high on the list of things to do even though we were at Epcot for the day.  If you find yourself in a similar situation, you can do what one of my travel companions once did and watch your favorite team play on your cell phone while riding Ellen's Energy Adventure (Ed. note:  please, if you are going to do something like that, be mindful that you are not disturbing other guests around you)…or you can, find somewhere to watch on a real TV!  We wanted a place where we could kick back, relax for a while, and have a drink and a meal in the air conditioning, so we headed over to the ESPN Club at Disney's BoardWalk.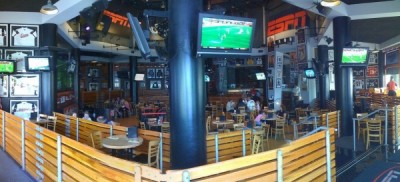 Inside the ESPN Club
The ESPN Club is really easy to get to from Epcot.  If you hang a right at the World Showcase International Gateway, you will find a back exit to the Boardwalk. (It's located in between the France and the UK Pavilions)  You can also re-enter Epcot this way later on if you decide to come back to the park.  Once you exit the park, the ESPN Club is only a short walk down the pathway. You can also use Disney transportation to reach the Boardwalk from other resorts and Downtown Disney.
The restaurant is large with a lot of seating, so no matter where you are seated, you should be able to see a TV.  There are even TVs in the bathroom, so you won't miss a single minute!  I have visited the ESPN Club and been seated right away, but I have also waited in line for nearly an hour to get in.  The wait all depends on how busy the Disney area is that day and if there are any big games on.
For an event like the Super Bowl, I imagine that you will need to arrive very early or consider purchasing VIP seating in advance.  VIP seating will cost you about $50 per person, but you will be able to ensure a seat for the entire game.  (This money does go towards food purchases, so you don't loose it, but you will have to commit to spending the entire $50 in food and beverages.) Like most Disney restaurants, you can make reservations up to 180 days in advance.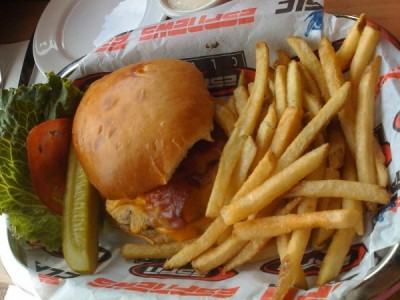 Grab a snack or meal while you watch the game
If the ESPN Club sounds a bit too busy for your taste, check with the concierge at your resort to see if they will be showing the game at the hotel.  Many hotels have bar areas with TVs where you can watch. If the game you are looking forward to watching is on ESPN, you will also have several ESPN channels in your hotel room if you stay on property. (Just one advantage of Disney owning ESPN).
You may also want to consider making a stop at the Big River Grille and Brewing Works, which is just a little bit further down on the BoardWalk.  Often games are shown here too.
Another fun option would be Splitsville at Downtown Disney. There are plenty of TVs, food options, and you can bowl a game or two while you are there.  Splitsville is busy on most days, so get there extra early if you hope to watch a particular game.
That's perhaps the best piece of advice to offer…if there is a big game that you are really looking forward to watching, make sure that you arrive early and give yourself plenty of time to allow being seated.  There's nothing worse than showing up 20 minutes before your favorite team takes the field, only to have to wait an hour (or more) to be seated, causing you to miss a majority of the game you wanted to watch in the first place.
Have you ever taken a "sports break" at Walt Disney World?  Where is your favorite place to watch your team play?