This post may contains affiliate links for your convenience. If you make a purchase after clicking a link we may earn a small commission but it won't cost you a penny more! Read our full disclosure policy here.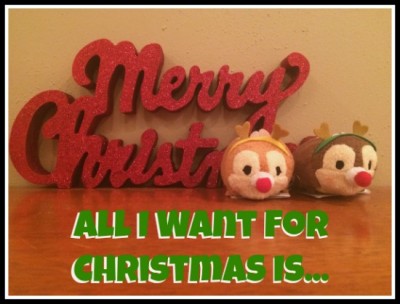 Happy Holidays MFL readers! I hope that everyone had a great Christmas, Chanukah, or whatever holiday you and your family celebrates. I must have been good this year, because Santa (and my family) were very generous in the Disney gift department this year.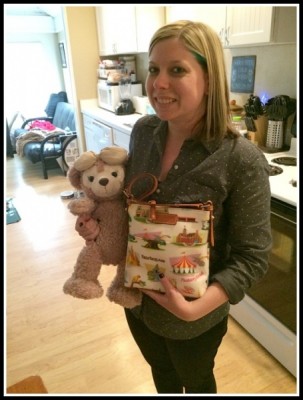 My big gifts this year were a combo anniversary/Christmas gift from my amazing boyfriend and they came as a complete and total shock to me. The first was a Disney Dooney and Bourke bag that I had been eying for years.
This particular style of bag is the letter carrier and the print is of vintage-styled Walt Disney World park icons. With long, adjustable straps, this is the perfect sized bag to bring to the parks with you. It is big enough to carry your wallet and a few other necessities, but small enough to not weigh you down. The print on the bag is gorgeous as well.
As a huge fan of Disney parks themed merchandise, I was so excited to see that my bag had images of the Haunted Mansion, Dumbo's Circus, Space Mountain, Thunder Mountain, it's a Small World, the teacups, Tiki Room birds, Main Street Train Station, and much more. Disney Dooney and Bourke bags can be purchased in the parks or on the Disney Store online, but please use caution when purchasing these bags online. Since this particular style has so many different icons and each bag is laid out differently, I would urge you to buy this bag in person so that you can choose which designs you like best on the bag. By purchasing this bag online, you will not get to choose your design.
My next Christmas surprise came all the way from Japan…ShellieMay the Disney Bear! For those of you not familiar with ShellieMay, she is Duffy the Disney Bear's special friend, sold only at the Tokyo Disney Resort. ShellieMay looks a lot like Duffy, but she has a pink shade to her, removable tan colored bow on her head, and the same "Mickey Marks" on her face, paws, and right hip. Both Duffy and ShellieMay are extremely popular in Japan and I'm so happy to add ShellieMay to my collection.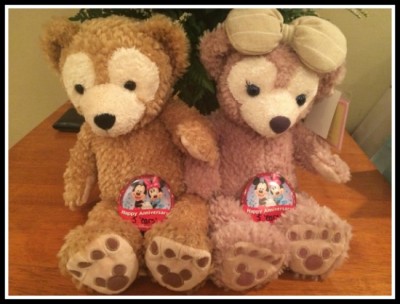 In my stocking, I found a few more little gifts from Japan, though these are a bit easier to attain. Since they became available this summer, I've become completely obsessed with Tsum Tsums. For those new to the Tsum Tsum craze, these stackable plush Disney characters originated in Japan and literally translate to "stack stack." These adorable plush collectables also have an accompanying mobile game, which can be downloaded through the Apple app store. Collecting virtual tsums is almost as addicting as collecting the physical ones.
For those who cannot resist these cute, little plush toys, they come in three sizes—mini, medium, and large—and can be purchased at the Disney Store or Disney Store online. While I haven't seen any Tsum Tsums in the parks, I have seen some at Downtown Disney.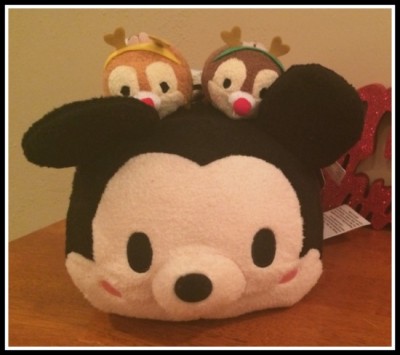 My final Disney-themed Christmas gift that I received was something that you can never go wrong with giving to a Disney lover…a Disney gift card! These cards are the perfect gift for any Disney lover because they can be redeemed not only at all of the Disney parks, but also at the Disney Store (physical or online). This particular gift card is going straight to our Disney Cruise fund!
What Disney-themed gifts did you receive under your tree this year?