This post may contains affiliate links for your convenience. If you make a purchase after clicking a link we may earn a small commission but it won't cost you a penny more! Read our full disclosure policy here.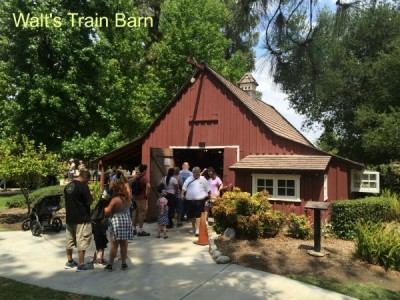 On an unusually humid Southern California summer day, my family and I decided to visit one of Griffith Park's lesser known attractions: Walt's Train Barn. This stop is a must for lovers of Disney history.
Walt's Train Barn is the actual barn where Walt Disney worked on his miniature trains at his home. It's website declares it "The Birthplace of Imagineering," and it's hard to argue with that. Long before the Disney company created any theme parks, Walt could be found in his backyard, working on his pride and joy: the Carolwood Pacific Railroad, a 1/8th scale train that ran through his property.
The barn has been moved to a section of Griffith Park, and is chock full of Disney train memorabilia. Most of what you will see involves Disneyland and the Carolwood Pacific.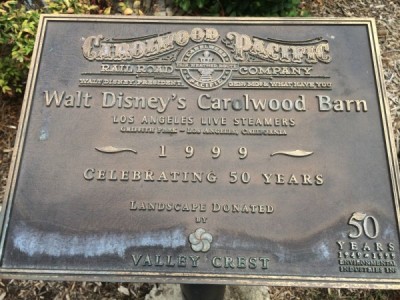 Walt Disney, President, General Manager and What Have You
The Barn is only open to the public on the 3rd Sunday of each month from 11:00 a.m. to 3:00 p.m. Parking and admission are free, although donations are gratefully accepted. The kind, knowledgeable and friendly folks who are on hand to answer questions (many of them wearing Cast Member pins) are all volunteers who are passionate about Walt Disney and trains.
The first thing you should know is that this is not an easy place to find. Even when we plugged the address into our GPS, we managed to first park in Travel Town, then the Los Angeles Live Steamers Museum (both also free places for train enthusiasts young and old) before finally finding the dirt parking lot for Walt's Train Barn.
Upon entering the gates, enthusiastic volunteers gave us over-sized stickers and welcomed us. We passed by a fun miniature town and two small train tracks where miniature trains, about the same size as the famous Carolwood Pacific, carried passengers around the small area.
I had read that a special guest was at the Barn that particular dar, a sculptor named Ron Lee who had brought some of his rare Disney pieces. My daughter immediately reached out to touch the small figurines, and before I could scold her not to, Mr. Lee smiled and said, "Oh, it's all right. My granddaughter does the same thing!"
Many people were lined up to enter Walt's Barn, but the line moved quickly. As we moved through the exhibits, docents were on hand to answer questions and explain what it was we were looking at.
As soon as you enter the Barn, to the right is a workbench covered in some of Walt's personal items that he used when working on the Carolwood Pacific. What is even more extraordinary is that the workbench itself was made by Walt.
An entire section was devoted to Walt's beloved backyard train, the Carolwood Pacific, including wonderful photos. Another section chronicled the history of Disneyland's Big Thunder Mountain Railroad, complete with models and artwork. My favorite section was an homage to Disneyland's Monorail, including tickets, a menu from the now defunct Monorail Café, and the Disneyland Monorail Board Game. A corner displayed maquettes and drawings of the Casey Jr. Circus Train attraction.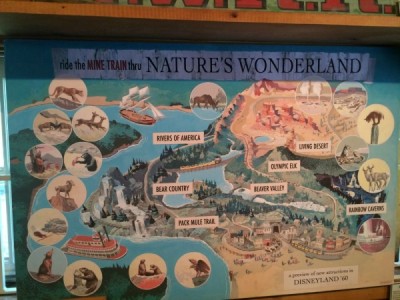 Concept art for the Mine Train Through Nature's Wonderland
To one side there were early drawings and plans for Disneyland. My daughter loved reading about lands that never were, such as Holidayland and the Mickey Mouse Clubland.
In the center were two beautiful 1/8th scale trains, including one from England that Walt intended to run in his backyard, but never did, since seawater damaged the train en route to America.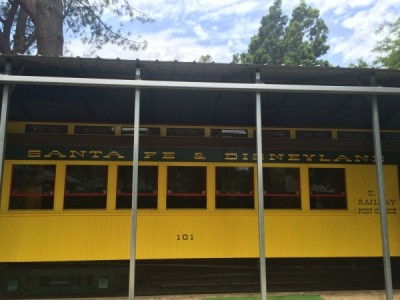 Santa Fe and Disneyland Combine Coach
After leaving the Barn, we stopped to gawk at the original Santa Fe and Disneyland Combine Coach. This train car once ran the perimeter of Disneyland Park. Its bright yellow paint made it glow in the bright sunshine.
Ollie Johnston's Victorian Train Depot
Beyond the Combine you'll find Ollie Johnston's Victorian Train Depot. Ollie was one of Disney's original animators known as the "nine old men." (He also does a wonderful cameo voice appearance at the end of The Incredibles, along with fellow animator Frank Churchill.) He was also an avid train enthusiast, and his own backyard railroad inspired Walt to build the Carolwood Pacific.
There was also a small area set up where small children could use blocks to make a model train set. Nearby, youngsters loved to pull a string which made a train whistle blow. When my husband and I watched the kids, we realized that this area smelled exactly like the Primeval World section of the Disneyland Railroad!
There is also a small gift window where you can buy books, posters, postcards, pins, patches, and ice cold bottles of water. You can also donate to the Carolwood Foundation here. (A less informal cash collection jar sits at the entrance.)
This is a small area, and we were easily able to see everything in an hour. For people who love trains (or parents of children who do) a trip here can be easily combined with the aforementioned Travel Town and Los Angeles Live Steamers Museum, right down the road.
For Disney lovers, this is a place where you can see one of a kind pieces of Disneyland history, as well as feel just a little closer to the man who started it all.
Walt Disney's barn is located at 5202 Zoo Drive in Los Angeles. It is certainly a must stop of for the Disney fanatic.
Have you ever visited Walt's Train Barn? What are your thoughts of it?