This post may contains affiliate links for your convenience. If you make a purchase after clicking a link we may earn a small commission but it won't cost you a penny more! Read our full disclosure policy here.
One night over the summer, I sat down in front of the TV and started flipping through movies on Amazon Prime when I came across Walt Before Mickey. I remembered seeing this movie advertised when it came out last year, but I never got the chance to see it. Just like that, my plan for the evening was decided. I was going to check it out!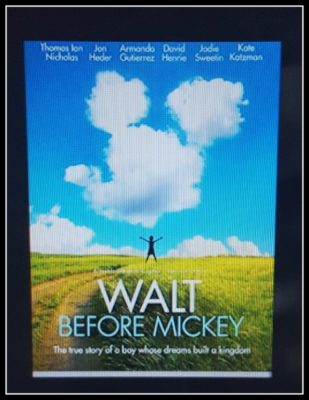 This film covers, as the title implies, Walt Disney's life before the creation of Mickey Mouse. It is based on the book, which bears the same title. The movie stars Thomas Ian Nicholas who you may remember from Rookie of the Year and American Pie. Jon Heder, of Napoleon Dynamite fame, plays Walt's brother Roy. Most of you will also recognize Jodi Sweetin from Full House as Walt's aunt.
The film begins with Walt as a boy on his family farm in Marceline, Missouri. We get a brief glimpse into his childhood before the film moves on to the early years in his animation career. As Walt begins his career creating cartoons and faces a series of challenging events, we are along for the ride.
Although there is not a lot of action in this film, at times I felt that I was on an emotional roller coaster. Every time Walt would gain a success and then shortly thereafter find himself lost or penniless again, my heart sank a little right along with his. It helps to know that Walt will eventually succeed, but that didn't always keep me from feeling heartbroken when that success did not come easily.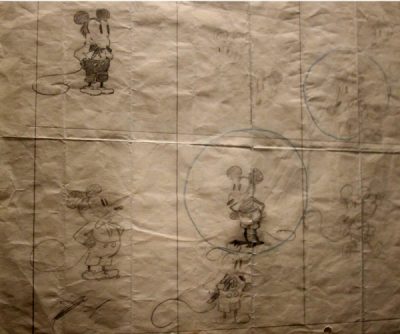 First known drawing of Mickey Mouse
I am guessing that you already know that Walt did not work completely alone. One of my favorite things about this movie was "meeting" the people who contributed to his success. As Walt faced the ups and downs, it was interesting to see who stuck with him through thick and thin and who moved on to pursue other things. I literally gave a small cheer when Walt met Lillian, his future wife. I feel like she played a huge part in Walt's career and it was nice to see how their relationship began.
I don't think I am spoiling anything for you by telling you that Walt and company do ultimately find incredible success in the film industry, among other things. The movie concludes with an epilogue of sorts and you find out what happened to all of the people you have gotten to know over the past 2 hours. I really liked that this was included. I felt that it gave some closure to the first chapter of a story that is far from over. Even though Walt passed away many years ago, we all know that his legacy lives on and will continue for years and years to come.
If you are a Disney fan, I think you will enjoy this film for many of the reasons that I did. I don't expect it to win any big awards or anything like that, but I enjoyed spending the evening getting to know Walt and his friends a little bit better. I hope that you will too!
Have you seen Walt Before Mickey? Share your thoughts of the film in the comments.