This post may contains affiliate links for your convenience. If you make a purchase after clicking a link we may earn a small commission but it won't cost you a penny more! Read our full disclosure policy here.
Pregnancy is an exciting time for many reasons and a fool-proof way to add one more thing to be excited about is to plan a Walt Disney World trip in those nine months!
We visited Walt Disney World when I was 34 weeks pregnant.  When we planned the trip we had no idea what we were getting ourselves in to!  My husband and I had signed up for the Wine and Dine half marathon months and months in advance – even before we knew we were expecting.  So when we found out I would be well into my third trimester by the time we left for Orlando we knew our traditional method of park touring wasn't going to work for this trip.  Below are my top 3 tips for visiting Walt Disney World while expecting.
1. Slow Down!
This one was really difficult for me to come to terms with.  I didn't even know it was possible to visit Walt Disney World without going to the parks from open to close prior to this trip!  As the trip drew near, however, it became apparent that slowing down was going to be necessary – but slowing down doesn't mean your trip is going to be boring!
An easy way to build in some down time to your trip is to schedule plenty of table service dining meals. This was probably the most fun part of our "slower" trip!  We were able to plan a table service meal for each day of our trip and that meant we got to visit several restaurants we had never visited before including 'Ohana – which has become one of our favorites!
It is important to remember, however, that even a "slow" day at Walt Disney World is usually a much more active day than your normal day at home.  Remember to discuss the increased activity levels with your doctor prior to your trip so you can determine how much you need to pull back on your park touring.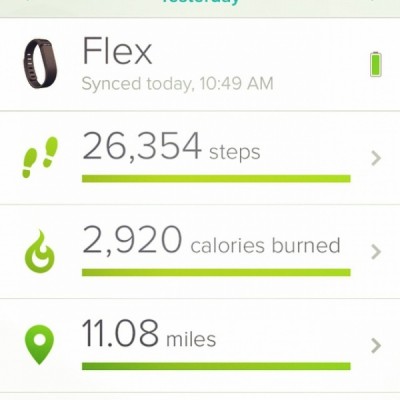 For reference, this was my activity log from one day on our trip and I was sore the next day! Know your limits!
2. Use Fastpass+ Efficiently
On our "normal" Walt Disney World trips we use our first 3 FastPass+ selections on thrill rides like Space Mountain, Expedition Everest, Test Track and Tower of Terror but none of those rides are recommended for expecting mothers so we had to reconsider our FastPass+ strategies.  Thankfully, Walt Disney World makes it very easy to determine which rides are generally not recommended for those who are expecting (although each person should discuss their specific circumstances with their doctor prior to experiencing any attractions – or flying!) and you can filter all of the attractions on the website by those that have "expectant mother" warnings so you can easily avoid them!
For our trip we scheduled most of our FastPass+ experiences on attractions that our entire party could experience together.  However, no one in our party had ridden Seven Dwarfs Mine Train so we scheduled it as one of our FastPass+ experiences at 60 days prior to check-in.  Once we had scheduled it for our whole party, I switched my FastPass+ experience to a different attraction nearby (The Many Adventures of Winnie the Pooh) during the same time slot so that our entire party could enjoy our respective attractions at the same time!  Not only was this convenient, it forced me to experience an attraction that I hadn't experienced in a long time – I had forgotten what a fun experience it was since we usually stick to the same attractions.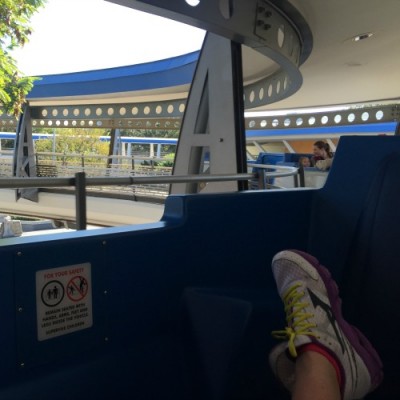 And sometimes you just need to relax on the TTA PeopleMover
3. Be Flexible
This is undoubtedly the most important tip: flexibility is key.  With the introduction of FastFass+ and the rise in popularity of the 180 Day Advanced Dining Reservations, the desire to schedule your trip down to the minute is very real (at least for me!).  However, when you're expecting you honestly never know how you're going to feel on those days when you're planning months in advance so be flexible!  Be willing to go back to your resort to rest in the middle of the day (especially if you're visiting when it's hot) even if you wouldn't normally do that.  If there's an attraction you want to experience but the queue is especially long, be willing to skip it (or come back later) – standing in line for extended periods of time is tough when you're carrying around a few a lot of extra pounds.
What are your best tips for what to do while expecting and traveling to Walt Disney World? Share in the comments section!