This post may contains affiliate links for your convenience. If you make a purchase after clicking a link we may earn a small commission but it won't cost you a penny more! Read our full disclosure policy here.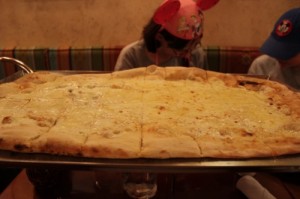 Some people might wonder why we diehard Disney fans are so passionate about our dining plans at Walt Disney World, but we know the secret, don't we?  Face it.  We all have to eat, and there are a lot of people going to Walt Disney World at any one time.  Of course, there are a limited number of seats at 'Ohana, Le Cellier, and Be Our Guest Restaurant, just to name a few.  We plan incessantly right up until that 180 day Advance Dining Reservation date, hoping to get every restaurant that we want at the very time we want to eat.  It's no wonder that we also look for any way to save money while eating at all the right places.
Walt Disney World provides a variety of dining plans to suit just about everyone.  There's a dining plan for those who prefer to eat mainly at Quick Service locations, a dining plan for those who like 3 meals per day, and a plan for those in between who like a mixture of Table Service and Quick Service locations.  Walt Disney World dining plans can be flexible and can save people money with a little planning.  One main way to save money is to make sure that all dining credits are used.  Plus, most of your dining costs can be prepaid this way.
Disneyland has a dining plan, too, but it is very different from Walt Disney World's plans.  "Dine in the Magic" meal plans come in 2, 3, 4, or 5 day plans.  The plans are basically prepaid meal vouchers that have a "retail price" on them.  The number of character meal, premium character meal, dining certificates, and snack certificates depends on what plan is purchased.  When using the vouchers, it is important to make sure that the meal or snack price is at least the value of the voucher because there is no change given.  The vouchers can only be used in the park and resort dining locations.  They can't be used for room service, holiday buffets, alcoholic beverages, or in Downtown Disney restaurants.  I love eating in Downtown Disney, so that exclusion is a problem for me.
So, which resort has the best dining plan?  This really is a tough one.  The Walt Disney World dining plans have made the restaurants so popular that Advance Dining Reservations open at 180 days before arrival.  I remember a time before the dining plan when I could go to EPCOT after my class let out and still find a popular place to eat for supper.  However, many people love the dining plans here because of the cost savings that can be obtained with a little planning.  Disneyland's dining plan is basically just a prepaid voucher system.  Many people like to prepay as much as possible, so this can still be a plus.  A few years ago, I remember when Disneyland did a trial of a dining plan that was similar to Walt Disney World's dining plan.  My family was invited to try it out because we already had a reservation.  We jumped on it but were slightly disappointed.  There just aren't enough restaurants at Disneyland to make this type of plan fly.  Besides, I like that I don't have to plan out where I'm going to eat at Disneyland until 60 days before I get there.  I wonder how that would change if Disneyland adopted the same type of plans as Walt Disney World has?
Here again, I think Walt Disney World wins the dining plan competition because of the savings potential, but I think that Disneyland has an inherent disadvantage because of the decreased number of restaurants available.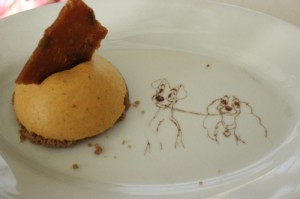 But I have a secret…  My family is not a huge fan of the dining plan at Walt Disney World.  When I say that it takes planning to save money with the plan, we actually sit down and map out what we plan on eating and compare it to the price of the dining plan.  My family is vegetarian, so that erases part of the dining plan savings right there.  The higher-priced entrees involve meat dishes like steak.  My kids are picky eaters and would prefer to eat off the kids meals.  Why would I pay adult prices for the dining plan and watch them eat kids' meals?  Unless we are planning on lots of character meals, the dining plan doesn't make sense for us.  We also don't like to have dessert at every meal.  Sometimes, we don't even want a regular meal.  There are restaurants where we would rather just get an appetizer for our meal and then stop somewhere else for a snack later.  For our last trip, we crunched the numbers and realized that we would come out even, so we decided to go without it in order to have more choices in what we wanted to eat.  Here again, the dining plan is such a personal choice.  It works for so many people, and it can truly be a great savings for many.  Unfortunately, it just doesn't work for us at this time.
What do you say?  Do you like the dining plan, and if so, which dining plan do you prefer?