This post may contains affiliate links for your convenience. If you make a purchase after clicking a link we may earn a small commission but it won't cost you a penny more! Read our full disclosure policy here.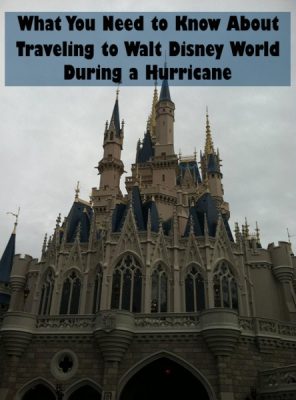 As you can clearly see, hurricane season is in full force. Hurricane season officially lasts from June 1 through November 30, with August and September being the peak time period for hurricanes to form.
For those of you traveling to the Central Florida region during this time period, you may be affected by a hurricane, so here are some things you ought to know.
For updates on Hurricane Dorian please check this page.
You can get a refund or reschedule your vacation
The themed destinations do sometimes offer a refund or the ability to reschedule your vacation. Because safety is the top priority for the theme parks, if there is severe weather that is forecasted, each theme park destination has their own hurricane policy. Do keep in mind that any additional elements that you may have booked, including air, car rental or other theme park tickets are separate and not part of either of these policies.
Walt Disney World's hurricane policy is that if a hurricane warning is issued by the National Hurricane Center for the Orlando area (or if one is issued for your place of residence) within 7 days of your scheduled arrival date, you won't be charged a cancellation fee if you cancel, and you will get a full refund of what you've paid. If you wish, you can reschedule to another date without a change fee. If you have questions or you wish to reschedule your vacation due to a hurricane warning, please contact your travel agent or call (407) 939-7675.
Universal Orlando Resort's hurricane policy is pretty similar. If a hurricane warning is issued by the National Hurricane Center for the Orlando area or for your place of residence no more than 7 days before your scheduled arrival date, you can call in advance to cancel or reschedule your Universal Parks & Resorts Vacations hotel accommodations and Universal Orlando theme park tickets without any cancellation or change fees imposed. Reservations must have been booked a minimum of 7 days in advance and cancelled before 6pm the day prior to arrival.
The Parks Can Close
The theme parks can close due to a hurricane. While rare, it has happened before. All the central Florida theme parks are designed to handle the threats of hurricane strength winds, however, occasionally, the parks may be closed due to damage that has occurred. The parks will open as soon as possible, in this worst case scenario situation. (Typically the parks are only closed at most, a day or two.)
Some Attractions May Not Open
If the parks don't close, some attractions may be closed. Outdoor attractions will not run during storm conditions. In addition, if there is potential damage to a particular attraction, it will remain closed until it is safe to reopen.
The Resort Overall Remains Open
If Disney or Universal does decide for safety reasons to close their theme parks, Guests will be asked to stay at their hotels to ride out the storm. Thousands of Cast and Team Members will remain in place to keep operations running as normal as possible, as well as helping to keep Guests calm. Dining options will still be available and extra entertainment will be introduced. Don't expect a full range of services, of course, but you won't be left to fend for yourself at an empty resort. In extreme emergency situations, guests may be asked to gather in a large, enclosed space with no windows. Both resorts have hurricane plans that can be put in place quickly to help Guests.
Start Planning Ahead of Time
Though the Resort may remain open, certain areas may close, like food courts temporarily. In addition, sometimes the food courts may be open, but have limited offerings. If you are aware that it may look like a hurricane is headed to the Orlando area, you may want to start stocking up on non-perishables ahead of time. Consider picking up things like snacks, bread or pastries, and more. Also makes sure you stock up on drinks too. You may even want to consider having Amazon deliver groceries ahead of the storm, just so you are prepared.
Stocking up ahead of time means you won't have to stand in long lines the night before the hurricane hits and you won't have to just choose food items because they are the only things there.
Be Courteous
Be nice to Cast and Team Members. Yes…you are on vacation, but this is their home. They may have a stressful situation going on that they are dealing with personally because of the storm. While it is their job to provide the best level of service possible, sometimes that's difficult when you are worried. Be patient and kind. While this is good advice always, sometimes people forget when a storm like this "ruins their vacation."
What are your tips for those who are visiting Walt Disney World or Universal Orlando Resort during a hurricane? Share in the comments.