This post may contains affiliate links for your convenience. If you make a purchase after clicking a link we may earn a small commission but it won't cost you a penny more! Read our full disclosure policy here.
Have you ever considered taking a family vacation to Walt Disney World? This magical destination is a wonderful place for people of all ages to visit because of the terrific attractions, lovable characters, exciting restaurants, and other enjoyable activities.
First of all, Walt Disney World is the best family vacation spot because of the fantastic attractions. Based off Disney classics such as Winnie the Pooh, Dumbo, and Peter Pan, these rides are amazing for kids. Parents will also enjoy reliving their childhood days on these sentimental attractions. The majority have no height requirement allowing children of all sizes to enjoy them.
Most of the remaining rides have rather low height requirements. If a child if at least forty inches tall, he/she can ride nearly every attraction in Disney World, including thrill rides such as Tower of Terror and Thunder Mountain. Only five rides in the four major parks have a height requirement of forty-four to forty-eight inches.
Families will also love Disney World because of the many well-known characters that can be found throughout the four parks. Lines quickly form with eager children longing to meet Mickey, Minnie, Pluto, and others, get their autograph, and have their picture taken.
Uniquely-themed restaurants with delicious food also appeal to families. Children can choose from chicken tenders, hamburgers, and other favorites on menus just for them. Also, adults may choose foods from many places around the world as well as favorites such as steak and seafood.
Additionally, character meals are fantastic for kids. While guests are dining, certain popular characters will stop by each table giving children another opportunity to see them, obtain autographs, and get their pictures taken. Even parents will love seeing their kids entertained by this.
Another activity great for all ages is Downtown Disney. Here, kids and adults alike can enjoy seeing life-size statues of characters and toys. Likewise, life-size Lego models of dinosaurs, sea monsters, people, and favorite Disney characters can be found around and inside the Lego shop. Also, many other stores are in Downtown Disney, a place at which everyone, no matter their age, will enjoy shopping.
Finally, the Walt Disney World resorts themselves are terrific and exciting for everyone. Unique structures, pools, and themes can be found in nearly every resort. Occasionally, pool-side activities will take place to test one's knowledge of Walt Disney World. (See my post, My Days as a Disney Trivia Champion, for more details.)
Families find a vacation at Walt Disney World irresistible because of the fantastic entertainment. Guests of all ages will be caught up in the extreme fun of this magical destination.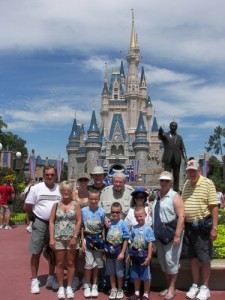 Incoming search terms:
family vacation trips world disney world