This post may contains affiliate links for your convenience. If you make a purchase after clicking a link we may earn a small commission but it won't cost you a penny more! Read our full disclosure policy here.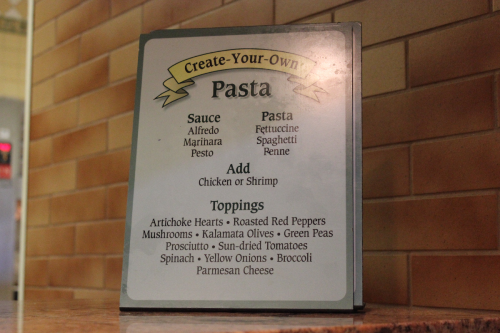 Sometimes I hear people lament how there is a lack of table service restaurants at the Disney Value Resorts and some of the Disney Moderate Resorts.  I used to be one of them because when I travel with my kids, I would rather the food be brought to me instead of me having to get the food in a food court.  I always felt that when I'm on vacation, I would just rather sit down with my kids and relax.  As a mom, I cart the food around enough at home.  Moms deserve a vacation, too, don't they?
Well, I did say that I "used to" think that way.  Now that my kids are older and I don't have to cart them around with the food, I have a totally different viewpoint on this.  When we stayed at Disney's Port Orleans Riverside Resort, we ate at Riverside Mill several times, and I must say that I really enjoyed the variety.  Yes, I enjoyed the variety so much that I bought the same thing more that once.  If you haven't tried the "Create Your Own Pasta", you really need to!  I LOVED being able to pick-and-choose what I wanted in my pasta!  And while I was making wild pasta choices, my kids were able to satisfy their kid palates with Macaroni and Cheese and Cheese Pizza.
Make sure you click on the individual photo once and then again to see it full-sized.
I just took pictures of a couple of the menus hanging up.  There were so many food options that if it hadn't been for the Create Your Own Pasta, I would have had a hard time choosing.  I guess maybe I could turn into a food court person.  Maybe even get the Quick Service Dining Plan?  Ok, I guess I might miss a few of my table service meals that way, but I will definitely have to work in a few more food courts on my next trip.
What about you?  Do you like the food courts?  If so, which one is your favorite?