This post may contains affiliate links for your convenience. If you make a purchase after clicking a link we may earn a small commission but it won't cost you a penny more! Read our full disclosure policy here.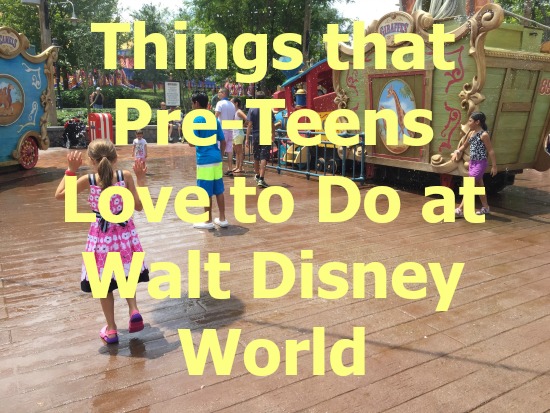 A trip to Walt Disney World with pre-teens will undoubtedly include plans to visit the headliner attractions that are the topic of many-a-guidebook and blog.  Things like Space Mountain, Seven Dwarfs Mine Train, Soarin', Kilimanjaro Safaris, and The Twilight Zone Tower of Terror.  If you are traveling to Walt Disney World with pre-teens, you might consider a few additions to your itinerary.
But there are many, many attractions at Walt Disney World that don't get top billing that kids in the 8-12 age range will love to do if you make time for them.  This article looks at these attractions park-by-park with a recommendation that you try to carve out some time for some of these in each park during your stay at Walt Disney World.
The good news on all of these Walt Disney World attractions is that they have relatively low wait times (often no wait), so fitting them into your itinerary shouldn't be too much hassle.
Magic Kingdom
Sorcerers of the Magic Kingdom: This is an interactive video game where you use trading cards with Disney characters on them to fight villains trying to take over the Magic Kingdom.  Each member of your party can get a set of cards from the Fire Station on Main Street, U.S.A., then go to one or more of five lands to play the game.  You visit four or five different locations in each land and cast spells to a video screen.  There is a bit of a learning curve to figuring out how the game works, so pay close attention to the instructional video when you pick up your cards at the Fire Station.  Once we figured this out, my kids were all about playing the game in as many lands as we could.  We ended up skipping out on rides and shows for over an hour one afternoon because the kids were having so much fun.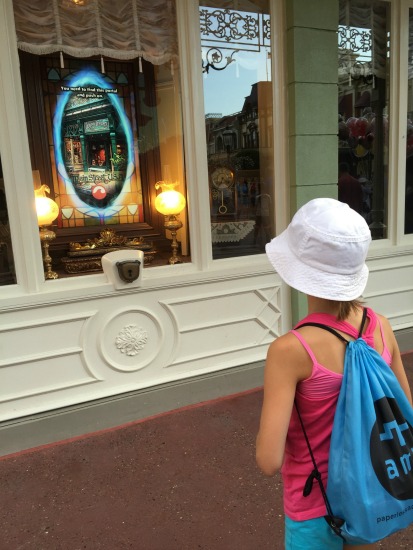 Playing Sorcerers of the Magic Kingdom on Main Street, U.S.A.
A Pirates Adventure: Treasure of the Seven Seas: This is another interactive game that takes you on a mission in Adventureland using a talisman (card) to interact with video screens.  The learning curve is not as steep as it is for Sorcerers of the Magic Kingdom, making this game a bit more accessible.
Tom Sawyer Island: This getaway is accessed by raft in Frontierland.  It is part playground and part exploratory adventure.  The views of Frontierland and Liberty Square from the island are unique (great photo opportunities), and with its out-of-the-way location, it is a great respite from the hustle and bustle of Magic Kingdom.  The island is contained (you can only get there by the raft), so there is little worry that your child will get away from you; if you are comfortable, give your kids a bit of freedom to explore on their own.
Enchanted Tales with Belle: This attraction is more of the headliner-type, but I think some families might bypass this believing it is only for the little princesses.  This is an interactive character show that shouldn't be missed by anyone.  Even adults will be impressed by the magical elements of the show.  Kids are chosen to fill the parts in the performance (all kids can have a part who want one), and everyone who takes part gets a photo with Belle after the show.  Even the boys will like this show. (They are often chosen to play the knights and the Beast, the latter who even gets to dance with Belle).
Meet Merida at Fairytale Gardens: This character meet and greet is tucked away near Cinderella Castle and is often passed up in favor of other attractions nearby.  But the personal attention each family gets with Merida is something unique.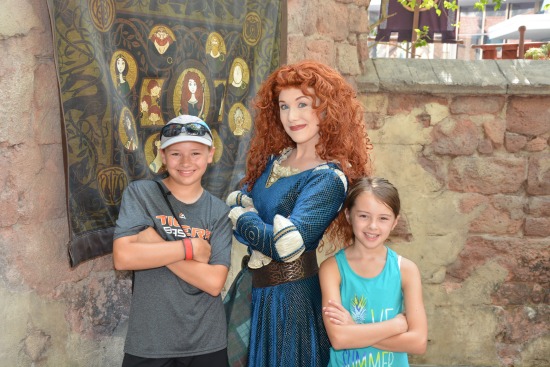 Meeting Merida at Fairytale Gardens
Tomorrowland Speedway: Adults don't typically find this attraction fun, as the cars are somewhat uncomfortable and the top-speed of 7 m.p.h. is not all that thrilling.  But the kids will absolutely love feeling like they have control of driving a car.  For smaller kids, let them control the steering while you push the gas pedal.  Try to take a quick photo of their face as they drive—you will have an authentic smile from ear-to-ear.
Tomorrowland Transit Authority PeopleMover: There isn't anything thrilling about this slow-moving ride through Tomorrowland, but it's a relaxing ride for the busier times of day.  Our kids really love it.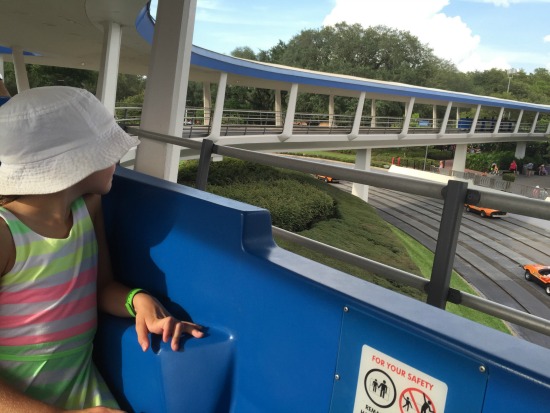 The views are great of Tomorrowland from the PeopleMover!
Carousel of Progress: You might be surprised to see this attraction from the 1964 World's Fair on a list of must-dos for pre-teens, but kids like seeing how things were in the "good ol' days."  It's also a great place to cool down in the air conditioning and away from the crowds.
Epcot
Club Cool: This is a quick stop attached to Innoventions West where you can try unlimited samples of soda from around the world.  I think its appeal to the younger set has to do with being able to go around and try all the different sodas without having mom or dad impose limits on their sugar intake.
Test Track postshow area: While the Test Track ride is a thrill for everyone (who meets the 40" height requirement), the postshow area after disembarking is quite attractive to pre-teens. You can play interactive games with the car you designed on large floor video screens and create commercials for your concept cars.  After that, there are actual Chevrolet cars and trucks to see and sit in (much like a new car showroom).  We probably spent more time in the postshow area of Test Track than we did waiting for the attraction in the standby line.
Be prepared to spend some time in the postshow area of Test Track
Journey Into Imagination with Figment postshow area: While the Journey into Imagination dark ride is just OK, the postshow area has interactive exhibits that the younger kids will really enjoy.  It is hard to pull them away.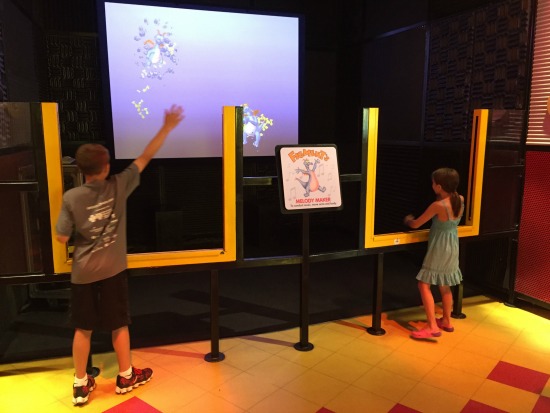 The postshow area of Journey Into Imagination is also a hit with pre-teens.
Fountains: There are a couple of fountains (one on the walkway from Future World to World Showcase, the other near Test Track) that stop kids in their tracks. Spouts of water erupt from the walkway, and the kids love trying to catch the water and splash around (especially on a hot day).
Agent P's World Showcase Adventure: Using a smart phone-like device, you go on a secret agent mission throughout World Showcase to help Perry the Platypus defeat the evil Doofenshmirtz (from the Phineas and Ferb TV show).  You pick up your device on the walkway from Future World to World Showcase.  This game allows the parents to explore the pavilions, which don't always have much appeal for kids, while letting the kids get to do something that is fun for them.
Disney's Hollywood Studios
For the First Time in Forever: A Frozen Sing-Along Celebration: Don't pass this show up thinking it's just a retelling of the movie.  It's actually a very humorous (in a Disney or Pixar humor kind of way, where there are jokes for adults mixed in with the kid jokes) telling of the story that has minimal use of the Anna and Elsa characters.  It's hard not to sing along when your kids are belting at the top of their lungs.
Star Wars Launch Bay: Any Star Wars fan in this age will love the chance to meet Chewbacca and/or Kylo Ren, look at models and props from the films, and interacting with the Jawas.  My son brought along a few old toys from home that he was willing to part with.  The Jawas do a great job bartering, examining the items and offering other items in return (usually of lesser value).  Don't try to trade junk though; they won't go for it!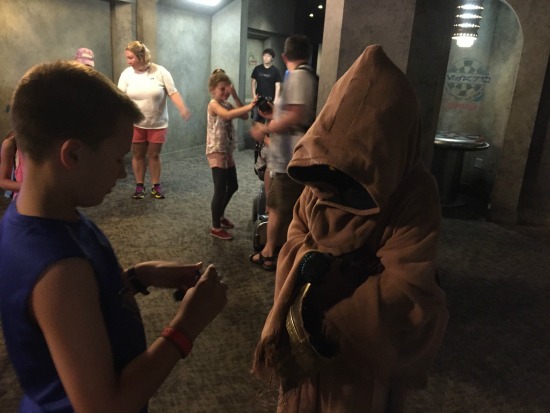 Trading with the Jawas at Star Wars Launch Bay
Walt Disney: One Man's Dream: This is a walk-through exhibit tracing the history of the Walt Disney company with an emphasis on the films and parks.  The end of the exhibit has an optional film about Disney's life (often replaced by a preview of an upcoming Disney film release).  I never would have guessed my kids (ages 9 and 11 at the time) would have had to be dragged out of this exhibit in order to make our next FastPass reservation!  Budget 30 minutes.
Disney's Animal Kingdom
Wilderness Explorers: This is a park-wide scavenger hunt to earn merit badges for solving puzzles and finding items.  You can get your explorer booklet at any of the stops, but it is best done from the first stop at the front of the park.  Doing all 32 activities would take several hours, but there is no harm in just doing ones that you find appealing or when you stumble upon them.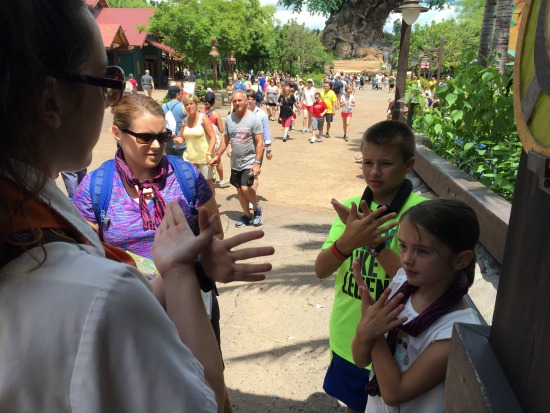 A Wilderness Explorers stop near the Tree of Life
Conservation Station and Affection Section: This is an oft-ignored attraction, as it requires you to board the Wildlife Express Train in Africa to get to another section of the park.  There aren't any headliner attractions to be found, but my kids enjoyed watching the dental surgery of a pig, petting the goats, and meeting a few characters (Rafiki and Chip 'n' Dale).  Plan for an hour including transportation time for this.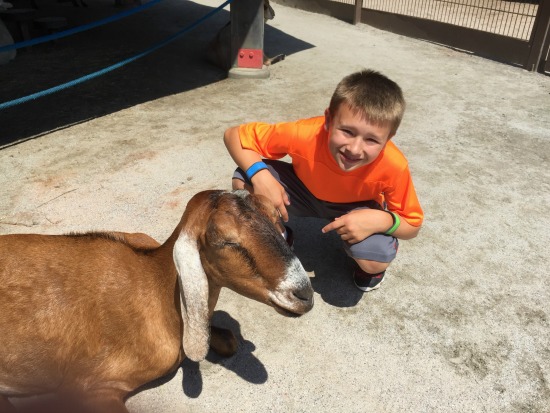 A bit of time with the animals at Affection Section
The old vehicles in Africa and Asia: Placed in several locations along the walkways, there are authentic vehicles (motorcycles, rickshaws, and the like) where your kids can pretend to drive and parents can take memorable photos.  If your kid sees one, she will want to stop; just take her lead, it's worth it!
Resorts and More
Pressed coin machines (resort-wide): The cheapest souvenir you will find at the Walt Disney Resort (51 cents for the pressed pennies), and great fun for the kids as they try to collect as many as they can during their trip.  All the theme parks have machines spread throughout, and you find others in the resorts, water parks, and Disney Springs.  I recommend bringing an old M&Ms canister filled with quarters and pennies.  There are a few pressed quarter and dime machines as well.  I recommend buying one of the pressed penny books from your resort or in the theme parks (very economical) to store them.  Warning:  once you start collecting these on your trip, your kid will eye every last machine in sight!
Disney Springs: My kids don't find Disney Springs all that appealing, except for the Lego Store.  Of course, there are building sets for sale throughout, but the kid appeal comes from free-building areas outside the entrance and the pick-a-brick section of the store allows kids to fill a container of Lego pieces they want for a reasonable price.
Resort pools: This one might seem obvious, but the temptation to spend all of your time in the theme parks is a tough one to keep at bay, especially considering how much you have spent on your tickets!  But your kids will want to spend as much time as they can in your resorts' pools.  Don't overlook the quiet pools either; they are often more peaceful and the kids will have just as much fun.  Night swimming is especially appealing to kids, so don't be afraid to take a quick dip after a night in the parks.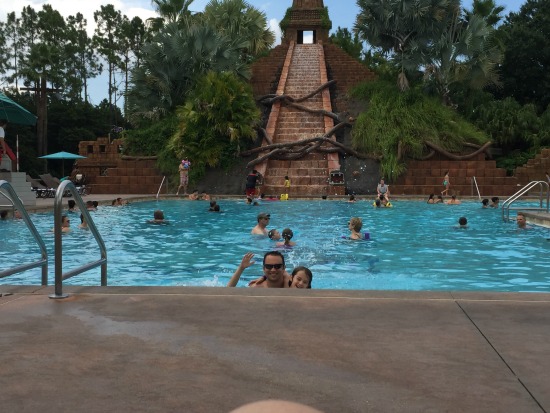 The main pool at Coronado Springs Resort
Resort transportation: Take a ride on the monorail or hop on a boat to get from a park to a resort even if it is a slower option than a bus or your car.  To pre-teens (and probably a few adults), these are attractions in themselves!
Water parks: Typhoon Lagoon and Blizzard Beach have an added cost, but if your budget allows and your vacation has enough time built in to see the parks and your resort, you should consider adding a day to spend at the water parks.  (Day tickets now include admission to both parks in the same day; multi-day tickets with the water parks option include as many admissions as days on your ticket.)  Like the resort pools, kids really love their time in the water parks.
I'll admit—when visiting Walt Disney World, there is a temptation to focus on the headliners, believing those will make your kids the happiest or leave them with their greatest memories of your vacation.  But after four trips to Walt Disney World with pre-teens, I've learned that kids in this age range aren't as impressed with them as they are with some of the lesser-known attractions.  For most parents, their kids' happiness on a Walt Disney World vacation is probably at the top of their list.  And if you include some of these attractions and activities in your vacation plans, you are almost guaranteed smiles on your children's faces.
What are some of the activities and attractions that your pre-teens love to do at Walt Disney World? Share in the comments!
Incoming search terms:
https://www themouseforless com/blog_world/walt-disney-world-pre-teens/