This post may contains affiliate links for your convenience. If you make a purchase after clicking a link we may earn a small commission but it won't cost you a penny more! Read our full disclosure policy here.
I recently traveled to Walt Disney World to take part in the WDW Marathon Weekend. After the 10K race, I had the opportunity to represent The Mouse for Less at the Cigna Run Together event at Epcot. This was my first time attending the event and I was excited to be a part of it!
The event took place in the GM Conference and Training Center above Test Track. Did you know there was a conference center inside the Test Track building? I certainly didn't! The space where the Cigna event took place has a unique, bird's-eye view of Epcot. We could see and hear the cars speeding through Test Track below. How cool!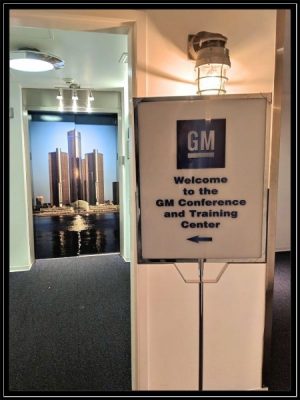 At the beginning of the event, we were treated to a buffet lunch of salads, build-your-own sandwiches, soup, and of course, dessert. After running the 10K a few hours earlier, I was certainly ready to eat!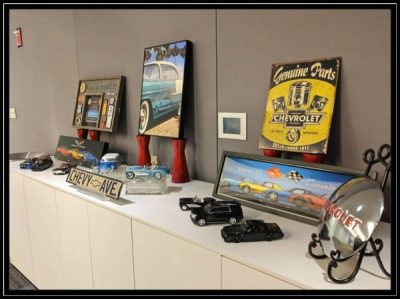 After lunch, we had the opportunity to have a brief health screening done. Cigna employees were on hand to test our blood pressure, glucose levels, BMI, and a few other basic health factors. I am happy to report that all my numbers looked great!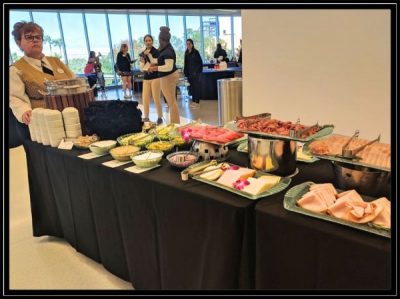 Learning About Health with Cigna
Next, it was time to increase our knowledge of our overall health with some interactive games and activities. We started with some team trivia focused on lifestyle, fitness, and health statistics. Rather than simply lecture us on various topics, the Cigna leaders then gave us the opportunity to learn and then teach each other through a variety of tasks. Now things were getting interesting!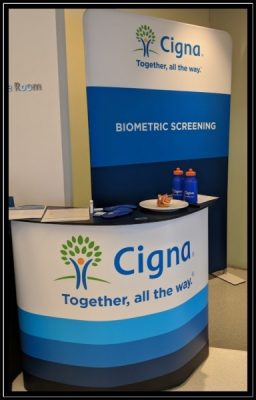 Still in our teams, we had to create a poster and short PSA or commercial based on a specific topic. We also had to build a race car out of vegetables! This was a pretty appropriate task considering that we were in the Test Track building, don't you think?
My team's topic was health coaching. Our friends at Cigna were on hand to help by providing an overview of our topic and offering hints on what to include in our message.
Time to Get to Work!
We started with our race car construction since this would be the most time consuming task. We had grand plans to make our car look super creative and fun, but those all went out the window when we realized that adding decorations was slowing our car down. In the end, we went with a very minimalist design. We named our car The Motivation Machine to go along with the health coaching topic.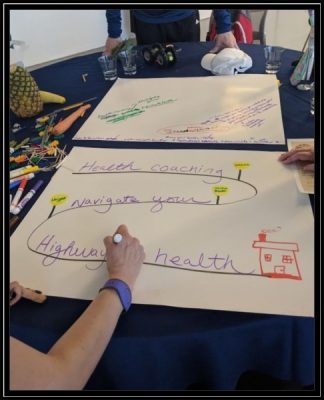 Drawing our poster was next. Once again, we went with the "less is more" concept. Since one of my group members had a health coach of her own, she volunteered to deliver our message. Finally, all of our tasks were done and we were called to the front of the room to present our poster, briefly talk about our topic, and put our car to the test.
Well, guess what? Our car won! We took home the prize for speediest vegetable vehicle on the track. It was an exciting victory!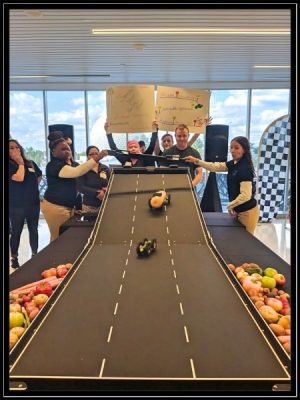 One Last Surprise
After the race, it was almost time for the event to come to an end. Before we left though, Cigna had one more surprise for us. Mickey and Minnie stopped by to say hello and greet us. They were dressed in very cute race attire. I loved this meet and greet!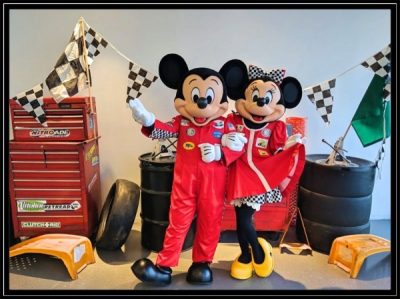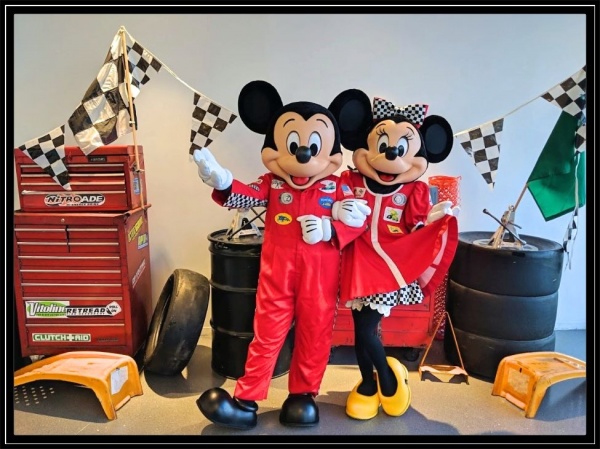 While The Mouse for Less was specifically invited to attend this event, the health screenings that Cigna offered were open to everyone at the race expo. The screening only took about 10 minutes and the best part…they were free!
While I have participated in all of the other race events that Walt Disney World offers, this was my first time participating in Marathon Weekend. I have to tell you that the energy was like nothing I have ever seen at any other runDisney event. It was incredible! I had an amazing time running the 10K and half marathon.
I truly enjoyed being a part of Cigna's Run Together event and Marathon Weekend. If you have the opportunity to run next year, I highly recommend it. While you are there, be sure to check out all that Cigna has to offer at the race expo. I'll see you there! You might even find me at the full marathon next year!
Did you like this article? Make sure to share it with your friends! Check below for easy ways to share!
Want to visit Walt Disney World? Contact The Magic for Less Travel for more information and a free, no-obligation quote.