This post may contains affiliate links for your convenience. If you make a purchase after clicking a link we may earn a small commission but it won't cost you a penny more! Read our full disclosure policy here.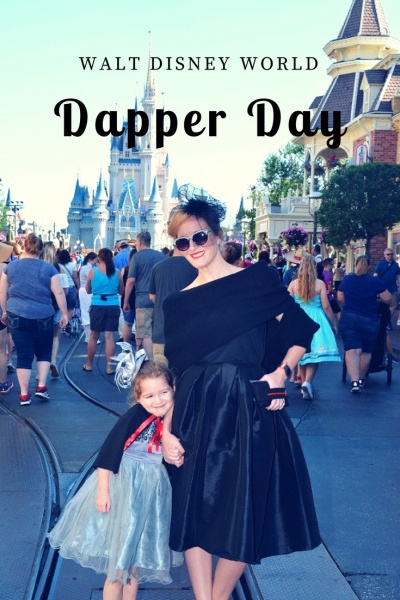 Another Dapper Day has come and gone at Walt Disney World, but I hope that by sharing our latest experience, we can inspire you to add a Dapper Day outing to one of your upcoming Disney trips!
What is Dapper Day?
Dapper Day is a non-sanctioned Disney event (meaning: Disney does not sponsor this or any other Dapper Day events) that started in 2011 by LA-based designed Justin J. He wanted to bring the pomp and fashion back to Disney Parks. Just as people used to step out in their Sunday's best to attend a day at the Parks, Dapper Day was started to evoke those same aesthetics.
Every year, there are outings at Disneyland, Walt Disney World and Disneyland Paris in the spring and fall. Dapper Day also organizes an Expo to correspond with the Disneyland outing and hosts pop-up shops and other various events throughout the year. (You can read more about Dapper Day events here.)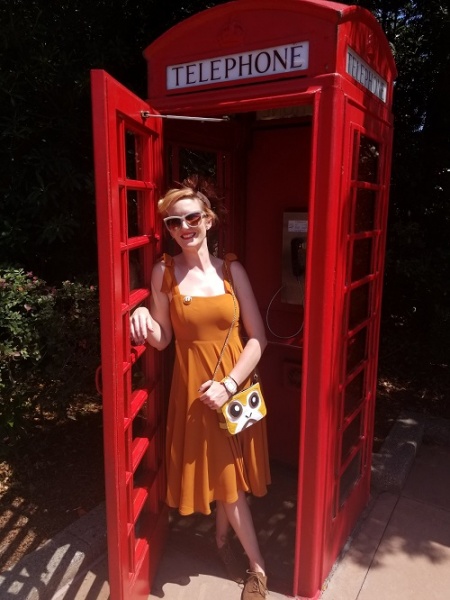 How Did I Hear About Dapper Day?
Shortly after our 2012 honeymoon at Walt Disney World, I learned about Dapper Day through social media. It quickly became my goal to make sure we fit it into a trip someday. Each spring and fall, I loved watching the fashions pop up on my Instagram feed and vowed that I would make it to an outing. Five years later, I still hadn't accomplished that goal, despite 2 more trips to Walt Disney World. However, we were soon on our way to moving to Orlando and I knew that our first Dapper Day would soon be upon us.
This past November, we attended both the Magic Kingdom and Epcot outings for the first time and it was magical! I loved that we could spread the word about Dapper Day to those at the parks who had no idea what it was just by being dressed up. There is a huge discrepancy of the number of people that participate to those that have never even heard of Dapper Day and just from November to April, I saw a huge jump in how many people were dressed up.
How Do You Prepare?
If I'm being honest, we did everything wrong on our first venture. We arrived later in the day and I felt we missed out on some of the special photo ops offered. (Magic Kingdom brings out vehicles like the Main Street fire engine, as well as a few props by some PhotoPass photographers.) We also had just wrapped on Halloween costumes and I didn't start planning our Dapper Day looks until about 2 weeks before the outings.
This time around, I had an idea for outfits weeks in advance and began crafting and shopping much earlier. We also planned our itineraries to include rope drop (or close to it) at both parks to ensure we saw the most fashion and could take advantage of any photo ops we saw.
We ran with a Star Wars theme for the whole weekend and Disneybounded as Kylo Ren and Captain Phasma at Magic Kingdom and BB-8 and a Porg for the Epcot day. While Dapper Day can't get around the costume policy at the Disney Parks, Disneybounding is a popular option on these special days and it's amazing to see what characters people are evoking in their formal wear.
Because I had our outfits in mind much earlier, I had time to make my very first dress (a 60s-inspired mod mini for BB-8), Captain Phasma's capelet as well as all 3 purses we carried. Kylo Ren came from my own closet and I purchased the Porg and Phasma-inspired dresses after a short search for the perfect looks. A lot of people wear true vintage clothing and utilize sites like Amazon to find their fashion but it's awesome to see the DIY looks out there, too.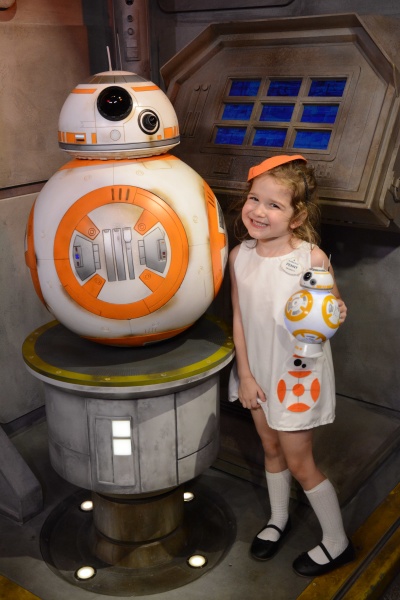 What Goes On At The Parks?
Because these events are not official Disney events, anything special that might be offered is because the Dapper Day organizers have created such great relationships with Disney over the years. So when you see the photo props or Main Street vehicles out for pictures, it's out of the goodness of Disney's heart. Many people treat Dapper Day as a regular day at the Parks and still ride attractions and take advantage of everything the Parks have to offer. That's exactly what we did. Because we were decked in Star Wars-inspired looks, we made sure to Park Hop over to Disney's Hollywood Studios for some extra pictures.
It's always fun to find backdrops and photo ops that correspond to your look and being able to stop at Contemporary, The Grand Floridian or The Polynesian is a great idea. These resorts evoke such great theming for a lot of dapper fashion.
(Regular admission does apply for Dapper Day outings, so be sure to take advantage of everything that you can.)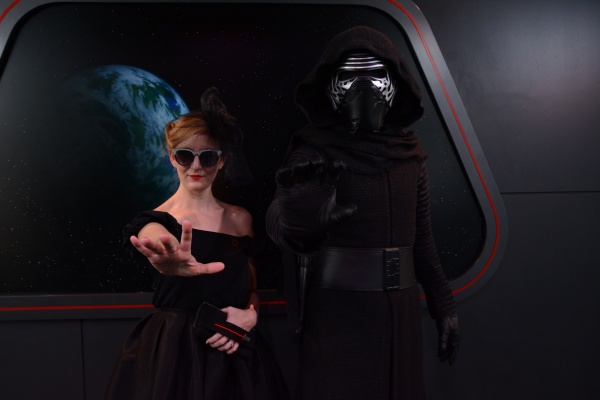 Dapper Day will be returning to Disney Parks again in November and I'm already starting to brainstorm our next set of fashion! If you have a soft spot for apparel of eras gone by, planning a Dapper Day outing into one of your Disney trips is a fabulous idea. Remember, they happen twice a year on both coasts and in Paris, so you have lots of opportunities to make a Dapper Day of it!
Have you attended Dapper Day before? What tips do you have for visiting? Share in the comments, or on Facebook or Twitter.
Did you like this article? Make sure to share it with your friends! Check below for easy ways to share!