This post may contains affiliate links for your convenience. If you make a purchase after clicking a link we may earn a small commission but it won't cost you a penny more! Read our full disclosure policy here.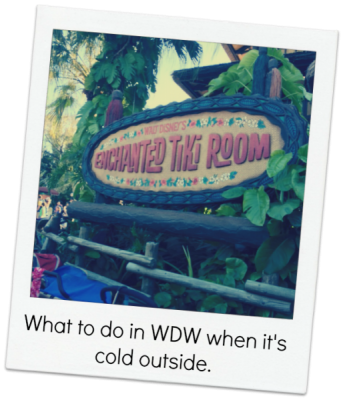 You're headed to Walt Disney World for seven days of sunshine! You pack your suitcase full of summer attire. Shorts, t-shirts, flip flops, bathing suits, and sunscreen fill your carry-on. You're ready for 85 degrees, bright sunshine, and weather perfection… and then you find out it's going to be 50 degrees and rainy. Fortunately, Walt Disney World has plenty of fantastic activities, attractions, and dining opportunities that are fun in any weather. Here, I've outlined my 5 favorite things to do in WDW when it's cold out! I can guarantee you won't be disappointed.
1. Head to World Showcase
World Showcase in Epcot is a great place to spend a chilly day. There are plenty of opportunities to duck inside and warm up (or grab a drink to help beat the chill in the air!). The Mexico Pavilion is almost entirely indoors, and has enough activities to occupy your time for quite a while! Shop around the Mexican marketplace for unique souvenirs, grab a margarita at La Cava de Tequila, and take a boat trip down El Rio del Tiempo. Other pavilions offer loads of great indoor entertainment, as well. Watch the beautiful Impressions de France or Oh! Canada videos in the comfort of an indoor theatre, grab a bite to eat in Japan, enjoy the acrobats in China, or shop for some tea in the United Kingdom. The cold weather gives you the opportunity to take your time exploring inside the pavilions, which is a real treat.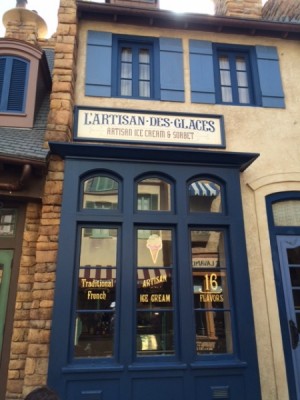 Browse the streets of France.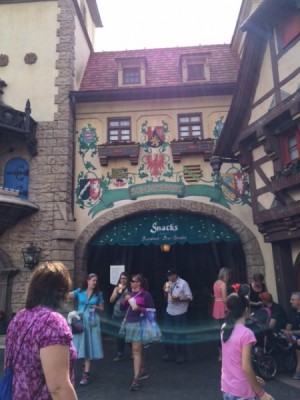 Grab a caramel apple in Germany.
2. Check out some indoor attractions
Believe it or not, many of the Walt Disney World attractions are entirely indoors! You can still enjoy a day full of rides, entertainment, classic Disney fun, even when the sun ducks behind some clouds. Some of my favorite, more overlooked attractions include Living with the Land (Epcot), Under the Sea ~ Journey of the Little Mermaid (Magic Kingdom), Tower of Terror (Hollywood Studios), and Finding Nemo – The Musical (Animal Kingdom). If you packed accordingly (or made a pit stop for a souvenir sweatshirt!), you can brave the outdoors for the short time required to hop from one indoor attraction to another. Other indoor favorites include Enchanted Tales with Belle, Mission Space, Space Mountain, Spectromagic, and It's a Small World. And by the way, that chilly walk between attractions is a great opportunity to grab a warm cup of Joffrey's coffee!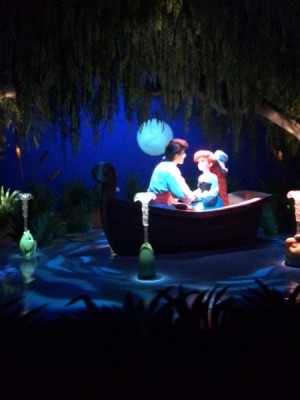 Enjoy a ride on Under the Sea ~ Journey into the Little Mermaid
3. Get some autographs
If you're traveling with a little one (or not!), getting an autograph and photo with a favorite Disney character makes a lifelong memory. Fortunately, many of the character meet & greets are entirely indoors! Take the chilly weather as an opportunity to soak in some Disney magic. Sure, many characters meet for autograph-signing outdoors, but many have permanent indoor locations. Meet Kylo Ren, Darth Vader, and Chewbacca at the Star Wars Launch Bay, encounter Anna and Elsa, Cinderella, and Rapunzel at Princess Fairytale Hall, catch up with Ariel at her Grotto, and, of course, Mickey and friends on Main Street U.S.A. The Epcot Character Spot also hosts Mickey and his crew, along with Baymax. Another quick tip: Disney Visa Cardholders can get a free 5×7 print with a surprise Disney character at Innoventions!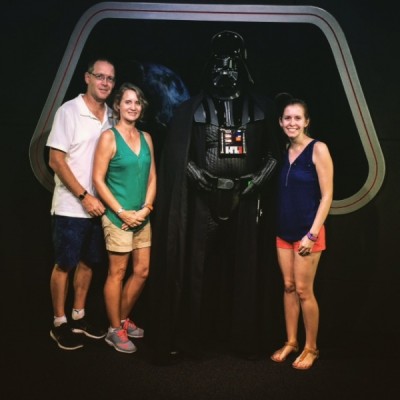 Meeting the terrifying Darth Vader at the Launch Bay!
4. Have a tea party
When it's cold out, a nice warm cup of tea hits the spot. Enjoy the opportunity to attend afternoon tea at the
Garden View Tea Room
at the Grand Floridian Resort and Spa. Nothing says indulgence like afternoon tea. Enjoy a selection of pastries, sandwiches, scones with Devonshire cream and lemon curd at afternoon tea. After 3:00 pm, relax and listen to the pianist while you sip your tea. If you're feeling especially ready to splurge, take your little one to the Disney Perfectly Princess Tea! Be sure to call ahead for both tea parties, as they do tend to book up fairly quickly.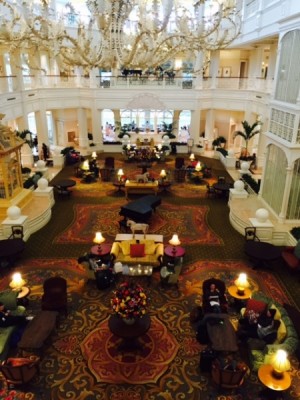 Sip on some tea at the Grand Floridian Resort and Spa
5. Head to Disney Springs
Of course, a perfect place to spend a cold Disney day is Disney Springs. Packed with plenty of indoor activities, this is a great spot to spend a day. Disney Springs offers quite a few indoor activities to keep you warm, including a bowling alley, movie theater, multiple bars and restaurants, and great shopping. If you're interested in a special treat, grab some tickets to Cirque du Soleil and enjoy an acrobatic masterpiece. Gamers can spend all day playing retro video games and going on immersive attractions at DisneyQuest.
As you can see, there are plenty of fabulous activities at Walt Disney World that can still be enjoyed during colder weather. If a cold day strikes during your vacation, take the opportunity to slow down and enjoy some of the many indoor attractions that Disney has to offer.
What are your tips for beating the cold weather? Share in the comments.
Incoming search terms:
https://www themouseforless com/blog_world/walt-disney-world-cold/
https://www themouseforless com/blog_world/walt-disney-world-cold/#:~:text=World Showcase in Epcot is time for quite a while!
what to do at disney when its cold
what to do at disney when its cold kids