This post may contains affiliate links for your convenience. If you make a purchase after clicking a link we may earn a small commission but it won't cost you a penny more! Read our full disclosure policy here.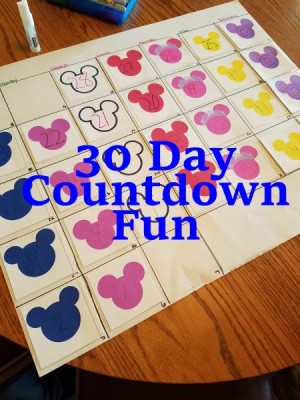 Disney Calendar
The 30 day mark before any vacation is so exciting. The 30 day mark before a Walt Disney World vacation is beyond exciting, it is magical.  We start our planning early in our household when it comes to Disney vacations so when we reach the 30 day mark it is a huge deal.  Although we make countdown chains and movie watch and ride discuss, we make a hitting the 30 day mark even more special.   Here are a few things we do to make this day extra special.
Our biggest celebration comes from making a 30 day Walt Disney World themed calendar.  This calendar not only helps us countdown the days, but it also helps us quiz the kids on different rides and shows we will be experiencing while in Disney.
I took a poster and divided into days and weeks to make a big calendar then marked the dates in each box.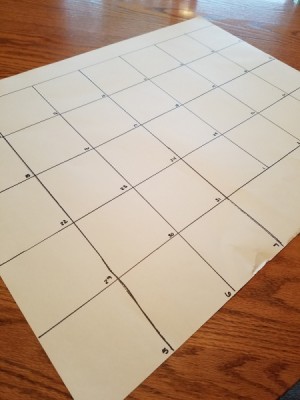 Start of the Calendar
From there we printed out different colored Mickey heads.   We used these to mark down our days until our vacation. My daughter decided to keep each day a specific color which was fun.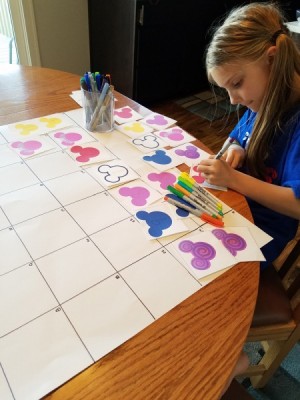 Mickey Heads
After we had the calendar done, I then printed cards of different Disney characters that I added facts and questions to that the kids put up each day of our 30 day wait.  These just help us keep our conversation about Disney and the trip going.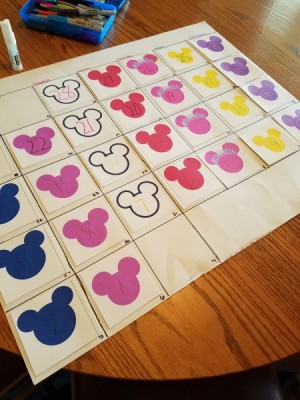 Finished Calendar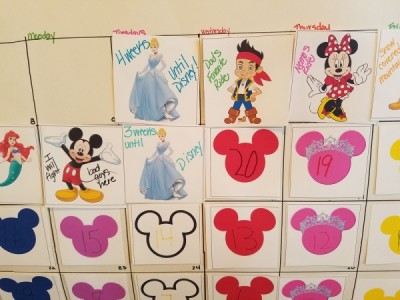 Disney Calendar with Trivia
A Walt Disney World calendar countdown is just one of many ways that we celebrate reaching our 30 day mark.  We also make sure to have a Disney dinner and a movie this evening to keep the celebration going.  There are so many ideas on how to "Disneyfy" your meals.  Just google search and you will have tons of ideas for whatever movie you want to watch and whatever food your kids like to eat.  It is amazing how you can make mac and cheese relate to every Disney movie out there.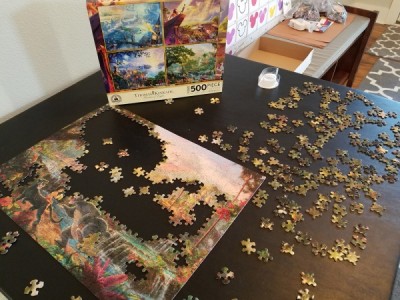 Disney Puzzles
Disney themed puzzle making and game playing are other ways we add some Disney into our day.  We love getting new puzzles from the dollar store, as well as putting together the amazing Thomas Kinkade puzzles.  For games, we enjoy Beat the Parents, Eye Found It, and Disney Yahtzee.  There are so many games out there you are bound to find a variety of choices at any store you head into.
Our final way we celebrate on this day is to just talk Disney.  We get out our planning books and look at pictures, talk about rides and shows and just get into the Disney spirit.  Watching ride videos is another thing we do as we have a little guy who gets nervous about rides, this will hopefully help him feel more comfortable heading into the parks.  As you can't see many of the rides from the queue, we think watching videos will help elevate some of his nervous ahead of time.
In our family, hitting the 30 day mark is a big celebration because we have been waiting so long for it to get here.  We like to make it a day about Disney to help get the magic going and excitement geared up.  Hope these give you some ideas on how to add some fun to your wait.
What do you do to celebrate your 30 day mark? Share in the comments section!
Incoming search terms:
30 day disney countdown calendar
Disney world 30 day prior
wdw 30 day countdown