This post may contains affiliate links for your convenience. If you make a purchase after clicking a link we may earn a small commission but it won't cost you a penny more! Read our full disclosure policy here.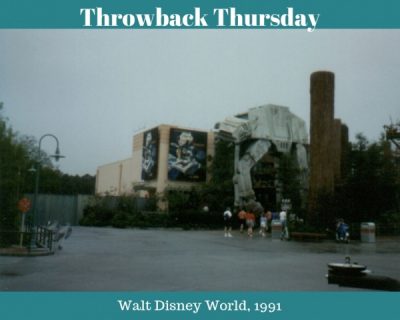 A welcome sight for Star Wars fans!
The year was 1991, and my parents had decided that it was time for our family to take the biggest, most extravagant Walt Disney World vacation that we ever had. Back then, there was a package known as the Grand Plan. This included all tickets, a concierge room at the Grand Floridian, a Lincoln Town Car to take us to and from the airport, use of a camcorder (remember those?), all meals, all recreational facilities, all gratuities, and a souvenir left on our pillow every night. We would have to pay for our own alcohol, but seeing that neither my sister nor I were of drinking age yet and my mother is a lightweight, this basically came down to a couple of beers a day and maybe a glass of wine that we were paying for.
Christmas decorations in the Grand Floridian lobby
The magic began as soon as we landed in Orlando and found a uniformed driver holding up a card with our name on it. Our driver was really funny, and kept joking that we were almost at the Motel 8. My Dad tried to tip him after we arrived at the Grand, but the driver refused to take it, saying, "No, sir, it's already been taken care of."
When we checked in at the Grand, we found out that some concierge vacationers had unexpectedly decided to extend their trip, so no concierge rooms were available. Too bad for us, because we got bumped up to the concierge SUITE.
The suite consisted of a bedroom, a living room with a pull out couch, and two bathrooms. It was more than enough room for the four of us, and we were astounded at our good luck.
Since all meals were included, it should come as no surprise that this time revolved around the food. Back then, there was no mad rush at 180 days to make dining reservations, so we arrived and let our concierge book all our meals for us.
Almost every morning we had room service for breakfast. The first day, we ordered the continental breakfast for four people, and were astounded at how much food that was. So from then on, we ordered it for two, and it was plenty.
We had access to the concierge suite, which served continental breakfast, refreshments, afternoon tea, wine and cheese. It was January 2nd when we arrived, so the Grand was still beautifully decked out for the holidays.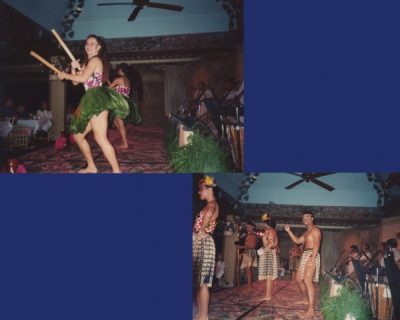 The Polynesian Luau, held indoors
We enjoyed the luau at the Polynesian, but the luau area was being renovated, so the show and the dinner were both held indoors.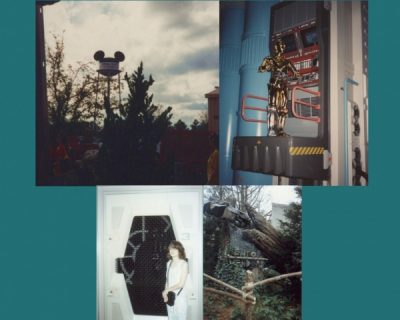 Remember when it was called the Disney-MGM Studios?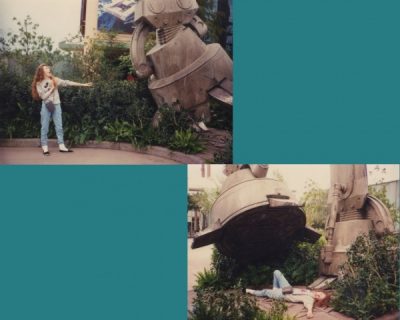 My poor sister never saw it coming
This was our first visit to the Walt Disney World Resort since the Disney-MGM Studios opened, and we spent two full days there. Everyone in my family is a huge George Lucas fan, so we appreciated Star Tours and the Indiana Jones Epic Stunt Spectacular.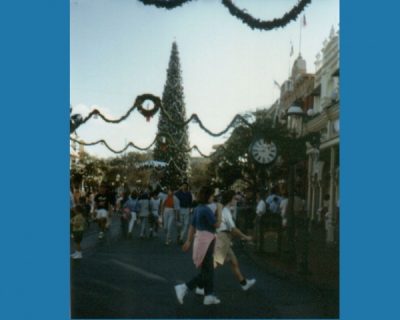 The Magic Kingdom dressed up for Christmas
We only spent one day at the Magic Kingdom, but enjoyed seeing it still dressed up for Christmas. We enjoyed lunch at King Stefan's Banquet Hall, which had become a Disney tradition for us.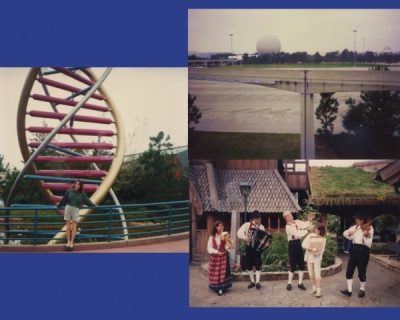 Epcot, where we spent two days
We also spent two days at Epcot. This was our first visit since Wonders of Life opened, and we enjoyed Body Wars, Cranium Command and The Making of Me. We loved dinner at Akershus in Norway!
My parents still argue whether or not this trip was worth the price tag. My Dad insists that if we had priced everything individually, we would have paid less for our Walt Disney World vacation. My Mom argues that if we were paying as we went, we would never have experienced all the fine dining that we did, because we would have been subconsciously thinking about how much it cost. All I know is that I had a wonderful time with my parents and sister!
Did you like this article? Make sure to share it with your friends! Check below for easy ways to share!
Want to visit the Walt Disney World Resort and make fun memories? Contact The Magic for Less Travel for more information and a free, no-obligation quote.

Incoming search terms:
https://www themouseforless com/blog_world/walt-disney-world-1991/