This post may contains affiliate links for your convenience. If you make a purchase after clicking a link we may earn a small commission but it won't cost you a penny more! Read our full disclosure policy here.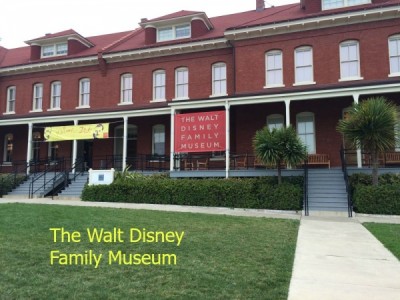 THE WALT DISNEY FAMILY MUSEUM
When my husband started planning our 20th wedding anniversary trip, he suggested we try something new, in other words, "something without a mouse in it." He suggested that we take our 9 year old daughter for a trip down the California Coast, starting with San Francisco.
Well, there went his dream of a Disney-free vacation. Because there was no way I was going to San Francisco without visiting the Walt Disney Family Museum! As it turns out, both my husband (an animator) and my daughter (who wants to be an Imagineer when she grows up) enjoyed the museum just as much as I did.
The Museum is located in the Presidio, and has plenty of parking available in a metered lot. (We were to discover that free parking in San Francisco is pretty much non existent.)
The museum pamphlet suggests a visitor spend two to three hours at the museum to fully explore the galleries. However, we arrived at 10:00am, left at 4:00pm and still did not do everything. I think the amount of time you can spend in the museum is directly related to your level of Disney fanaticism.
After you pay your admission, you enter a small room filled with various awards Walt Disney won throughout his lifetime. On display is the famous Oscar that was present to Walt by Shirley Temple for Snow White and the Seven Dwarfs. A nearby docent informed us that this is one of only two customized Oscars in the history of the Academy Awards.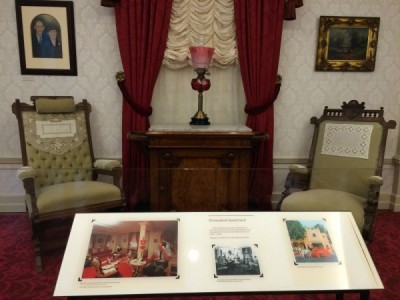 Furniture from Walt's apartment above the Fire Station in Disneyland
Perhaps the most exciting display in this room is the furniture that used to be in Walt's apartment above the Fire Station in Disneyland.  Below the furniture are photos showing Walt, Lilly and their grandchildren in the apartment.
The Museum's layout is genuine Disney: it tells a story. Rather than compile and display artifacts in a random manner, the galleries are set up to tell the story of Walt's life, from his birth to his death, in chronological order.
The first gallery is dedicated to Walt's childhood, specifically the years 1901-1919. Here you can find some amazing items including drawings Walt made as a child and a Ford Model T, the kind of car Walt drove when he was an ambulance driver in World War I.
The next gallery is dedicated to the years 1920 – 1923, and chronicles Walt's friendship with Ub Iwerks, one of Walt's most faithful friends who stayed with the Disney company for decades.
To reach the next gallery, you need to take an elevator. But in true Disney style, the elevator is not just transportation from point A to point B. It is a part of the story. The exterior and interior of the elevator is stylized to resemble a train car. When you enter the elevator going up, you hear Walt's voice describing his fateful train trip from the Midwest to California.
When the elevator doors open, you find yourself in the gallery dedicated to 1923 – 1928, when Walt and Roy Disney started the Disney Brothers Cartoon Studios. This smallish room shows many photographs from the Alice comedies, in which a real life little girl explores a cartoon world.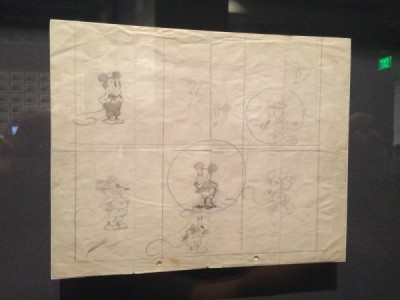 The earliest known sketch of Mickey Mouse!
The next room, which is larger, is a galley dedicated to 1928 – 1929, when the Disney brothers created and lost Oswald the Lucky Rabbit, and, as most Disney fans know, Mickey Mouse was born. On display is the earliest known sketch of Mickey Mouse. One wall also has photographs from both Roy and Walt's weddings, as well as Walt and Lilly Disney's marriage certificate.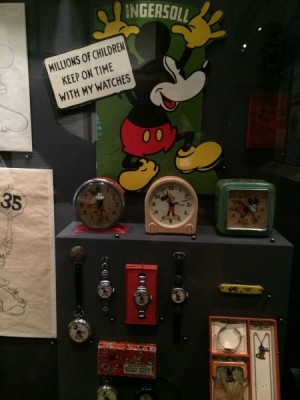 Mickey Mouse merchandise from the early days
We timed our arrival in this gallery with a scheduled talk by a docent. (There were scheduled talks with docents in many of the galleries throughout our visit.)  Megan walked our family around the gallery and described the significance of the items on display. She pointed out several toys in the Mickey Mouse merchandise display and told us about the FIRST Mickey Mouse Club. (That's right – Annette, Cubby, Karen and the gang were preceded by clubs in local movie theaters during the Depression!)
The next room is all about the early 1930's, which brought us The Three Little Pigs and the Silly Symphonies. There is also a display of family photographs here, chronicling Diane Disney's birth, Walt and Lilly's struggle to have another child, and Sharon Disney's adoption.
The next gallery covers 1936 – 1938, when Walt took a big chance and produced Snow White and the Seven Dwarfs, called by the media, "Disney's Folly." Video clips show animators discussing what went into making this groundbreaking film. One of my favorite displays here features family photographs, and an explanation of how Walt strived to keep his family life and his work life separate.
The next gallery is dedicated to the years 1939 – 1940, and the films that came out of it: Bambi, Pinocchio and Fantasia. On display is a massive multi-plane camera. You can see it from this angle and also from the floor below you.
The gallery that comes next is about 1941- 1945, which brought hard times to the Studio. There are photos from the animators' strike, and also photos chronicling Disney's trip to Latin America. Posters that the Disney company produced for World War II and clips of training films for the military are also shown.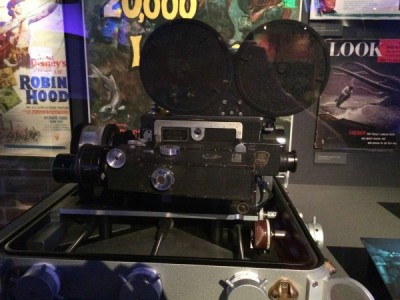 Underwater camera used to film 20,000 Leagues Under the Sea
The gallery that follows chronicles 1946 – 1950. During this postwar period, Disney not only continued making animated films, but started to dabble in live action as well. An underwater camera that was used to make 20,000 Leagues Under the Sea is on display here.
A small room is dedicated to Walt's collection of miniatures.  I knew all about Walt's love of trains, but I had no idea he liked to collect miniatures. Several of them are displayed in a dollhouse, and others are laid out separately. In addition, there are photos of Kathryn Beaumont (the voice of both Alice and Wendy) peering through the windows of the dollhouse and admiring the interior. Nearby are photos of Walt's daughter's weddings.
The next gallery chronicles the days of Disney's True-Life Adventures, which began in 1948. This gallery also features windows which look out at the Golden Gate Bridge and provide an excellent photo opportunity.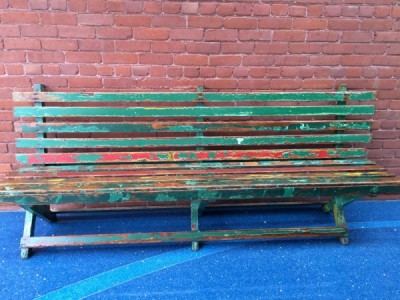 Park bench from Griffith Park
At the end of this gallery is a rickety looking bench. As soon as I saw it I grabbed my daughter and had my husband take a photo of us sitting on it. A nearby placard explains that this bench faced the carousel at Griffith Park. Walt would sit on this bench (or one just like it which is currently at Disneyland) and wonder why no one had ever built a place where parents and their children could have fun together. Which is the perfect segue into the next gallery.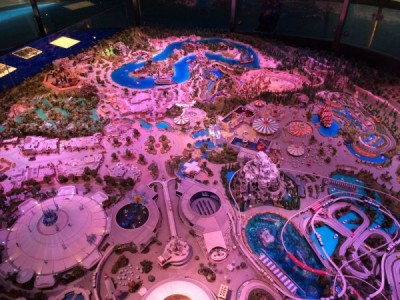 Animated model of Disneyland
The next gallery, huge, bright and colorful, chronicles the years 1950 – 1960. To many, it's simply called "The Disneyland Room." It is dominated by a huge animated model of Disneyland as Walt imagined it. A docent was nearby to explain that this is not supposed to be Disneyland from opening day; indeed, you can find many attractions that were added later. Also in this room is the Lilly Belle, Walt's 1/8th scale train that used to run in his backyard. An enormous wall full of black and white television sets pays homage to Disney's television shows. Further down the gallery you will find sketches and maquettes from Walt's work on the World's Fair in New York.  This area includes an audio animatronic tiki bird and the torso from the Illinois pavilion's Abraham Lincoln. You can also view a huge optical printer which was used to create the effects in Mary Poppins.
The 1960's gallery shows maps and concept art for "The Florida Project" which would become Walt Disney World. There is also information about the Mineral Kings Ski Resort, a Disney project that was approved but never built.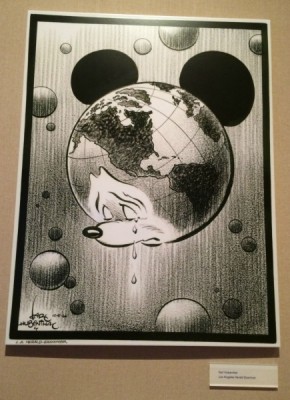 cartoon mourning Walt's death
The last room, dedicated to 1966, has been dubbed "The Sad Room" by many. Here, a television set reports the news that Walt Disney has died. A wall shows many drawings that appeared in newspapers mourning his death. Interspersed are telegrams from celebrities, politicians and other dignitaries sent to Mrs. Disney with their condolences. A nearby display shows part of Roy Disney's speech on Walt Disney World's opening day, and reports that he died just months afterwards.
Nearby there is a place to sit and watch a montage of visuals and quotes by and about Disney. This room serves as an end credit sequence to the museum, showing photographs that chronicle Walt's life and professional accomplishments.
In true Disney style, this last room leads into a gift shop. There are many items for sale in a variety of price ranges. Some of the merchandise is tied to the Walt Disney and Salvador Dali exhibit. This exhibit carried an additional price and we did not get a chance to see it.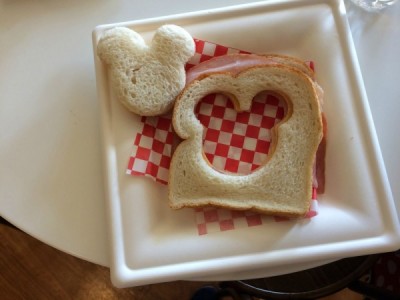 My daughter's lunch at the Cafe
Walk past the lower level of the enormous multi-plane camera I told you about and you'll come to a small café. We had lunch here. Various sandwiches, salads, kids' meals, desserts, and beverages are for sale.
Stairs lead to a lower level. In a large room with additional tables and chairs for guests who purchased food from the café, you'll find artwork by the legendary Imagineer Mary Blair. I was thrilled to see her work bench. Also lining the room are vintage Disneyland posters.
A small room featured an exhibit about Walt's vision of Tomorrowland. This space is reserved for changing exhibits, so it may not be there when you visit. Although full of photographs and video screens, there aren't any props or maquettes here.
On this level you'll also find the Open Studio, an area when families can drop in for interactive artistic activities. During the morning of our visit, the Studio offered a craft where kids would build boats like the ones you'd find in Frontierland. We didn't make it to this one, but came in the afternoon for the stop motion animation workshop.
In a large, colorful area, we were shown to tables where our daughter drew a backdrop for her animation. The theme of the day was still Frontierland, so she drew a desert landscape. Although there were many children doing this activity, we found an open table right away. (Enjoying something without a wait – and it's Disney? How odd!)
After her backdrop was completed, we were shown to a computer and given a brief tutorial on how to use iStopMotion. My daughter made her masterpiece and the docent asked for our email address so she could send it to us. However, we never received it. I'm wondering if my handwriting was too messy for her to read properly.
As if all this wasn't enough, including in the price of our admission was entrance into the Film of The Month. We didn't get a chance to do this. The films being shown this day were Sleeping Beauty, Animal Crackers, Destino and The Sword in The Stone.
The Walt Disney Family Museum is located at 104 Montgomery Street in The Presidio in San Francisco. Please note: there are two Montgomery Streets in San Francisco: one is on the Presidio and the other is in the financial district. If you're relying on GPS, make sure you enter the Museum's zip code: 94129.
The museum is open daily except for Tuesdays, New Year's Day, Thanksgiving, and Christmas Day. Hours are 10:00 a.m. until 6:00 p.m., with the last entry at 4:45 p.m. $20 for the general public, $15 for students and seniors, and $12 for children from 6 – 17. Children aged 5 and under are free. We used our AAA membership to get a $5 discount off each of our tickets.
Have you ever visited The Walt Disney Family Museum? What were your thoughts?