This post may contains affiliate links for your convenience. If you make a purchase after clicking a link we may earn a small commission but it won't cost you a penny more! Read our full disclosure policy here.
"Here in Florida, we have something special we never enjoyed at Disneyland…the blessing of size. There's enough land here to hold all the ideas and plans we can possibly imagine." – Walt Disney
Walt Disney World is big – that was essentially the idea. The 40-square mile plot of central Florida holds not just theme parks, but hotels, restaurants, shopping and much more. To get to see all of those things, however, most Disney guests end up doing a whole bunch of walking.
Just before my last trip, I ended up getting a Fitbit. My wife had been using one for a while and we thought it would be fun to keep track of how much we were walking during our trip.
Before getting into the details of the trip, some background on me. I would consider myself a fairly active person. On a normal day I will usually get between 10,000 and 12,000 steps a day and I try to run around 10-12 miles each week. For context, most studies show that the typical American walks around 5,000 steps a day. Days at Disney World, however, are not typical days.
In this trip, we spent six days in the parks, starting with the day where we finished our drive. Each one was a little different, so I wanted to give an idea of what we did, and how much activity it amounted to.
On the first day, we finished our drive (we had stayed in Gainesville the night before) and headed straight to Downtown Disney to activate our Annual Passes and take care of a few other things. From there we checked into the Animal Kingdom Lodge, walked from Jambo House over for lunch at Sanaa (bread service!), and then drove to Disney's Animal Kingdom for our FastPasses. After essentially a round of the park, we headed out to Disney's Hollywood Studios. That night we did a few rides but mainly checked out the Osbourne Lights. At the end of the day I had 21,944 steps, for 105 very active minutes and over 10 miles traveled.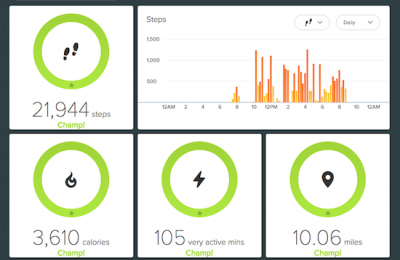 The next day was our first full day and we were heading to Epcot. We took the bus and started the day seeing everything we wanted to see in Future World. Right after 11 we started exploring the World Showcase, mostly spending the afternoon going through with minimal backtracking until the Candlelight Processional. After the processional we went to check out the Boardwalk, came back to see the nighttime decorations and then got ready for Illuminations. After that, for day two, I had 21,811 steps, 106 very active minutes, for exactly 10 miles.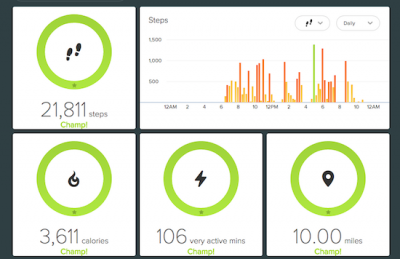 Our third day started with an early morning reservation for Crystal Palace. After that we had a fairly normal Magic Kingdom day, going through each land and checking out shows and parades. Since we had an early morning and a few very full days beforehand, we actually left the park around 5 to see the decorations at the Monorail Resorts and then relaxed at the Animal Kingdom Lodge. Even with that, I still racked up some steps: 19,295 steps; 70 very active minutes; 8.85 miles walked.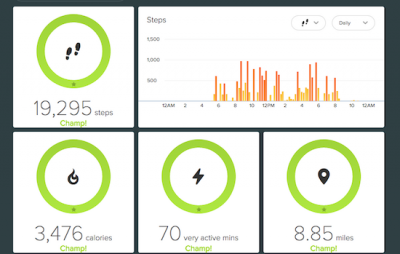 As a warning for our fourth day, it was amazing and I would not recommend anyone do it. We started our day going to Hollywood Studios. We hit the main rides, grabbed lunch, and had done what we wanted to by around one, so we took the opportunity to drive by the Art of Animation Resort just to check it out (side note – it's pretty cool). After checking out the animals at the Animal Kingdom Lodge for a bit, we both felt pretty good, so we decided that we would head back to the Studios to see the Osbourne Lights again, but then go to the Magic Kingdom to see the Electrical Parade and non-holiday Wishes since there were Christmas parties every other day that week. We might have been a little ambitious with this plan, but it was a great and memorable day. At the end of it I ended up with 28,649 steps, 114 very active minutes, and 13.14 miles walked. My wife's Fitbit registered over 30,000 steps that day as well. The next morning, we slept in.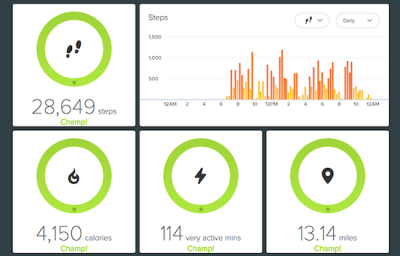 After waking up from our exhaustion, we headed back to Downtown Disney to utilize one of our 20% off Coupons at The World of Disney (you get them during busy times of the year from most counter service places but have to shop before 1 PM). From there, we had tickets to the Christmas Party that night and went over to the Magic Kingdom. Between our FastPasses, special shows, parades, and character greets, we ended up doing several laps around the Magic Kingdom that night. An important note here is that earlier in the week we got caught in one of those momentary downpours and my wife's socks got wetter than we realized. As a result, sometime during the Christmas Party she developed pretty bad blisters which is never fun, but especially at Disney World. At the end of this day I had 20,737 steps, 103 very active minutes, and 9.51 miles.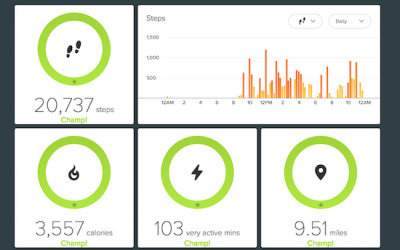 For our last day, after all of that effort and the new blisters you would think we "took it easy," and I guess comparatively you could say that. We started in Hollywood Studios again and then took the boat over to Epcot for lunch and to check out the Holiday Gospel show (called Joyful) and the Beach Club decorations. From there we boated back to the Studios and then back to the Animal Kingdom Lodge for dinner at Sanaa and packing.  My final stats for that day were 18,258 steps, 82 very active minutes, and 8.37 miles.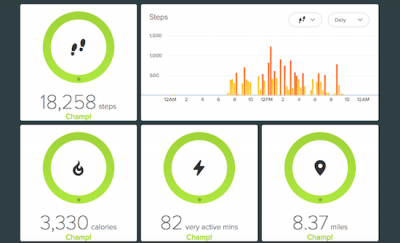 For those who aren't good at five digit mental math, for the week I had 130, 694 for an estimated 60 miles of walking. Even for trying to be fairly active in our everyday life, that is a lot of walking and we were tired and sore, something compounded by the 18 hour drive home the next day. While we might have overdone it a little, even a more restrained touring plan would involve much more movement than a typical person is used to.
With that in mind, a few tips to prepare for walking at Disney:
-Find a comfortable pair of shoes and break them in before the trip.
-Get some good quality socks and think about bringing an extra pair with you in case they get wet.
-Practice! It might sound silly but if you aren't used to walking a lot, or even if you are, taking some time each day to get used to walking more could ease some pain on your trip. This is especially true if you have younger kids who aren't used to walking for sustained periods of time.
-Take breaks! When you get caught up in the magic you might feel like you can go forever, but if you take breaks you won't get burnt out on the first day.
-Take time to stretch every night – especially if you will be spending a lot of time in a car at the end of your trip
Disney vacations are amazing, and when you take care of yourself you can enjoy it from the beginning all the way to the end.
So what about you? What is your best tip for walking at Disney World? Share in the comments!