This post may contains affiliate links for your convenience. If you make a purchase after clicking a link we may earn a small commission but it won't cost you a penny more! Read our full disclosure policy here.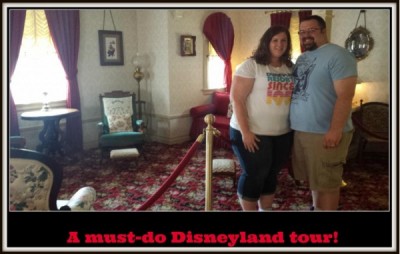 Disneyland is Walt's original dream come to life. It is full of rich Disney history that is just waiting to be uncovered. My tip for the best Disneyland experience is to take the "Walk in Walt's Footsteps" guided tour. Not only will you experience the park in a new way but you will also be immersed in a new perspective of Walt's vision come to life.
If you are a fan of any Disney park, this tour will provide you the history and background of Walt and how he came up with the ideas for Disneyland, which eventually led to Walt Disney World and other Disney parks throughout the world.
While this tour does take up a large chunk of time and involves a good amount of walking, it is absolutely doable for any individual.  Tour guides take into account the needs of each individual and there are even relief breaks.  It also has some of the normal Disney tour perks, such as entering the park early before opening, backstage access, and included lunch, and even a keepsake pin.
However, what sets this tour apart from other tours is that during it you will feel like you are inside Walt's head as he deals with the challenges and rewards of creating Disneyland.  You hear clips of Walt himself talking to various Disney legends about his vision and dreams for the park.  As you are guided through the park hearing Walt's voice, along with information from your tour guide, you can just imagine Walt walking through the park and standing in the same spot as you are standing, making history feel so real.
There are two ultimate experiences of this tour which make it a best way to experience Disneyland. But as anything great in life you have to wait until the end of the tour for them. While your group moves back to Main Street to conclude the tour you are taken to experience Great Moments with Mr. Lincoln. The group is given some extra time in the theater along with additional history of how it was brought from vision to life.
While sitting there you begin to gain a greater understanding of that vision and respect for Walt's innovation. The real life look of Mr. Lincoln leads you to believe it must be an actor on the stage. This really gets you thinking about the parks and the creative genius Walt was. He had jumped ahead of his time to create this attraction and pioneer animatronics. As your group exits the theater you are taken to photographs that explain Walt's final days. It brings about emotions that connect you to Walt as a real person not simply a creator of Disneyland.
After this the tour continues with a walk in front of the train station listening to Walt's favorite song "Feed The Birds" from Mary Poppins. During the time standing there in front of the train station, with the song playing, you look down Main Street towards Sleeping Beauty's Castle and think none of this would be here without Walt.
While you are thinking this tour could not get better, you are then broken into two groups to take turns for the best experience yet.  One group has lunch, while the other tours the infamous apartment above the fire station.  This is where Walt and his family stayed during the construction of Disneyland and in the following years.  This is the place I believe every Disney fan needs to visit.  It is the pivotal high point of the tour.
As you enter Walt's apartment you can just imagine Walt being there and looking out over Main Street. You can in vision him standing at the window seeing his dreams become a living reality. While you are not allowed to photograph the apartment the tour guide takes a photo of each individual with their own camera standing where Walt stood. You'll want to make sure you do not forget your camera!
During the fun and festivities of the remainder of the day I kept reminding myself that this was started by a man with a vision and a dream to make a place people could come to enjoy experiences as a family.  To really experience the parks, I feel we need to know the love, hard work, and sacrifice that was put into creating this magical place.
Each time I go back to Disneyland, I look up above the fire house to the apartment where the lamp always burns in the window.  I say thanks to Walt, the man who I know is always looking out that window and smiling.
Have you ever taken this tour? What are your thoughts?