This post may contains affiliate links for your convenience. If you make a purchase after clicking a link we may earn a small commission but it won't cost you a penny more! Read our full disclosure policy here.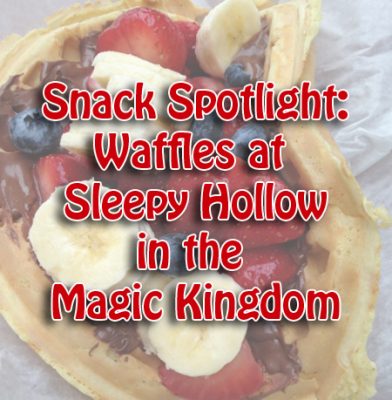 One of the best snack stops in all of the Magic Kingdom is found in Liberty Square. It's called Sleepy Hollow and it can be found right over the bridge coming from Main Street U.S.A.
Sleepy Hollow is known for its yummy funnel cakes and ice cream cookie sandwiches (seriously…it's two giant fresh-baked cookies with a heaping mound of ice cream – it's incredible), but one of the best treats available are the Waffle Sandwiches.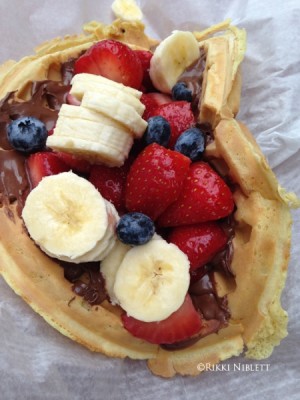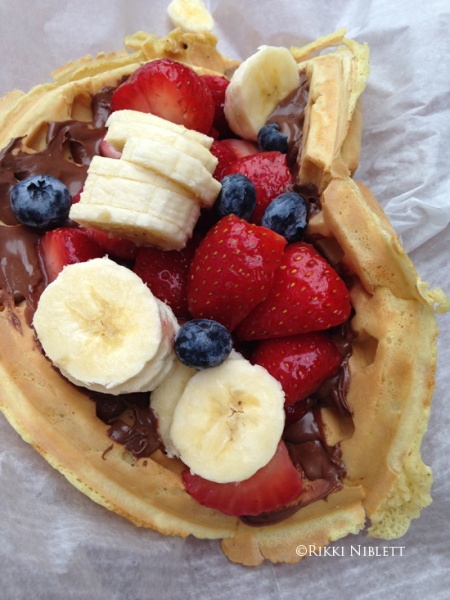 There have in the past been a few waffle sandwiches available for Guests, but recently, there was just one option. That was my favorite, the Nutella and Fresh Fruit Waffle. This is a warm and fluffy waffle, topped with a healthy smattering of delightfully Nutella. (A chocolatey hazelnut spread for those who don't know.) On top is fresh fruit, including banana slices, strawberry slices, and blueberries. This waffle is great because it can pose as a great breakfast or a terrific snack option. It's so big, that you can potentially share it among a few people too. Seriously, it so simple, but it's so good.
However, you may notice that I said up until recently there was only one option. That is because as of this week, it appears that Disney has brought back one of the fan favorite waffles that had been removed from the menu earlier this year. That's right, the Sweet and Spicy Chicken Waffle Sandwich is back! (I think I can hear people singing…)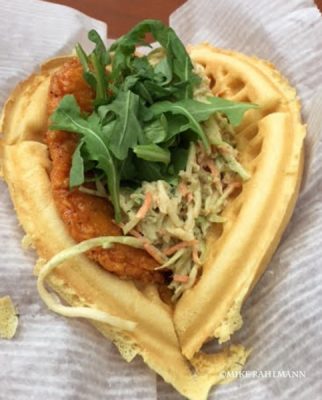 This savory waffle sandwich featured a large piece of breaded chicken that's covered in a sweet yet spicy sauce. It's topped with fresh arugula and includes creamy cole slaw. There is some heat to this one, but nothing major. Again, due to the size, it's very a very split-able option for a light lunch or great snack.
Either way, you can't go wrong with either of the waffle sandwich options at Sleepy Hollow. The hard part is deciding which one to get! (My suggestion…get both!)
Have you tried the waffle sandwiches at Sleepy Hollow? Which is your favorite and why? Share in the comments section.