This post may contains affiliate links for your convenience. If you make a purchase after clicking a link we may earn a small commission but it won't cost you a penny more! Read our full disclosure policy here.
The Voyage of the Little Mermaid is a show that will take you under the sea with Ariel and friends through a magical adventure as she seeks to follow be heart.
The Voyage of the Little Mermaid is located in Disney's Hollywood Studios in the Animation Courtyard.   Starting in 1992, this show has brought the story of everyone's favorite mermaid to life.  This is a 17-minute live musical production based on the popular Disney movie The Little Mermaid is sure to be a favorite of mermaid fans of all ages.  
As you enter into the waiting room, undersea artifacts surround you quickly taking you away to Ariel's undersea land.  Fishing nets, fake sharks and other sea items cover the waiting room allowing you to forget that you are actually waiting for the real show to begin.
Entering into the theatre, you are transformed into a beautiful under the sea world.  The opening scene is one that will take your breath away.  Water cascades in a curtain up on stage and a light mist falls on the audience members while an amazing laser show plays above your heads making you feel like you are truly under the sea.  Scenes from the movie play on the curtain on stage setting up background of the movie.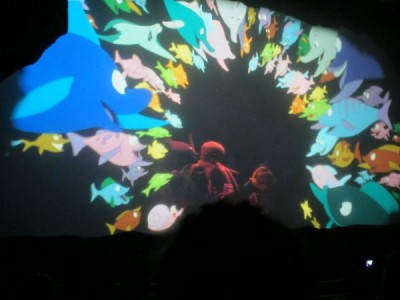 Opening Scene
The scene goes black as Sebastian and over 100 ocean friends through puppets and video from the movie bring to life a fun, lively production of "Under the Sea".  If you look closely, you can see the amazing puppeteers moving, dancing and bringing the scene to life.  This high energy performance quickly brings the audience into the production making them want to dance along with Sebastian and his friends.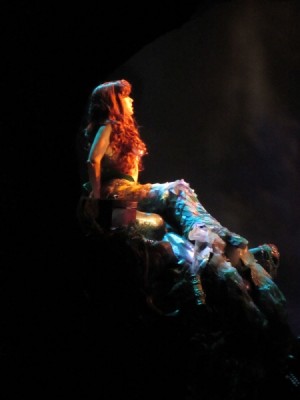 Ariel, the star of the show
 Following this amazing production, the audience is introduced to the star of the show Ariel.  Ariel, and a variety of her treasures from ships, are brought onto the stage as she is being reminded by her father, King Triton, that she was not allowed to travel to the surface anymore.  Ariel finds herself questioning her dad's warning and audience members are captivated by her dream to be a human as Ariel sings "Part of Your World" after falling in love with human Prince Eric.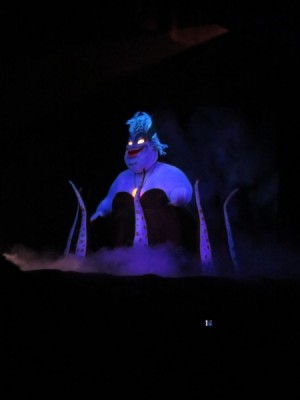 The Evil Sea Witch
The evil sea witch, Ursula, is quick to enter into the scene as a larger than life puppet at around 12 feet tall and 10 feet wide who sings a very convincing "Poor Unfortunate Souls".  This scene can be very overwhelming to little ones.  Our four year old was scared to watch the movie for months after seeing this show because of how big and scary Ursula is during this part of the production.  Be prepared for this if you are taking little ones.  The story continues as Ariel signs the contract with Ursula giving up her voice but receiving legs in return.  For the sake of time, a large part of the movie has been taken out as audience members are shown quick clips of the movie on the screen progressing the story to the point where Ursula has been removed, Ariel is a mermaid again and she is once again dreaming of being part of Eric's world again.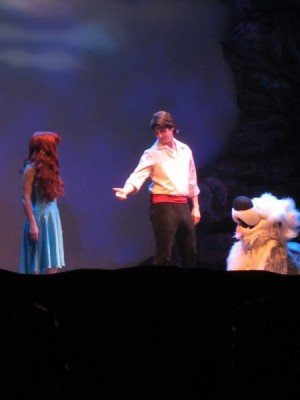 Ending Scene
King Triton realizes that Ariel truly does love Prince Eric and he uses his power to make her dream come true.  Through amazing special effects, Ariel is transformed into a human and able to be with Eric living happily ever after.
Things to Know:
Voyage of the Little Mermaid is performed throughout the day so make sure to check the times guide or use your MyDisneyExperience App to help you with times

Voyage of the Little Mermaid is one of the most popular shows at Hollywood Studios and can gather a large crowd; however, remember that the theatre holds a lot so don't be discourage if you see a lot lined up

Before entering, look for the signs that will tell you when the next show is as it might help you determine if the little ones could use a snack or bathroom before you wait

FastPass+ is an option for this show and is a Tier 2. We normally don't choose to use one for this show, but it wouldn't hurt when it comes to busy times of the year

There are many special effects used during the show and some little ones might find them and Ursula scary

The show is seen on a raised stage making it difficult for little ones to see over the stage when sitting up close

Don't have kids?  I would still encourage you to see this performance and it will take you away to the undersea world
Do you enjoy Voyage of The Little Mermaid?
Incoming search terms:
ariel the little mermaid show feet
feel of the little mermaid Mediterranean