This post may contains affiliate links for your convenience. If you make a purchase after clicking a link we may earn a small commission but it won't cost you a penny more! Read our full disclosure policy here.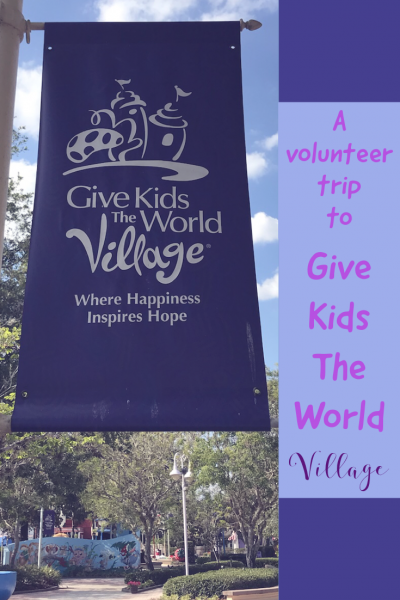 I just returned from the most amazing trip, and it all revolved around Give Kids The World Village. Give Kids The World began in 1986 in a Holiday Inn run by Henri Landwirth. Landwirth was a Holocaust surviver turned hotelier that wanted children with life-threatening illness to have a little time to just be a kid.
Give Kids The World Village
In 1988 Mr. Landwirth began construction on Give Kids The World Village in Kissimee, FL with just 16 villas. Now the Village has 167 villas, numerous fun activities and venues through-out the 84 acre complex. Over 160,000 families have been served by GKTW in just over 30 years.
Give Kids The World Village provides children with life-threatening illness and their families a week long, all expense paid trip to the Orlando area. These families are provided a place to stay, meals, transportation, and daily village activities. They are also given tickets to Walt Disney World, Universal and SeaWorld.
How I started with GKTW
I first heard about Give Kids The World Village on the Be Our Guest Podcast a little over a year ago. It was a replay of an interview with the President and CEO of GKTW, Pamela Landwirth. Her excitement about the Village and the stories she told made me want to learn more and do more. I started by giving through the BOG Podcast 12 Hour Live Show Fundraiser that summer. Then I started my own fundraising. Finally, I decided I needed to visit the Village.
I told my husband that I wanted to fly from Houston to Orlando for my birthday so I could volunteer at Give Kids The World Village. Since you have to be at least 12 to volunteer, my young son could not go. This needed to be a solo adventure. Months before my visit I filled out a volunteer application online. (The application process can take 72 hours to 1 week to finalize.) I was then contacted by a volunteer services staff member to set up my volunteer hours. She worked with me to arrange the hours I was able to serve with the positions they had available.
The trip begins
I flew out to Orlando late Wednesday night to begin my first volunteering Thursday afternoon. My directions of where to park and walk included steps like: walk by Old Elmer; the giant snoring tree, and walk passed the mushroom carousel. I knew this place was going to be magical.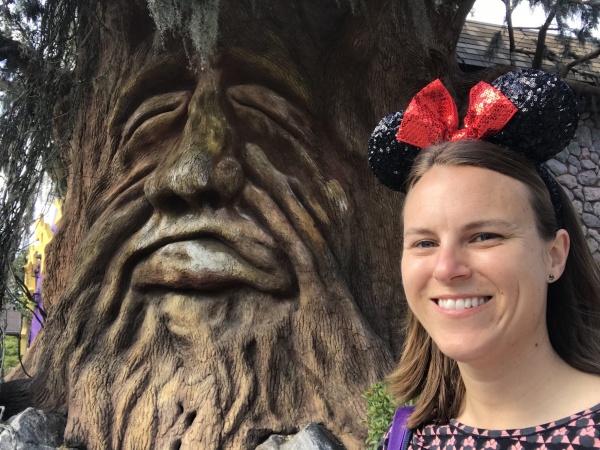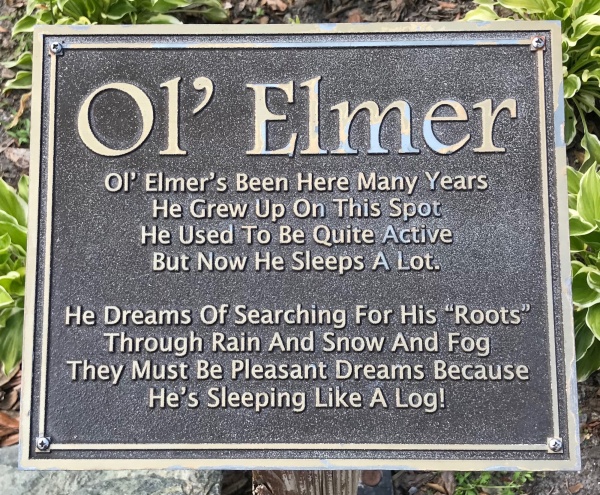 As I approached the volunteer building I was amazed by the surroundings. Happy families, smiling volunteers and colorful buildings everywhere. I was welcomed into the volunteer building and asked to sign in and make a name tag.
Dinner shift
My first shift was in Katie's Kitchen for the dinner shift. I entered the colorful gingerbread house of Towne Hall to find Cafe Clayton. This food hall reminded me of something you would find at Art of Animation, but themed to a candied gingerbread house.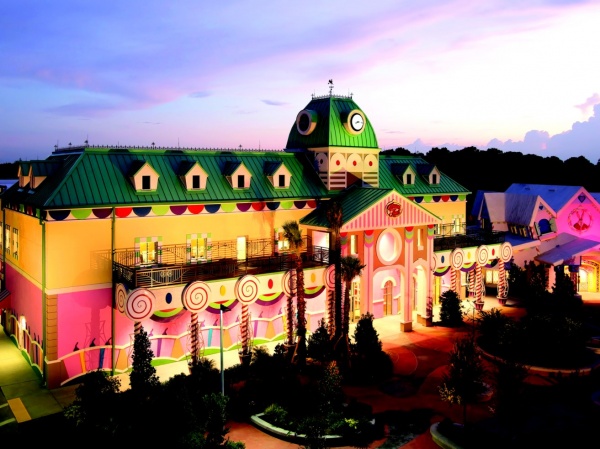 Colorful Towne Hall – picture provided by GKTW
There were many choices for the families. Dinner included home cooking from Perkins at Nancy's Kitchen, a rotisserie meal and salad bar from Boston Market at Katy's Kitchen, and Papa John's pizza at Mama Merry's Pizzeria. I was placed in the food line serving up warm corn bread, rolls, huge chocolate chip cookies and brownies. The families can choose whatever and however much they wanted to eat. Kids walked away with handfuls of cookies and brownies with huge smiles on their faces. Did I mention it was all included with their stay? And the cafe was ready to handle any dietary need of these families. When one child needed their food pureed, the staff didn't blink and eye. The families and children aren't judged or thought of as different just because they need a pureed option.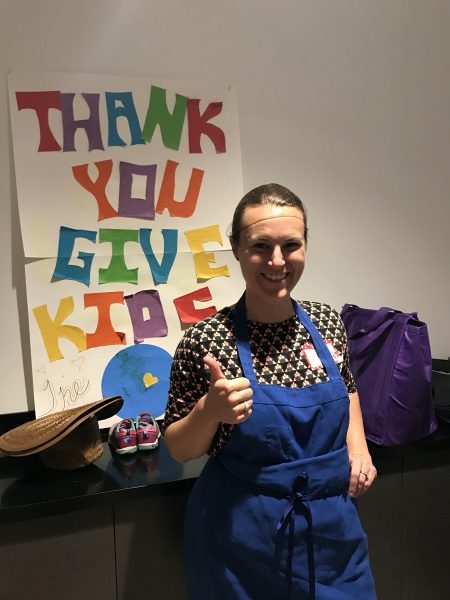 A nice hair net and apron for my dinner shift
The Castle of Miracles
On Friday I checking into volunteer services at 7:45 a.m. for my shift as a "castle attendant". The Castle of Miracles opened in 1994 and is home to Stellar the Star Fairy and Buttons the pillow making white squirrel. When the families arrive to the Village they are given a welcome packet that includes a small star and a certificate. They can bring these to the castle at anytime during their stay.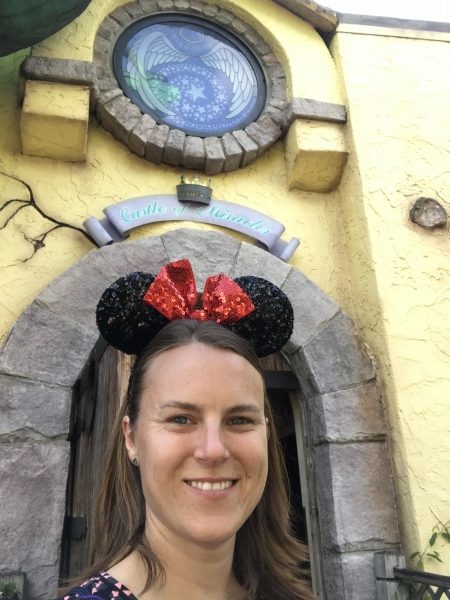 Entrance to the Castle of Miracles
The certificate is used for Buttons. Buttons lives in a special tree inside of the castle. All the kids in the family are encouraged to interact with Buttons. Through this interaction Buttons learns more about the kids in the group and makes a pillow for each child. At Give Kids The World, each child is special, not just the wish child. So Buttons makes sure that each kid in the group receives a pillow. You could see the joy in all the family members' faces when the kids received Button's special pillows.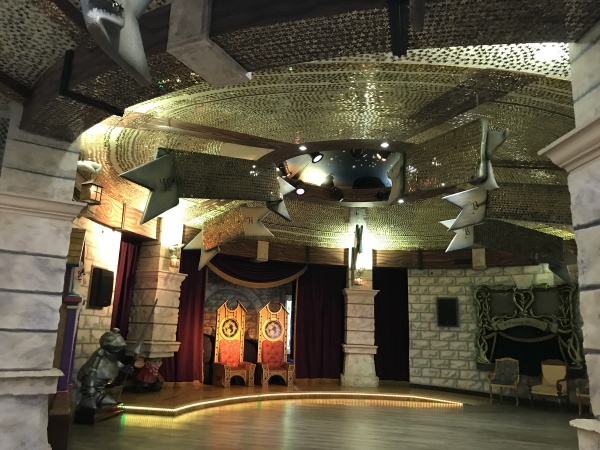 One of the main rooms in the castle. Every child can be a prince or princess here.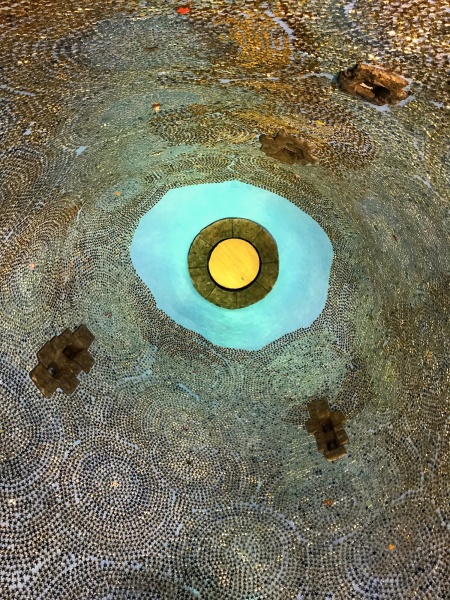 Original spot for all the stars.
The star is one of the only things at the Village that is just for the wish child. When the child brings their star into the castle they are encouraged to write their name on the star and decorate it how ever they see fit. Stellar magically collects these stars every day and then places them every night. She used to place them on the ceilings all around the castle, but with around 140,000 stars, the castle was running out of room. At the end of April, Stellar opened her new Star Observatory so she would never run out of room for these beautiful stars again.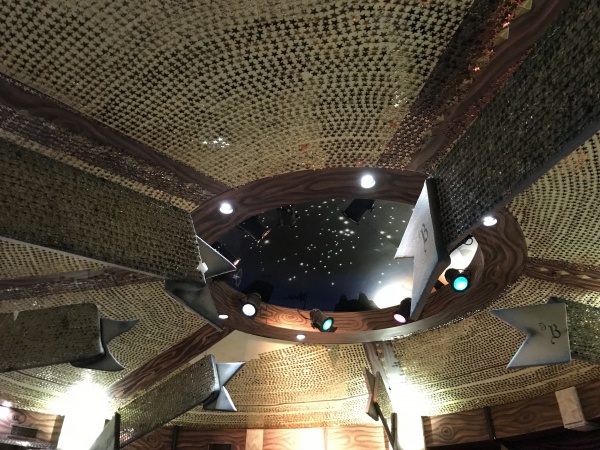 When room ran out in the original tower they moved on to every room in the castle.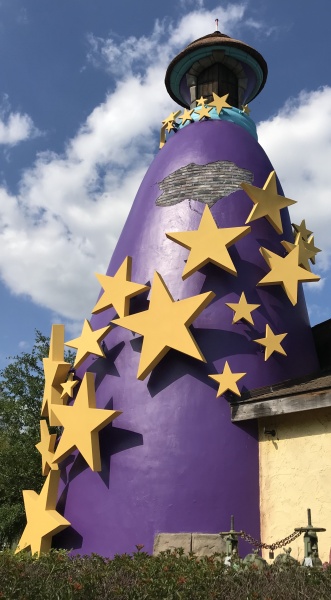 New Star Observatory where Stellar will never run out of room again.
The families are encouraged to visit their star before they leave. They can also come back anytime they want after they leave GKTW Village. Sometimes the families come back with their wish child to celebrate and sometimes they come back without the wish child to remember. This castle is a very special place for all of the families, and it is treated with care by all the volunteers and staff. It was truly a blessing to be able to serve in here for a few hours.
Breaking the train…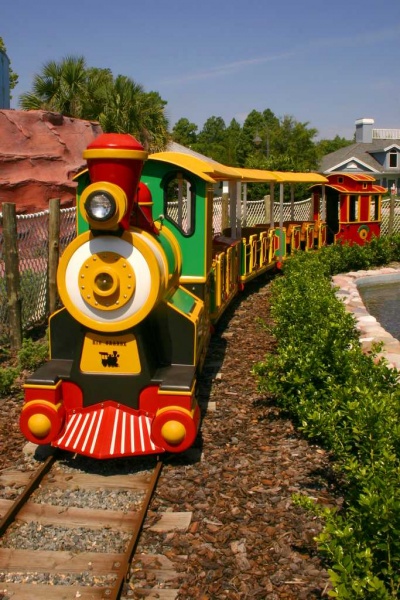 JJ's Express Train – photo provided by GKTW
After this special spot, I was scheduled volunteer at JJ's Express Train. This small train drives around part of the Village, by a pond, then through a jungle and cave. It is wheelchair accessible and can be used by everyone at the Village. Well, while being taught how to drive the train….it derailed. There was a little girl that I had met back at the castle waiting to ride this train, and I had to tell her I broke it. It didn't matter to her. She got right in the front of the train to play pretend and ring the bell. She even invited me to join her and have her special bear sit next to me. We played in that train for 15-20 minutes while they tried to fix it. Unfortunately, more work was needed on the train, so they found another place for me. I had to say goodbye to my new friend and move on to my next spot.
The pool
I was taken over to the Park of Dreams and Brooks' Surfshack. This area houses the pool and splashpad where people of all abilities can cool off, enjoy ice cream and even fish off a pier. They even have wheelchairs that can go in the water through the zero-entry pool so no one is left out. I served up hot dogs, Icee's, and ice cream out of the surfshack and had a wonderful time getting to know the other volunteer I was working with (who I later ran into at Epcot).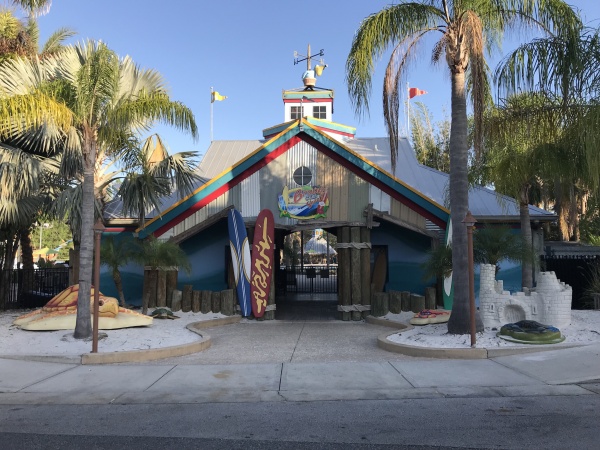 Wonderfully themed pool entrance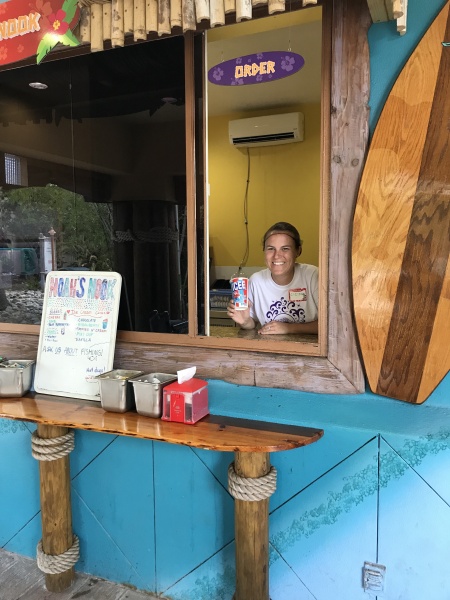 Serving up an Icee on this beautiful Florida day.
The last day
Saturday was a very special day for Give Kids The World Village. This was they day they celebrated the life of their founder Henri Landwirth, who passed away on April 16th at the age of 91. Thousands of people were going to be onsite to remember this amazing man, and many families were coming back to pay their respects. Due to this, parking was a little changed up, and the volunteers had to park at the back of the Village. I was able to walk through parts that I hadn't seen before and enchantment was in every nook and cranny. Some of the villas look like the Seven Dwarfs cottage or straight out of Munchkinland in the Wizard of Oz. They are adorable! There are even themed fire hydrants everywhere. In fact, my walking instructions included "follow the pathway on the right next to the Harry Potter fire hydrant."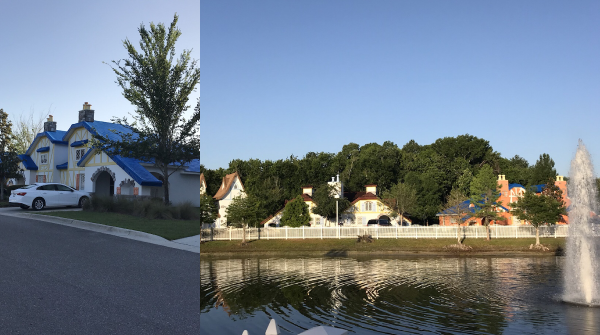 Just some of the cute villas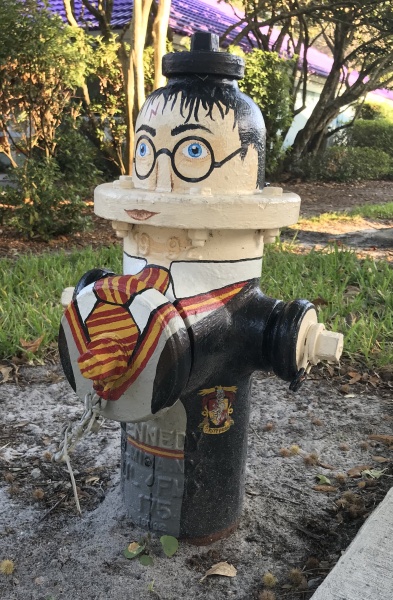 Harry Potter fire hydrant
The Enchanted Carousel
This was my final volunteer shift, and it was the most amazing shift of the visit. I was scheduled at the Enchanted Carousel. This carousel is under a mushroom and has animals from horses, to zebras, to reindeer and the ever popular, unicorn. It is fully wheelchair accessible and protected by a sea dragon.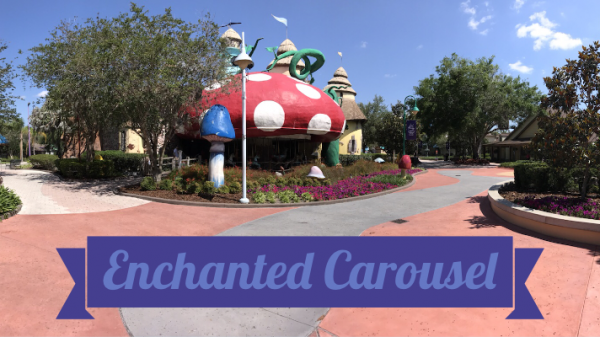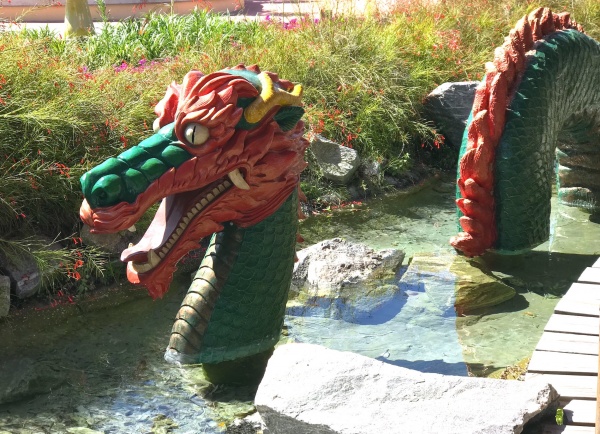 Sea Dragon
This is the place I saw the most smiles. Families loved seeing their kids on this carousel, and the kids loved the whimsy of riding on the back of a beautiful white unicorn with sparkles in its golden red mane. I saw my friend from JJ's Express Train the day before. She must have ridden at least 10 times, and she giggled and smiled every single time. Another family came on the carousel with their daughter in a reclined wheelchair. The WHOLE family was able to ride together, and they kept repeating how grateful they were that their daughter was able to ride with them. Every time the carousel stopped she used sign language to say the that she wanted more.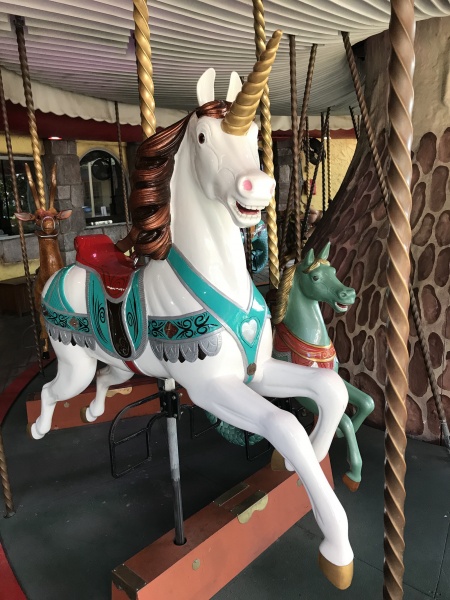 Whimsical carousel unicorn
As I signed out of my last shift and trekked back to my car tears started streaming down my face. I didn't want to leave this place. There was more joy in this 84-acre village than all 27,000 acres of Walt Disney World. The staff, volunteers and families always had smiles on their faces. There is no sickness or inabilities on this property. There is only magic and joy. The families are able to leave their worries behind and enjoy each other. They are not thinking about the next doctors visit, they are thinking about what flavor of ice cream they want for breakfast. You see, the Ice Cream Palace is the first thing that opens for the day and the last thing that closes. They can visit with Santa every Thursday, visit with Disney, Universal and GKTW Village characters in the morning, and even be tucked-in for bed by Mayor Clayton and Ms. Merry (the bunny characters that run GKTW Village) at night. One of the GKTW Village alumni, Princess Alyssa, even credits the Village with curing her of cancer.
Give Kids The World Village is not a sad place. It is a place of joy and hope and I am so grateful I was able to volunteer. I encourage everyone that travels to the Orlando area to try and find just a little bit of time to volunteer here too. You will be changed forever!
Want to help now and your are not in Orlando area, stay-tuned for my blog about fundraising or visit the Give Kids The World Village website today.
Have you ever volunteered at Give Kids the World? What was your experience? Share in the comments, or on Facebook or Twitter.
Did you like this article? Make sure to share it with your friends! Check below for easy ways to share!
Incoming search terms:
https://www themouseforless com/blog_world/volunteer-give-kids-the-world-village/
give kids the world village volunteer
katies kitchen give kids the world
kids stars at give kids the world kissimmee fl
what's it like volunteering at give kids the world