This post may contains affiliate links for your convenience. If you make a purchase after clicking a link we may earn a small commission but it won't cost you a penny more! Read our full disclosure policy here.
Beautifully themed and landscaped Volcano Bay offers thrill rides, a wave pool, a lazy river, and great food steps away from the Cabana Bay Resort.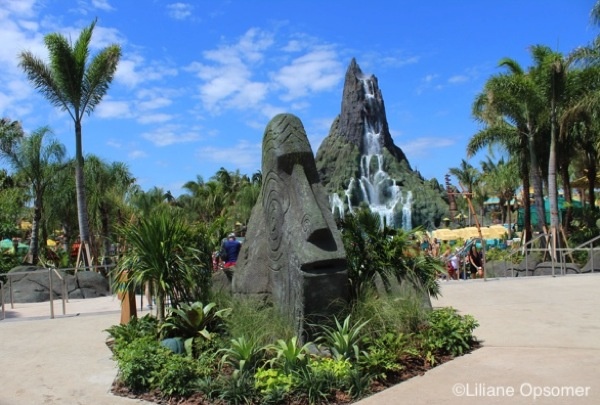 Brand-new technology is being introduced to allow for virtual reservation in the form of the TapuTapu wristbands. Guests can tap the band against a totem outside a ride, and the device will alert you when it's time to return to experience the attraction. The idea is that you virtually wait in line while being able to experience other areas of the park. The TapuTapu bands also trigger special effects throughout Volcano Bay such as controlling streams of water in Tot Tiki Reef. If linked to a credit card the TapuTapu also allows guests to rent lockers, as well as purchase meals, and merchandise.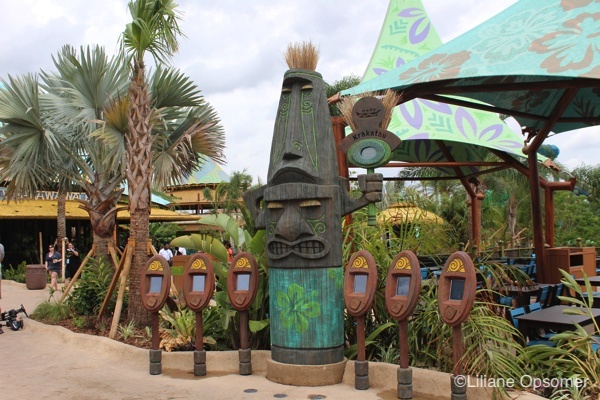 When I visited the TapuTapu system worked perfectly fine for locker rentals and purchases, however the virtual waiting in line system clearly needed some tweaking. And yes, Universal is working on it. For now, Universal did away with the Express Pass availability for Volcano Bay, a move I believe will help getting the TapuTapu system on track, pending a better insight into data reflecting wait times at the most popular rides.
Its summer time, and Volcano Bay welcomes about 6,000 people daily! The park has been hitting that capacity pretty much daily since opening in late May. Wait times for the most popular rides, to nobody's surprise, can reach up to six hours. I therefore recommend you prepare yourselves to only ride a few attractions when visiting.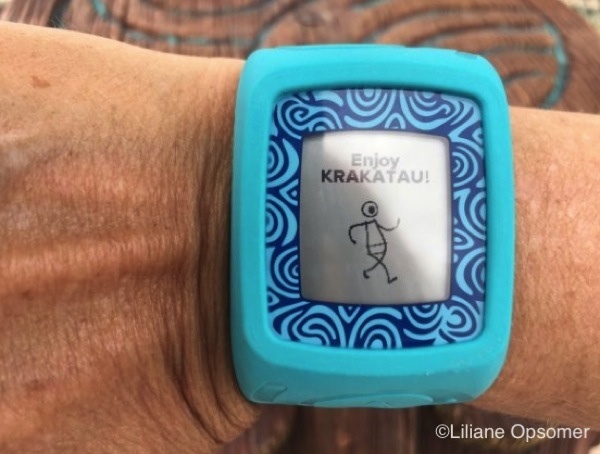 I trust Universal will quickly gain enough data on how many people a ride can handle in a specific time period and eliminate the long lines. I also hope that the park will add real-time wait time boards next to each TapuTapu station, which would help guests to decide whether it is worth their while to walk over to a ride and make a virtual line reservation or not.
All this being said, the most important advice is to arrive at the park entrance at least 30 minutes prior to opening (even if you have a ticket) and go for the headliners such as the Aqua Coaster, the two Hony rides, the Ko'Okiri Body Plunge, and the Maku raft rides. Once the park gets crowded, be sure to know which queue you commit to! 
The story behind the water theme park
The park's 4 themed areas are based on the story of the Waturi, an ancient tribe from Polynesia who set out on their outrigger canoes to find a new home. Legend told them that Kunuku, a golden-finned fish, would show them the way. The Waturi visited many Polynesian islands without encountering the elusive fish until they caught sight of Kunuku playing in the waves of Volcano Bay. There is of course much more, but let's leave it at that. The Waturi settled at Volcano Bay and you just arrived to discover what it is all about. 
The heart of the park is Krakatau, the volcano that is also home to the Krakatau Aqua Coaster. The Volcano is located inside Wave Village, which features Wauturi Beach, and a multi-directional wave pool at the foot of the Volcano.
Nestled right off Waturi Beach and adjacent to the Volcano is The Reef, a leisure pool that has its own waterfall. Here you can relax and watch guests shoot down the Ko'okiri Body Plunge. Waturi beach offers private cabanas and loungers for rent.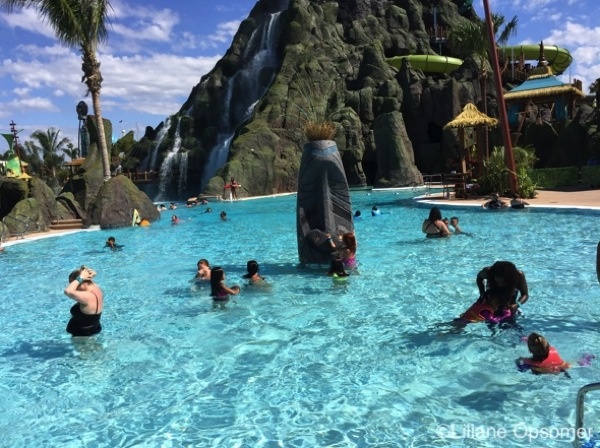 River Village holds activities for little tykes and the winding river experience; and the Rain Forest Village is home to several raft and speed slides, a pool, and a whitewater rafting experience.

If being propelled downwards and upwards sounds appealing to you head over to The Krakatau Aqua Coaster where you'll board a specially designed canoes that seat up to four. Next you are going through the volcano's interior all the while twisting and turning before plummeting through a waterfall. The ride uses linear induction motor technology which launches the canoe uphill before immediately sending it into a downhill plunge. It is the same technology used at Universal Studio's Revenge of the Mummy ride. There is a 42" height restriction (49" if riding alone). The ride does not offer Express Pass access.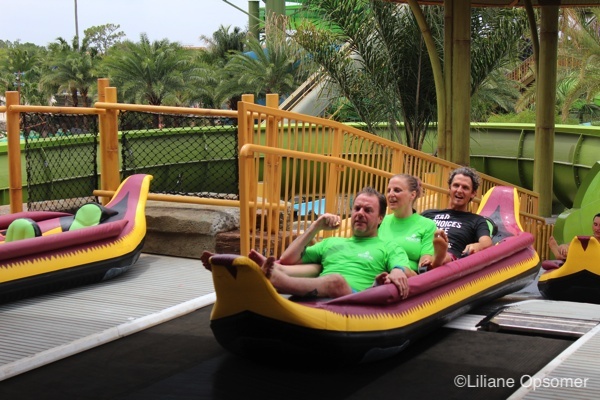 Krakatau is thrill-riders central. Here you find not one, but three different body plunges, each starting off with a drop door! Once the drop door opens at the Ko'okiri Body Plunge riders experience a 70-degree-angle descent on a 125 feet slide. The ride has a 48" height restriction.
At the Kala and Ta Nui Serpentine Body Slides after falling through the drop door, two riders go down the slides simultaneously. Their path crosses several times as they go down clear, intertwining tubes. 
The family-friendly Punga Racers has guests on racing mats across four lanes and through underwater sea caves. The ride has a 42" height restriction (49" if riding alone).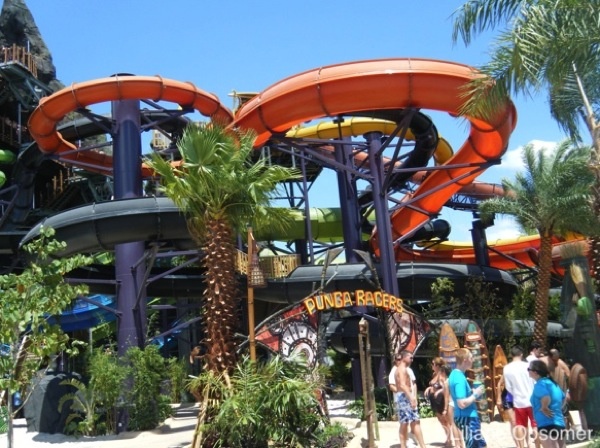 At Rainforest Village you must ride the two exhilarating six-person raft rides. Maku Round Raft Ride plunges riders through wild waters, through bowl-like formations, before ending up in a pool surrounded by erupting geysers.
The Maku Puihi Round Raft Ride at first launches the raft down into a dark, winding tunnel before shooting the up and having riders experience momentarily zero gravity prior to going down once more. Both rides have a 42" height restriction (49" if riding alone).
The Ohyah Drop Slide and the Ohno Drop Slide are intense slides that end up with a drop into a pool.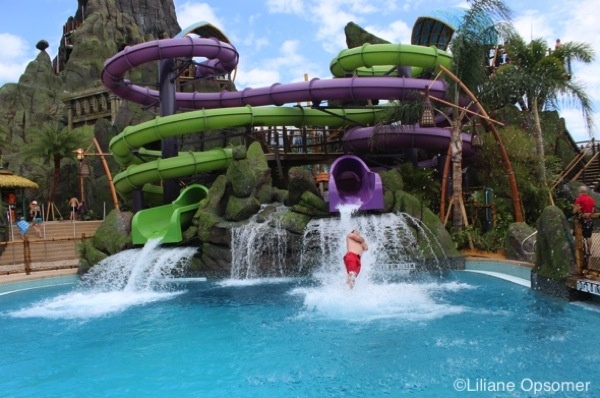 Taniwha Tubes is a single or double-rider tube ride down twisting water slides. Along the way, Tiki statues make sure you do not stay dry. You must be 42" to ride (49" if riding alone).
Puka Uli Lagoon is the leisure pool of Rainforest Village. Anything but relaxing but a lot of fun is TeAwa the Fearless River, a high-speed whitewater river.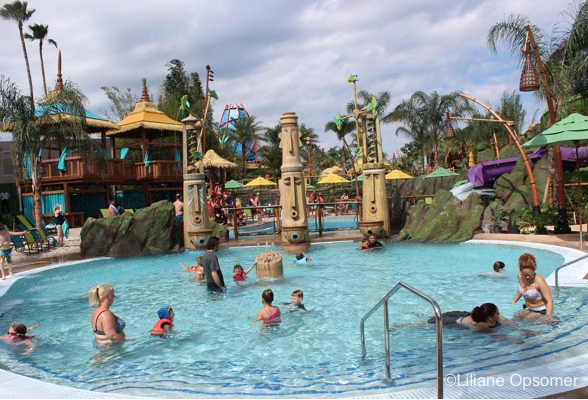 If you are looking for a lazy river, head over to River Village where the Kopiko Wai Winding River takes you through the tropical landscape and the volcano itself. Inside Mt. Krakatau your TapuTapu interacts with the mountains cavern walls.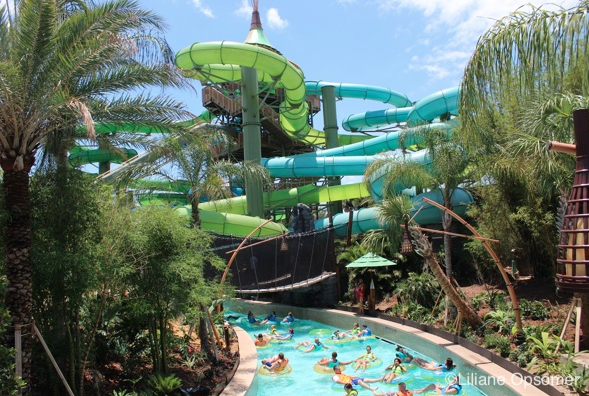 Runamukka Reef and Tot Tiki Reef are Volcano Bay's child play areas. Tot Tiki Reef is perfect for toddlers while Runamukka Reef is more suitable for older kids.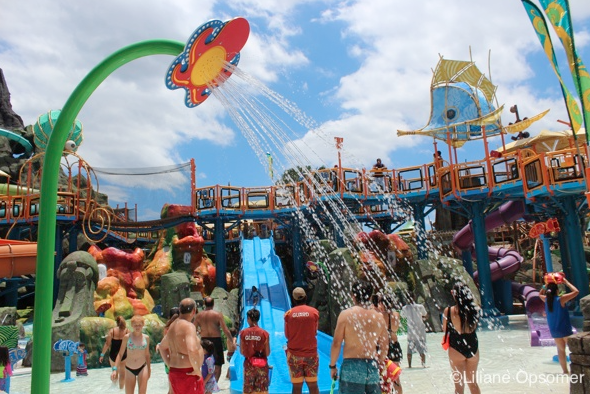 The Honu and the Ika Moana slides are thrill rides where guests board multi-person animal rafts, a sea turtle and a whale respectively, before speeding down into a pool. The rides are two separate slides attached to the same tower. The Honu ride (blue slide) is one of the scariest group ride in the park.
The Ika Mona ride (green slide) is a much gentler. The sea turtle ride has a 48" height restriction. The whale ride has a 42" height restriction (49" if riding alone). Both rides offer Express Pass access.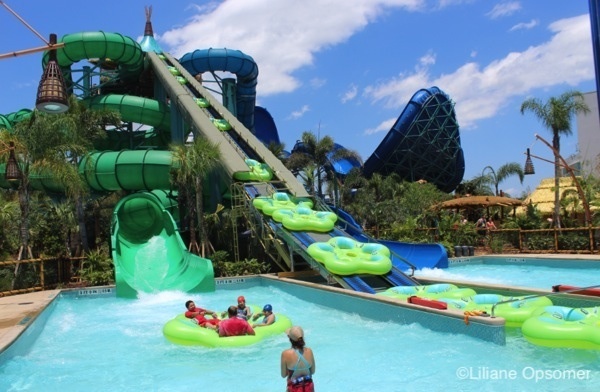 Food at Volcano Bay Eateries a Welcome Surprise
Caribbean and island-inspired foods such as Hawaiian ribs, a Poke Poke bowl, and quinoa Edamame burgers are available at four dining venues throughout Volcano Bay.
Those tired of theme park fare will welcome the amazing options Volcano Bay offer, while less adventurous eaters still can find plenty of chicken fingers, burgers, and pizza. At Volcano Bay, Universal Orlando has succeeded on setting the bar high when it comes to water park fare.
Here are some of my favorite dishes:
Served at Bambu, in the Rainforest Village, try the Quinoa Edamame Burger topped with roasted shiitake mushrooms, lettuce, tomato, sriracha Mayo, and a side of fries.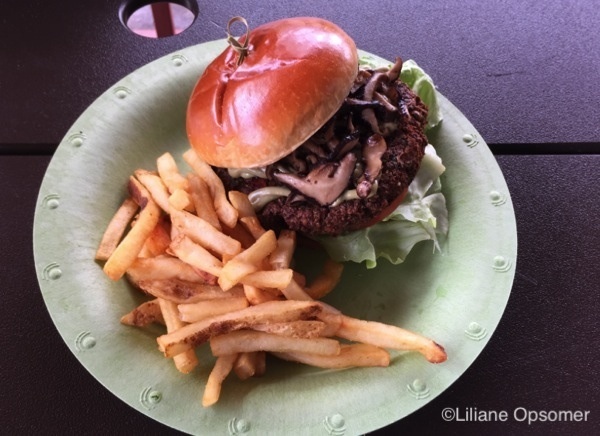 At River Village Whakawaiwai Eats go for the Hawaiian Pizza with caramelized pineapple, diced Ham, and pickled jalapenos.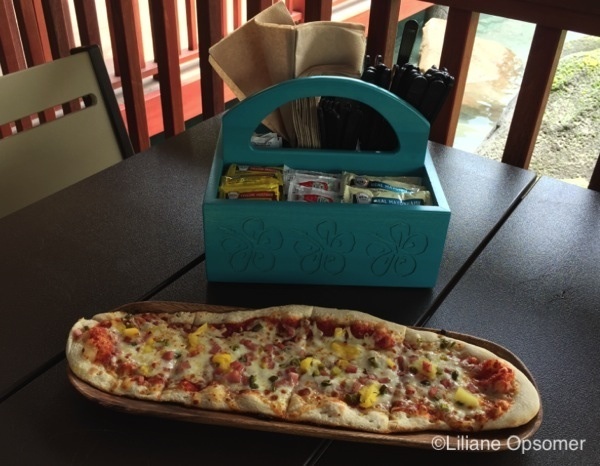 Slow-Smoked Glazed Hawaiian Ribs, served with Boniato Mash and Sweet Plantains are a bestseller at the Kohola Reef Restaurant in the Wave Village. To satisfy your sweet tooth go for the Chocolate Lava Cake. it is our favorite desert.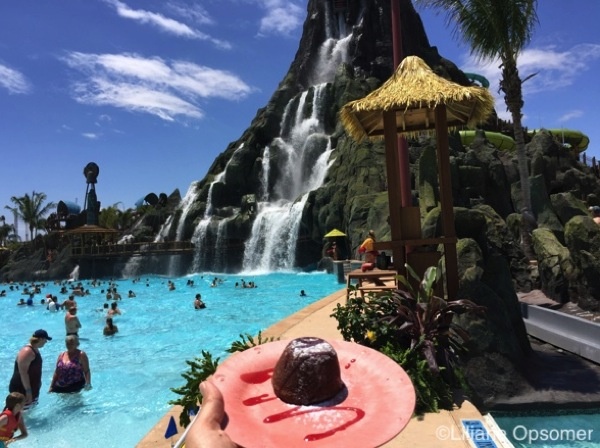 Two bars, the Dancing Dragons Boat Bar (Rainforest Village), and at the Kunuku Boat Bar (Wave Village) offer a selection of exotic drinks.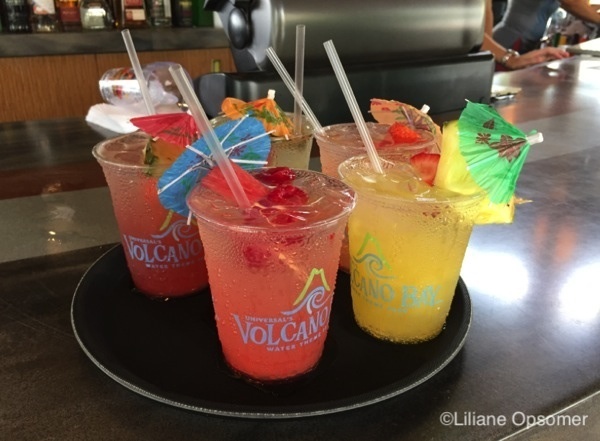 Admission prices and logistics: 
Single-day access to Volcano Bay costs $71.31 for adults and $66.03 for ages 3-9, taxes included. Volcano Bay is a short walk from Cabana Bay Resort and Universal's Royal Pacific and Sapphire Falls hotels. Please note that there is no parking at Volcano Bay. Guests staying off-property and Florida residents must park at Universal's theme park parking structure at the CityWalk's transportation hub. From there a free shuttle bus brings visitors over to Volcano Bay. The regular parking fee is $20; preferred parking is $30.
Unless you are a resort guest, don't think of parking at the nearby Cabana Bay property, or the soon to open Aventura Hotel. Both properties will charge hefty parking fees aimed at discouraging guests to do so.
Volcano Bay is the prettiest water park ever and makes Universal Orlando a complete resort. I can't wait to see what's next!
For more information on Volcano Bay and Universal Orlando, check out Seth Kubersky's book The Unofficial Guide to Universal Orlando. The 2018 edition will be available as of December 2017.
Have you visited Volcano Bay yet? What were your thoughts of the water theme park?
Did you like this article? Make sure to share it with your friends! Check below for easy ways to share!